Estimated Reading Time: 5 minutes
When playing online pokies, minimum and maximum bets apply just like they do when playing in a land based casino or pokies venue. For those new to the world of online pokies, it will help you to understand these basic pokies terminologies to determine how minimum and maximum bets can be altered to your preference, and how they affect your chances of winning.

Best pokies casinos with lenient betting limits
All online casinos
Pokies betting terminology
While no special skill or strategy is required to play the pokies, having an idea of the general terminology and betting options will help you have better control over the game. The below elements to online slot games play important roles in your bets per spin:
Coin size/denomination – this is the value attached to each coin being played per spin, which the player has the control to increase or decrease. Options generally range from sizes of $0.01 to $1.00 per spin.
Number of coins – You can choose how many coins (credits) you wish bet per line and spin – options can range from one coin to 30 coins.
Payline – a payline is the line where a winning combination of symbols needs to show up on a pokies game in order to constitute a win, and depending on the individual game can be horizontal or diagonal. These can be increased or decreased as the player desires, with increased paylines meaning the player has a higher chance of winning as more lines are played. Paylines differ between each game and will be detailed on the game's pay table.

You can switch between viewing the amount of coins you have available and the amount of credits you have available when playing the pokies (usually at the bottom left of the game) – and it's entirely up to you which state you prefer to view your current balance in.
Here's a sample of how different bets works:
If you choose to use a coin size of $0.01, five coins per payline, and select the maximum number of paylines (let's say 25 in this example), your total bet for one spin will amount to $1.25, or 125 coins (.01 x 5 x 25).
If you choose to value your coin/credit at $0.50, and stick with five coins per payline and keep all 25 paylines active, your total wager will now amount to $62.50 (.5 x 5 x 25).
Note: you've still used 125 coins, but you've just assigned a higher value to each coin. When you change the size of your coin, your coin balance will change accordingly, too.
Minimum bet – a minimum bet is the least amount of money that a game will allow to play, while playing the least amount of pay-lines. Generally speaking, placing the minimum bet means only the single payline running straight across the reel is activated.
Maximum bet – maximum bet refers to the largest coin size and number of coins combined with the maximum number of paylines available. Most online pokies games will feature a 'Max Bet' button, which will automatically set the players wager with the click of a button. This is the highest that can be bet on a single spin.
The player has the power to alter the coin size, denomination, payline and minimum and maximum bet with each game they play (unless playing a payline games where fixed lines can't be altered. All other options can still be changed).
How pay-lines, coins and coin sizes affect minimum and maximum bets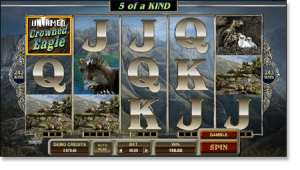 For many online progressive pokie games, the maximum number of coins and paylines need to be played in order for a player to be eligible to win the jackpot, regardless of whether or not the game has multiple paylines. Based on this fact, increasing your coin size and paylines to the maximum bet is recommended by experts if you're looking to win big. Placing the minimum bet in a pokies machine will allow little room for winnings, although is perfectly fine for anyone wanting to play pokies on a more recreational level. As with any form of gambling, the higher the risk, the higher the reward.
The above does not apply to fixed '243 Way' pokies, 1024 Way and 3125 Way slots (or 'multi-way' games as they are sometimes called) – where the amount of winnings ways is fixed for each spin. These type of games play every single position on every reel and as the name suggests, provide 243, 1024 or 3125 different ways of winning. Playing such pokies covers play over all reels for a flat fee, eliminating the need for players to choose which paylines to play.
Min and max wagers for popular online pokies games
The minimum and maximum bets available for online pokies vary hugely between each game and casino operator. Here's a sample of the betting limits you can expect from some popular online pokies:
300 Shields – minimum bet $0.01 maximum bet $5
Judge Dredd Pokies – minimum bet $0.25 maximum bet $50
Jurassic Park – minimum bet $0.30 maximum bet $75
Avalon II – minimum bet $0.30 maximum bet $75
Playboy – minimum bet $0.30 maximum bet $75
Foxin' Wins Again – minimum bet $0.50 maximum bet $100
Untamed Crowned Eagle – minimum bet $0.30 maximum bet $112.50
Dragon's Myth – minimum bet $0.20 maximum bet $40
Starburst – minimum bet $0.01 maximum bet $200
Terminator II – minimum bet $0.30 maximum bet $150
South Park: Reel Chaos – minimum bet $0.20 maximum bet $200
Scarface – minimum bet $0.20 maximum bet $200
Jack Hammer – minimum bet $0.25 maximum bet $250
Surf Safari – minimum bet $0.20 maximum bet $250
Roller Derby – minimum bet $0.01 maximum bet $250
Bust the Bank – minimum bet $0.30 maximum bet $300
Mega Moolah – minimum bet $0.01 maximum bet $6.25
Thunderstruck II – minimum bet $0.30 maximum bet $15
Immortal Romance – minimum bet $0.30 maximum bet $6.00
Currently the highest maximum bet available at any of our trusted online pokies casinos is $300.00. You can see from the examples above how varied the minimum and maximum bets can be, while offering affordable play for more recreational players, with big stakes for the high rollers and VIPs.
Note: minimum and maximum bets are subject to change without warning.
Secure payment methods for Internet and mobile pokies
Many of our favourite online casinos offer Web-based instant play and downloadable slots to play for free or real money, with secure payments available to make in multiple currencies. All casino sites offer welcome bonuses for new players, with offers too good to refuse. Head to any of these secure, trusted and regulated sites, and give their pokies a go using your new knowledge on minimum and maximum betting limits and see if it's your lucky day.
We recommend checking out Raging Bull Casino, our top-rated casino site for players from United States, which has some excellent welcome bonuses available for new players along with hundreds of real money slots and other casino games to choose from, with no downloads required.