Looking for a trustworthy credit card alternative to make a safe casino deposit online? Consider using EntroPay, a virtual pre-paid Visa card used by millions of people worldwide. Entropay online casinos are available via both mobile and desktop, with this payment company highly-regarded right across the globe. Entropy slots sites have also got an abundance of real money bonus offers and promotions. We explain more about how EntroPay works, including how to use this pre-paid service to play online slots for real money, and the best online casino sites accepting EntroPay deposits include:

Best online casinos for EntroPay deposits
Best online casinos
What is EntroPay?

EntroPay is an online payment service that issues pre-paid, reusable, virtual Visa cards. EntroPay provides a safe way to transfer real money to your online casino account without having to disclose your personal credit or debit card details to online vendors.
EntroPay cards can be used to spend money online or over the phone at casinos that Visa is accepted. An EntroPay virtual card works just like a normal Visa credit card, but the funds on your card are pre-paid instead of having to dip into a line of credit. This means no credit checks are required to use EntroPay, and users don't run the risk of falling into debt. Cards are completely digital, providing an on-screen version only, eliminating the risk of losing your card or having your card fall into the wrong hands.
About the EntroPay brand
EntroPay is operated by Ixaris Systems Ltd, which is authorised and regulated by the Financial Conduct Authority under the Payment Service Regulations 2009. The idea for EntroPay was born in 2000 when the founders of Ixaris identified the need for an electronic payment solution that would give anyone the ability to make an online financial transaction, regardless of their location or credit-worthiness. It was the first virtual pre-paid card on the European market, and was embraced by users who were otherwise hesitant or unable to make online payments. Today, EntroPay is accepted by millions of merchants worldwide and has earned a reputation as a safe and trustworthy online payment provider for many global customers.
How to get an EntroPay Virtual Visa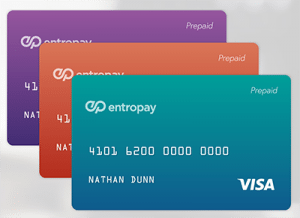 The only way to get an EntroPay Virtual Visa card is to apply for an account using the official EntroPay website. This process is nothing like the standard credit card application – you simply need to enter basic personal information like your name, address, date of birth and email address. Make sure to enter your details correctly as you may need to verify your identity and address if requested. You will also need to select from one of the three available currencies: USD, GBP and EUR.
Once you have your account set up, login to your EntroPay account and click on the Top-Up button at the top of the screen. Follow the instructions to choose your payment method, enter your payment details and the amount of funds you wish to load onto your virtual card, and follow the prompts to complete your transaction.
What are the fees?
It is completely free to open an EntroPay account, and to apply for and be issued with a EntroPay Virtual Visa card, but there are some other fees and charges that apply. Here are a few examples of what you can expect to pay when using EntroPay:
Load funds from a credit or debit card – 4.95%
Load funds from a bank account – 3.95%
Currency conversion fees when applicable – 2%
Charge for dormant account (per six months of inactivity) – $5.00
Close account and transfer unused funds – $6.00
EntroPay cards also come with minimum and maximum transfer and withdrawal allowances. Fees are subject to change at any time – please refer to the official EntroPay website for full up-to-date terms and conditions.
How to use EntroPay to play online slots
EntroPay is widely accepted by online casino vendors, and has become the preferred payment method for players who want to bet within their pre-determined financial limits while keeping their personal financial information safe. If you have an EntroPay card, transferring funds to your online casino account is a simple and quick process:
Sign up for an account with a trusted online casino that accepts EntroPay deposits. Our top-rated EntroPay casinos are listed in the table above.
Go to the casino's banking section.
Select EntroPay as your chosen deposit option.
Follow the prompts to enter your EntroPay Virtual Visa card details, the amount of money you wish to transfer and click through to complete your payment.
EntroPay deposits are processed on the spot, so you can dive right in and start playing your favourite online slot games for real money straight away.
If an online casinos accept EntroPay deposits, it is likely that casino will also allow withdrawals back to your EntroPay card. However, this is no always the case, so you should always check the banking terms and conditions of your chosen online slot site first if you are hoping to use your EntroPay card to withdraw your winnings.
Best slot sites accepting EntroPay deposits
Deposits using EntroPay are available at several of our top-rated slot sites, including:
Be aware that not all online pokies sites accept players from all countries, with different online gambling laws preventing some players from accessing certain casino sites. For a full list of the online slot sites accepting players from your country, refer to the casino table at the top of this page which has been customised to recognise your IP address and only recommend casinos that cater to players from your area.
Is EntroPay safe?
Yes – safety and security is the major focus of the EntroPay pre-paid service. All activity on your EntroPay account is controlled by your personal password, which is not visible even to any of the employees of EntroPay, and all transactions are protected by 128-Bit SSL digital encryption. Unfortunately Australians cannot play at casinos accepting Entropay. The EntroPay card is fully digital, which means it cannot be lost or stolen in real life, plus there is no link back to your bank account or credit card as funds are pre-paid. These security measures coupled with the minimum of 128-Bit SSL digital encryption and high safety standards enforced by our recommended casino sites makes EntroPay a safe choice for users from all over the world. For an extra layer of security, consider using a trusted VPN (virtual private network) service when playing for real money online.
Sign up at Jackpot City Casino and make your first real money deposit using EntroPay to receive up to $1600 in matched deposit welcome bonuses.