Progressive jackpots are prizes won on casino games that grow over time. Most pay outs in the casino, whether at the roulette table or on a video poker game, have a fixed value. For example, a machine may reward a player 8,000 credits for lining up three wild symbols on an active pay line. Progressives are different – the prize money grows every time a real money bet is placed on the same game within a shared network, allowing for some truly life changing wins. Below are the biggest current progressive jackpots at the Royal Vegas Casino.
Progressive jackpots are most common on pokie machines, though some other games of chance and skill offered at online casinos may offer an ever-increasing prize. Progressive prizes start with a base jackpot which grows over time, so they have a specific reset value; after one lucky gambler lands the right symbol combination or pulls off whatever is required to win one of these big pay outs, the value returns to a pre-determined amount and begins growing again.
How do progressive jackpot pokies work?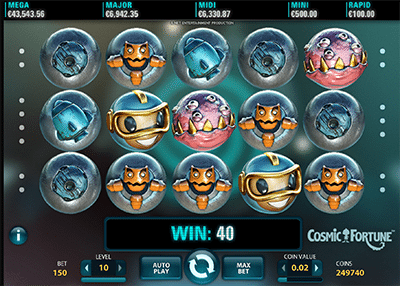 Progressives can work a few different ways. Some games with this type of prize are linked up to other pokie machines or games at the same casino, while others are part of a larger progressive game network shared between multiple casinos. Regardless of the size of the network, a jackpot is only progressive if the value of the payout gets bigger and bigger until one player on the network or playing the game wins it.
These (usually very large) prizes are put together from small portions of bets placed on the game within the network, large or small. Those smaller portions are added together, and the progressive jackpot's total ticks slowly but surely higher and higher. It's common for a game with a top prize of this type to display the value as it grows – this is easy on pokies and other machine games that already have a visual display or interface where the progressive's value can be shown.
From the gambler's perspective, this type of win is simple – let's say the game you're trying to squeeze a massive progressive win from is a pokie. The pay table will display the precise symbol combination that results in the big progressive win. Pokie players are usually bonus-chasers at heart, so the visual appeal of a jackpot's amount growing larger and larger over time can draw a lot of attention. This acts as a sort of snowball effect; the more gamblers play a pokie with this type of prize, the larger the prize grows, which then attracts more players, and the whole cycle repeats itself.
For more information, read our guide to the difference between land based and online progressives.
Progressives & payout percentages
The nature of this type of prize –built from small portions of bets placed on a game – belies the fact that poker machines and other games offering progressives tend to have worse odds than games that don't. One might assume that casinos offering wins of this type would want to offer odds that make the games more attractive. The truth is more like this – punters hungry for the biggest wins on the floor will step up to a progressive pokie or table game even if they know the odds are more in the casino's favour. And who can blame them? After all, these percentages are theoretical numbers, and all it would take is one lucky spin or one lucky hand and the bettor could be seven figures richer.
The main reason a game's odds are set more in favour of the house is to off-set the cost of the big payday someone will eventually earn. A poker machine with a top prize that grows over time will eventually make a machine gambler much wealthier, especially if that prize has grown over a long period of time. Gamblers who enjoy the thrill of the jackpot chase don't mind facing longer odds in order to put their hands on that oversized check, smile for the camera, and find themselves suddenly able to afford a new home, a luxury car, and all the other trappings of a big windfall.
Types of jackpots
Three standard progressive jackpot categories exist:
The first, the humble stand-alone version, is not as common and not nearly as valuable as other variations. Unlike the majority of games of this type, stand-alone titles aren't linked to a larger prize network. Instead, the highest fixed jackpot on the schedule is built from small pieces of bets placed on one game. One advantage to playing a stand-alone version is they don't always have the longer odds found on progressives in large networks. Obviously these games big prizes are smaller than those found on networked pokies or table games.
One rung up the ladder in terms of the size of the jackpot are in-house progressives. These are games or machines grouped together and all networked on the same casino floor or online casino, but not connected to other properties, tables, or machines. The prizes for these games are higher than on stand-alone versions, but smaller than those linked across multiple properties or around the world.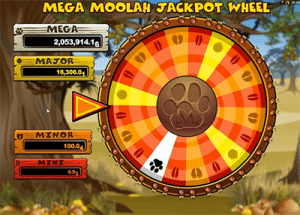 Wide area games usually offer the largest ever-increasing prize. Like the name implies, these games are hooked up across a wide area, either at multiple online casinos or even at land based casinos properties in other countries. The trade-off is that wide area titles are set with theoretical payout percentages much lower than stand-alone or in-house versions. Microgaming and Net Entertainment offer two of the largest wide are online progressive networks, with progressive pokies that start with a base jackpot of $1 million.
Though odds vary from one game to the next, often the odds of winning the largest prize on a wide area game is similar to the odds of winning a state or national lottery. But if you're the type of bettor that doesn't mind facing long odds for a prize that can climb into the millions of dollars, laying wagers on progressives is no big deal, whether the game is a poker machines or any other casino title. If you want to chase that constantly swelling jackpot but don't care for the typically long odds, look for in-house or stand-alone progressives that can still pay out big bucks but don't give the house as much of an edge.
One reason for the prevalence of progressives on pokies is the fact that the type of bettor who regularly plays poker machines is more likely to be a bonus chaser than a poker player or roulette gambler. Statistically speaking, humans have about a 1 in 576,000 chance of being struck by lightning, an event that's more likely to occur than most progressives. Still, the appeal of the prize amount ticking up and up and up is too much of a temptation for some pokies players looking for a big pay day.
Best online progressive jackpot pokies
Our recommended casinos host a number of progressive jackpot pokies from leading brands like Microgaming, NetEnt and BetSoft, with some epic jackpots that start around a cool one million dollars. These games are all available in instant-play, so you can give them a go directly over your Web browser without any downloads required. The most popular, highest paying online progressive slot titles include: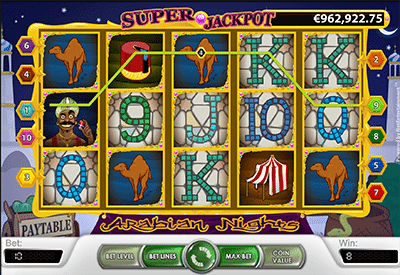 The Dark Knight
Arabian Nights
Geisha Wonders
The Glam Life
Mega Joker
Icy Wonders
Tiki Wonders
Greedy Goblins
Fruit Fiesta
King Cachalot
At The Copa
Cash Splash
Lotsa Loot
How much can I win playing progressive jackpot games?
There is no definitive answer to this question, as each game carries different jackpots which are increasing by the second. The amount you stand to win also depends whether the game is on a wide area progressive network or stand-alone network. But let's put it this way – when talking about progressive jackpots, we're not talking about chump change here, there is some serious cash to be won, with jackpots typically ranging from the tens of thousands to the multi-millions. Wide area progressives in the NetEnt and Microgaming network have created many instant millionaires over the years, with online players making the Guinness Book of World Records for the amount of money they've won. These pokies may come with low odds, but if you're chasing the biggest possible online wins, progressives are the way to go.
SEE ALSO:
Microgaming offers some of the largest progressive jackpot pokies on the Internet. Sign up for an account at All Slots Casino to get access to some of the biggest wide-area progressives, and claim up to $1600 in welcome bonuses upon registration.