When playing the pokies online, you'll notice that many games offer an optional auto-play feature. We explain exactly how the auto-play feature works on slots games, how to use it and why it's probably in your best interest to avoid it. There are many online pokies games that will have the auto-play feature.
Auto-play pokies explained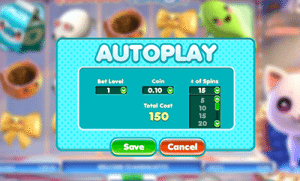 The auto-play feature is exactly as it sounds – it's an optional function that allows the computer to play a designated number of spins on your behalf. This means you don't have to constantly hit the play button after every spin, and can even walk away from the computer and go about your daily life while the reels will continue to spin.
The auto-play feature is really one for the hardened pokies fans, the players who are hoping to win money with the least amount of engagement as possible, although recreational players can also enjoy watching the reels spin without having to constantly click the mouse or tap the touchscreen.
Below we'll break down how exactly auto play slots games work at the top real money casino sites.
How to use slots auto-play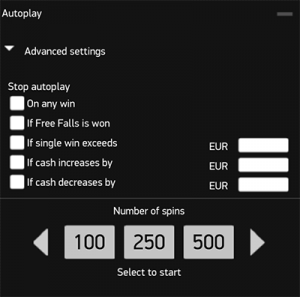 Using the auto-play function is easy. Once you've loaded your chosen online pokies game, simply use the buttons at the bottom of the reels to select the size of your bet just like you would when playing a normal wager. When your bet is in place, just hit the auto-play button and select the amount of spins you want the computer to play on your behalf. That's it – now kick back and watch the action unfold, or you can even exit the scene entirely.
How many auto-spins can I play?
The amount of automatic spins you can play varies within each game. When bringing up the pokies auto-spins feature, you'll be presented with suggestions of typically between 10 and 1,000 automatic spins, but many games also offer the option of customising the amount of your auto-spins by entering your desired value. Ultimately, the amount of auto-spins you're allowed to play depends on the rules of the game at hand, although you can always re-set this feature again once you're out of spins.
Advanced auto-play settings
When bringing up the auto-play function, you'll notice that many pokies offer additional options within the feature, known as the advanced auto-play settings. Here you can customise when you want your auto-spins to stop, including:
Stop after any win
Stop if free spins are won
Stop if a single win exceeds a designated amount
Stop if cash winnings increase by a designated amount
Stop if your bankroll decreases by a designated amount
The advanced settings give you a bit more control over your money, making sure you can cut things off before you lose too much, or walk away once you're won an amount you're happy with. Stopping after every win also allows you to revel in the moment of your glory and re-assess your cash flow situation before deciding whether to continue playing or not.
Online pokies with auto-spins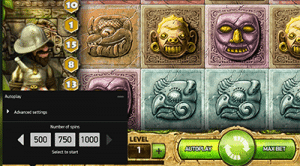 The auto-play feature can be found in a majority of online pokies games, with gambling software developers taking advantage of the chance to get players to bet as many spins as possible. Here is just a small handful of our favourite pokies that offer the auto-play function:
Bikini Party
Twin Spin
Red Phoenix Rising
Aloha: Cluster Pays
Fruit Shop
Should I use the auto-spins feature?
Although online casino vendors are surely delighted by the auto-play feature, standard pokies strategy warns players against using this function. Why? Put simply, it's just too risky and supports potentially dangerous gambling practices. While some players may love the idea that they can hit the auto-play feature and rack up some potential wins while they're outside mowing the lawn or watching TV, it has problematic written all over it as you can burn through your pokies bankroll at a rapid pace.
If you're going to use the auto-play feature, ensure you establish your financial limits first. Use the advanced settings to enter the amount you can stand to lose so the auto-spins will stop before you fall into a black hole you can't spin your way out of. Alternatively, keep the amount of auto-spins set at a low amount, like 10 or 20 at a time, so you can keep an eye on the game and re-evaluate your next move every block of spins at a time. When playing the pokies, ensuring responsible gambling practices are employed at all times is the most important thing to consider.
Lastly, online pokies are designed to be engaging and entertaining for players, offering many more interactive features and eye-catching graphics than their land based counterparts. When using the auto-play feature and walking away from the game, you're missing the whole online gaming experience.
Best online pokies sites with auto-play functionality
There are many Australian online casinos that allow you to use autoplay, with these pokies sites generally based in places like Costa Rica, Curacao and Panama. Some online pokies sites worth checking out include:

Casinos with autoplay pokies games
To find hundreds of online slot games offering the auto-spin feature, head toRaging Bull Casino, our top-rated casino site for players from United States, which has some excellent welcome bonuses available for new players.