Estimated Reading Time: 3 minutes
As far as online slots go, Scarface is as fast-paced and thrilling as the classic crime mob film it's based off. We explain how and where to play the exciting Scarface pokies game online at the best casinos on the Web.

Best NetEnt casinos to play Scarface
Fans of the movie will be pleased to see their favourite characters starring in the game – ruthless Tony, intimidating Frank and beautiful Elvira (played by Michelle Pfeiffer) are all featured in the slot aesthetic.
But even if you're not familiar with the movie, you'll sure to love the exciting gameplay offered by Scarface Slots. It's an old-school traditional style payline slots game with the chance to win free spins, extra games, nudge spins and it features an excellent action-packed shootout bonus game.
How to play the Scarface online slot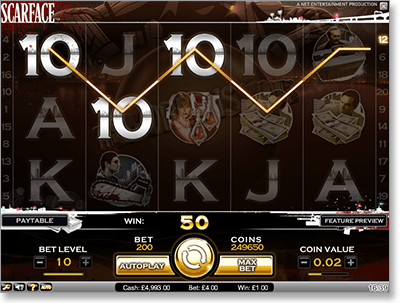 The set-up of the Scarface Slots is pretty straightforward. It's a 5-reel, 20-line video pokie with a 10 set bet levels for each line and a coin value ranging from 0.01 – 0.50. If the symbols line up your bet pays out, and like many other pokies you can change the value of your bet as you please. This means you can choose to bet anywhere from $0.20 – $100 per spin. You can also choose to autoplay for a set number of spins.
The exciting draw card of this slots game is the chance you may gain enough Scarface Stacked Wilds to win added bonuses in the game. Stacked Wild symbols don't have to line up for you to reap their benefits. The Stacked Wild symbols will only appear on reels 2, 3 and 4, and you only need 3 of them to win nudge spins, a bonus game or 15 free spins.
Scarface stacked wilds explained
Nudge spins are activated when you get a full Stacked Wild on your second reel. A nudge spin will respin all other reels, and nudge down the symbols on the second reel, giving you a second chance to win bigger.
In Scarface Slots, you'll be able win 15 free spins when a full Stacked Wild appears on the fourth reel. Once you've won one lot of free spins, players have the chance to win even more cash. Everything you win during one of your free spin rounds is three times better than it would otherwise be – the game actually multiplies your winnings by three.
For example, if you get a full Stacked Wild on reel 4 during one of your free spins, you'll get x3 multiplier on your free spins to make 45 free spins. Any bet line winnings made during free spins are also tripled.
A full Stacked Wild on reel 3 will activate a fun Bonus Game, which features leading Scarface mobster Tony.
Scarface slots bonus game
The Bonus Game is an enjoyable little side game that breaks up video slot play with an arcade style shootout game. The bonus game is set in a famous scene of the film, where Tony (our main man) must shoot down his rival Sosa's henchmen who are shooting their way up the staircase.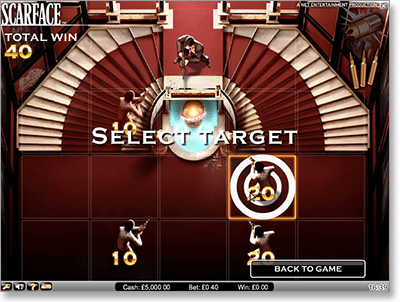 The aim of the game is simple; shoot down Sosa's hit squad in order to protect your character, Tony. Before each round of shooting your gun will be either loaded with bullets (which will let you kill an enemy on one square), or a grenade (which will allow you to shoot down four henchmen at a time). Each kill you make during the bonus game will increase your coin amount, and you determine how many coins each kill is worth.
The coin amounts awarded per enemy killed are based on the bet level that activated the bonus game. Basically, if you've bet higher stakes when you activate the bonus game, you'll be able to win bigger in the bonus game. You can potentially win as many as 8000 coins in a single bonus game.
The final verdict
Scarface is a very high quality online pokie offering an authentic and luxurious pokies experience. The film's theme is prominent throughout all aspects of the game, which makes for some truly riveting gameplay. The characters of the game, icons, imagery, background music and special effects sounds have a distinct Scarface vibe which really puts you in the right frame of mind for exciting casino play.
Even if you're not familiar with the movie, many players and pokies enthusiasts will appreciate the classic gangster style of the game. It's a video slot with the chance to win massively, and its extra features such as the exciting bonus shooting minigame means you certainly won't be bored anytime soon.
Play Scarface pokies on your desktop computer, smartphone mobile or tablet device at G'Day Casino and claim a 100% matched deposit bonus.