Just like the classic Steven Spielberg blockbuster that broke new ground upon its cinematic release back in 1993, the Jurassic Park online pokies game has set a new standard for virtual casino gaming. Brought to you by the guru's at Microgaming (the same crew who blew us away with Terminator 2 and The Dark Knight Rises, among countless others) Jurassic Park is a spellbinding example of the possibilities of online pokies.

Best Microgaming casinos to play Jurassic Park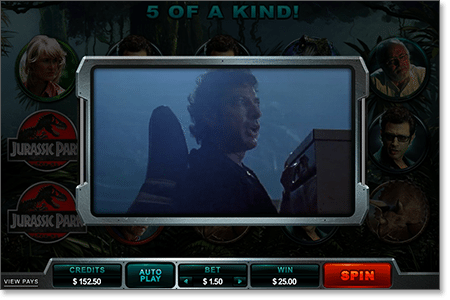 This is a gaming masterpiece, with not only captivating and vivid 3D graphics, hours of enthralling entertainment pulled directly from its movie counterpart, but amazing free spin bonuses from here to wazzo. With enthralling sound effects, Jurassic Park had us hooked and is a sheer pleasure to play. Microgaming can do no wrong in our eyes and this game is the perfect example of what the company is capable of producing.
Gameplay features
Jurassic Park utilities a classic 243-way format (which seems to be the norm for Microgaming titles), meaning each possible pay line is played per spin. Symbols can appear anywhere across the reels, in any order, to form a winning sequence. Players don't pick individual lines to bet and are automatically covered for all possible 243 combinations.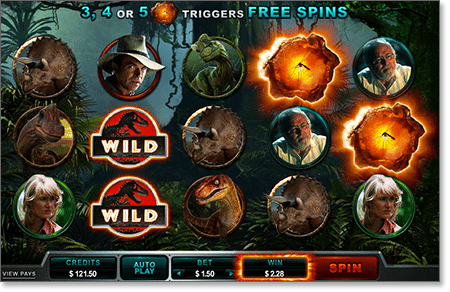 The game layout plays homage to the movie, featuring an eerie jungle scenery set to a seriously suspenseful soundtrack. Symbols are made up of the movie's characters (Sam Neil, Jeff Goldblum, Richard Attenborough and Laura Dern) along with those epic dinosaurs (T-Rex, Velociraptor, Dilophosaurus, Triceratops and Brachiosaurus). If you love this game for no other reason, you'll love it for the graphics alone.
Scatter Symbol = DNA (mosquito in amber) is the highest paying symbol in the game. It can pay from any position, with three or more scatter symbols unlocking the bonus games.
Wild Symbol = Jurassic Park logo, which comes stacked in groups of three, with the possibility to be increased during bonus rounds.
Jurassic Park pokies free spins and bonuses
If one thing's for sure it's that Jurassic Park certainly doesn't skimp on the free spin bonuses! Activated by the iconic mosquito in amber symbol (the game's scatter), the free spin feature will kick off after the mosquito has appeared three or more times. There are five different bonus games within the free spins feature, each which offers 12 free spins and each which is based on a different type of dinosaur.
T-Rex – the legendary T-Rex shows up at random and turn up to five reels wild, along with 12 free spins.
Velociraptor – the Velociraptor is stacked and introduces the Multiplier Wilds and Split Wilds. Multiplier Wilds can increase a win by 4, 5 or 6, with Split Wilds separating into two different symbols, resulting in up to x 6 payouts. Includes 12 free spins.
Brachiosaurus – the Brachiosaurus is stacked and enables the Mystery Multiplier, increasing wins up to 6 x. This is the only bonus round that allows for free spins to be re-triggered. Includes 12 free spins.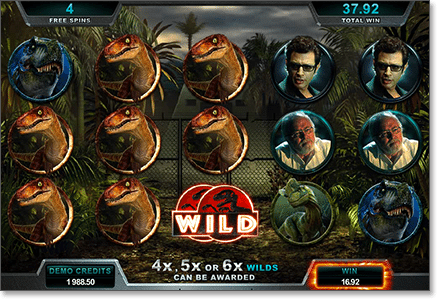 Dilophosaurus – the Dilophosaurus is stacked and can turn wild at any time, also activating the Winning Wilds feature. You'll know when this is activated due to the giant spit from the mouth of the dinosaur, which allows the wild to remain in play for continuous winning spins, only de-activating after a non-winning spin. Includes 12 free spins.
Triceratops – the Triceratops is stacked and activates the Running Wilds feature, adding an extra wild symbol to each reel, enabling up to 14 wild symbols per reel, plus the standard 12 free spins.
And then, just in case these hefty bonuses weren't enough to get you excited, there's the T-Rex Alert Bonus.
T-Rex Alert Mode – when the T-Rex Alert Mode sounds, it will be music to your ears! The sound of his mighty roar means you have activated 35 additional wild symbols across all reels, which will be in play for the next six spins. This alert will only happen at random, but keep your fingers crossed because this is your chance to win some serious moolah.
Play Jurassic Park online for free or real money
Not surprisingly, this game fast became a crowd favourite and can be found at a majority of leading online casinos. Our favourite venues to play the famous Jurassic Park pokies game for free and real cash using AUD are recommended in our casino table above. You can use our links in this table to read detailed reviews of each casino site, or sign up to claim some exclusive new player welcome bonuses.
Jurassic Park embodies everything we love about online pokies. The graphics are exquisite, the gameplay is exciting, the bonuses are vast and most importantly, it stays true to the iconic movie from which it came. Playing pokies with familiar characters and storylines (think South Park, Scarface and Tomb Raider, to name a few) is such a joy for any movie lover or gaming fanatic, and Jurassic Park may possibly be the best example of a good movie collaboration on the pokies market.
Head to any of our secure online casinos to try this awesome game for free, or sign up to play for real money in Australian currency. Each site offers new users a unique welcome bonus to help increase chances of winning on the first visit, so if you're not already a registered user, then there's never been a better time to join and experience this incredible game.