Estimated Reading Time: 4 minutes
When we or our parents were once sitting at a pub spinning the classic fruit machines, we never imagined that pokies would be as innovative and graphically appealing as they are now. It's only fair to assume that the future of pokies is going to continue to advance.

Top rated online casinos for advanced pokies
We have taken a look at the developments of slots and the release of video pokies, 3D slot machines, progressives, and mega spins in order to have some fun and predict where the next generation of pokies is headed.
First, we take a look at a realistic prediction as to where the slots may be going and then we will examine interesting takes on the next generation of slots, which may be closer to realisation than you think.
A slots timeline
The first lot of slots appeared back in the 1800s and were nowhere as near as advanced as they are today. While they follow the same concept they have definitely become more immersive. Fruit machines lined pubs and gambling halls, with new slot machines eventually filling land-based casinos.
As the online realm emerged, technology rewrote online slots delivering and array of new options for pokies players. These included video slots where players go on an adventure with a short video introduction opening the slot machine which can sometimes follow movie and television themes; progressives which connect players all around the world and increase every time a player spins the reels which ultimately offer huge jackpots that anyone can win; and mega spins which allow players to play more than just one slot machine.
Fruit machines are also available online with the graphics updated. With all these developments in the world of slots, we can only expect these advancements to continue.
Real money social media slots
Slots are available via social networking sites, but they aren't available for real money play at the moment. This could change if software developers create games compatible with Facebook rather than apps specifically for Facebook.
How so? Facebook acts as a gateway for many online websites which require users to sign in and we believe this could become compatible with online slot casinos soon too. By logging in via Facebook into our casino accounts we can share our winnings with friends, invite people to play, and even verse players if software providers ever create slots which involve two players.
So while law prevents Facebook app developers from creating real money gaming apps for Facebook, there is always a loophole and we expect it won't be long until they find it.
New technology slots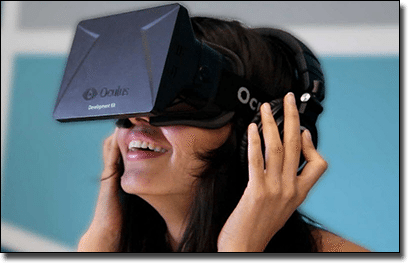 With the continuous release of new technology including all of these wearable devices such as iWatch, Google Glass, and Oculus Rift, its only a matter of time before slots become available to play via these interesting gadgets.
Already, Slots Million has launched a virtual reality pokies lounge compatible with the Oculus Rift headset, allowing players to stroll the aisles of the virtual pokies lounge and interact with other players before playing slot games in full 3D mode.
While the slots available may be the same as they are now, the different platform definitely provides a different and more immersive experience. However, new slots could be created to coincide with wearables and this is where our unique perspective of where the next generation of slots are headed.
By playing via our watches, or entering an online casino via a virtual reality headset, the future of slots is going in a much more interactive direction, similar to how video games are already incorporating casinos and slots in their designs.
4D slots
While we all expect slots to become compatible with wearables as they have with smartphones and tablets, having them change into a complete sensory experience where we can not only hear and see them, but touch, smell and taste them too is definitely something that is possible for the future of online gaming.
Do you have no idea what we are talking about? Well, movies are now being revolutionised from 3D to 4D where the the films are not only created to feel like you are there via the 3D graphics, but eventually also with smells, tastes, and certain feelings.
For example, if a character in the movie farted then the audience viewing the movie would be able to smell it with the smells released into the cinema, or if a character sneezed the audience would be sprayed with water. While this doesn't sound that nice, good smells and tastes will also be available to create an exciting and interesting sensory experience.
We believe (or hope) that slots will follow suit and create a 4D revolutionary so that when players are spinning the reels there will be technology to wear that allows certain features such as smells of a casino or the replica of drinks being spilt by splashes of water from the gadget, to create a really exciting pokies experience that allows us to enter a virtual reality that mimics a land-based casino almost exactly.
Future generation slots
While we can't be sure where slots are headed we can take some pretty wild guesses, because back in the 70's when the slots were all the rage we can only assume that if we walked up to anyone playing those fruit slots and told them where the pokies were headed they would class us as mad.
Sign up for an account at Slots Million, the only online casino offering virtual reality pokies, and claim up to $100 in casino welcome bonuses when depositing real money for the first time.d