Estimated Reading Time: 3 minutes
Online pokies have advanced in leaps and bounds over the past few years, with new technologies and innovative software resulting in games that would have seemed impossible a decade ago. But no matter how far online pokies evolve, many players wonder whether they will ever become as interactive as video games. We take a look at the emerging trends in online slot software to speculate over what the future of Internet pokies may hold.
How far have online pokies come?
When pokies first emerged on the Internet they used the most basic of graphics and animation, offering three-reel variants with no bonus games or special features. If you look at games now, it's mind boggling to see how far things have developed in just a few years. Online pokies are now highly engaging, offering premium high-def video graphics, cinematic grade animation and all kinds of unique and creative features like wild symbols, scatter symbols, expanding wilds, cascading symbols, gamble features and mini games. Extending far beyond the most basic three-reel format, online pokies now come with five-reels, progressive jackpots, All-Ways wins, 3D designs and interactive bonus features that take the player experience far beyond just clicking a button to spin the reels.
Pokies for a younger generation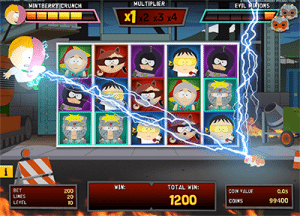 It seems that online software developers are recognising younger players represent the way forward for online gaming, and are taking steps to make sure pokies appeal to the younger generation. Collaborations with movie and TV studios means we can now play games like Aliens, South Park, Bridesmaids, Game of Thrones and Jurassic Park in pokies form, complete with screen grabs and film footage. Unique bonuses have the power to offer interactive games that have more in common with video arcade games than they do with casino games. For example, in the Aliens pokies game you progress through three different levels, accumulating ammo which can then be used to defeat the alien queen for some huge wins. In South Park Reel Chaos, the Mintberry Crunch bonus game takes you to a new screen where you fight your way against four different enemies, claiming bonus multipliers along the way before making it to the final Victory Bonus. While the base games themselves still follow a typical five-reel format, it's in the bonus features that we're seeing the use of interactive video games, with this outlet providing room for creativity for software developers and higher levels of engagement for players.
Virtual reality pokies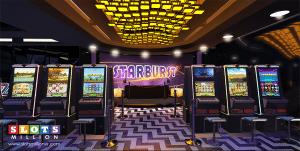 The online casino industry is one of the first gaming outlets to successfully jump on board the virtual reality gaming wagon, with Slots Million launching the world's first ever virtual reality pokies lounge. With the use of the Oculus Rift VR headset, users can stroll through the aisles of a virtual land based casino, stopping to chat with other players before taking a seat at one of several virtual reality pokie machines. The pokies themselves also provide an interactive VR gaming experience, with symbols and reels that come to life in full 3D. While mainstream video games have yet to catch up with the capabilities of virtual reality, the virtual reality pokies market is already gaining ground, proving itself one step ahead of the game.
Influence of shooter style casino games
Word is out that real money virtual reality shooter style video games will soon be available at land based casinos, with The Brookhaven Experiment due to enter the American casino market in 2017. This game will use the HTC Vive virtual reality headset to accommodate real money wagers, allowing the player to bet on such outcomes as to whether or not they think they'll survive the next zombie attack. The purpose of real money shooter style games is to adapt the casino market to appeal to a younger audience, and this is what we expect to see more from when it comes to online pokies.
We can't foresee exactly how this new technology will influence pokies developers, but it could mean more built-in bonus games and innovative features to appeal to the younger generation of video game enthusiasts. Either way, this new style of real money gambling proves the industry's focus on engaging a younger audience and branching out beyond the use of traditional technology, presenting an exciting future for the online pokies platform where anything seems possible.
Want to try the most advanced online pokies and virtual reality pokies currently on the market? Head to Slots Million where you can play over 1,800 pokies for free in practice mode or for real money bets, including virtual reality slot games.