Even though the real world has turned virtual, our favourite traditional style pokies (known as fruit machines) are still available to play on the Internet. These games offer players the chance to spin the reels with all the classic fruit symbols we use to know and love, like cherries, watermelon, strawberries, pineapples, and more – we explain how and where to play the highest paying Internet fruities.

Best pokies casinos with highest payout fruit slots
All online casinos
For those who were born in the digital era and have never played the traditional fruit slots, don't be so quick to pass them off as they can be quite fun to play while offering some high payouts.
Want to know more about online fruit machines? We've covered all the bases including what exactly fruit machines are as well as the difference in slot variations, and our favourite highest paying fruit slots for you to try out.
What are fruit machines?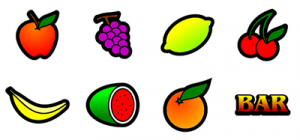 Also known as fruities or fruit slots, the fruit machine was originally another name for slot machine, prior to the introduction of video slots and 3D pokies, as it was the only variation of the original slot machine available at land-based venues.
Fruit slots work by a random number generator producing a random outcome via fruit symbols, with certain combinations of fruit symbols winning the player money. They don't usually resemble an exact replica of the fruit machines which used to fill the pubs back in the day, due to the fact they have modern animations, crystal clear audio, and even additional bonuses which are variations from the classic three reels and one payline format.
Pokies variations
With the advancement of the Internet came the advancement of graphics, audio and more, meaning pokies have advanced with fruit machines being classed as traditional and classic pokies which are generally found under the 'Classic Slots' category at online casinos.
To understand this better, we have taken a look at all the variations available and their features in comparison to fruit machines, both online and at land-based venues. In terms of payouts, it ultimately comes down to the title and the iGaming software developer.
We've listed a few of the highest paying fruit machines below for your convenience, but first we take a look at all the variations so you can see how they stack up against the classic fruit machines that have gone virtual.
Video slots vs fruit machines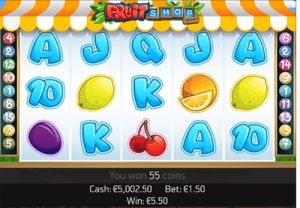 Video slots generally have 5-reels as opposed to the 3-reels which fruit machines have. Additionally, fruit machines only have one payline, whereas video slots can have anywhere from one to 100. The more paylines there are, the more chances you have to win (provided all paylines have been activated), but that doesn't mean you can't win on fruit machines; it actually means you win more regularly.
Fruit pokies offer more chances to win more often, but with smaller amounts as opposed to the bigger amounts up for grabs when playing video slots. Additionally, the old classic slots with 3-reels meant the combinations were determined in terms of a cubic multiplier, meaning there were only 1000 possible outcomes since these original slots had only 10 symbols and 3-reels. This meant that the jackpot offered wasn't as big because players can win regularly.
Nowadays, there are variations of fruit machines which feature more reels meaning larger potential winnings. Another thing to note is that video slots can be a bit more entertaining as they pay homage to popular culture including movie characters and short video introductions prior to playing, however they can also be quite annoying if you aren't one for introductions so this is where fruit machines may be better suited to you.
Progressives vs online fruit slots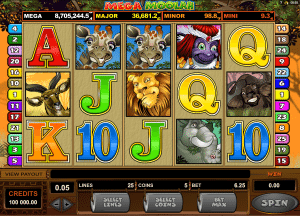 While online progressive jackpot pokies follow the same concept as their land-based counterparts in that all players contribute to a jackpot every time they play until one lucky player hits it, online games are quite different in that players contribute no matter where they are located. When playing online there are two types of progressive jackpot pokies – ones that run off a wide-area network and ones that run off a local progressive network. Wide area progressives increase any time the same game is played by any player at any casino around the world, while local area progressives only grow within the one venue. Both can offer some monumental wins, much higher than you'd ever find in a classic pub fruity.
Progressives are probably the best option for winning large amounts, but they don't pay as regularly as fruities. So once again, if you prefer regular payouts as opposed to higher payouts pick the fruities, but if you want to win big try out the progressives.
Fruities vs MegaSpins slots
If graphics don't interest you then it won't matter whether you are playing video slots or progressives, but if the amount of games make it more thrilling, Mega Spin slots are going to beat fruit machines. Players can pick up to nine games to play at once with Mega Spin pokies. If you want to work your way up to playing mega spins, perhaps fruit machines are a good place to start to get the practice needed for a mega spin slot machine so you can eventually play multiple games at once.
Why play fruit slots?
Fruities have certain features which make them appealing beyond the nostalgia, and these are known as the Hold and Nudge options in gameplay. The hold option works by holding certain reels so you can give the other reel another spin in order to win. For example, if you have two oranges on two reels but cherries on another reel, you can click the hold feature to hold the two reels with the oranges, while the third reel with the cherries spins again in order to hopefully land another orange to make it three oranges on three reels.
The nudge feature on the other hand can nudge another reel to make a winning combination. For example, with the same two oranges on two reels, if you can see an orange above the cherry on the third reel then you can nudge the reels so that orange will drop and you have a winning combination of three oranges.
Online fruit machine variants
Fruit machines vary online, as do all games, between different software developers. As classic slots aren't the primary focus in terms of the online slots realm, there aren't as many software developers who have brought the fruit machine online. However the following have, and vary in different aspects. We've have chosen to look at the following two as they both are top leading software developers with high percentage rates in terms of their slot machines, which include the classics.
Microgaming fruit machines – Microgaming stick to the traditional format with the fruit machines, also known as Amusement With Prizes (AWP). With the classic three reels format and a bonus round, there is also all the fruit symbols we use to see. Additionally, it is well known that all Microgaming slots generally all have the same payout percentage which is around 96.50%, though there can be exceptions.
Net Entertainment fruit slots – NetEnt on the other hand channel the old-style feel attached to fruit machines but put a spin on things. They replace the traditional format sometimes even with 5-reels and multiple paylines, and use graphics which pay homage to the traditional fruit symbols. Net Entertainment's payout percentage is actually a bit higher ranging from 96.6% to 98.5%.
Best online fruit machines for the highest payouts
Since there is an abundance of slot machines online, fruit slots included, it can be hard to find the best which offer the greatest payouts. We have found some of the highest paying fruit machines online by both Microgaming and Net Entertainment which can be found at our recommended online casinos.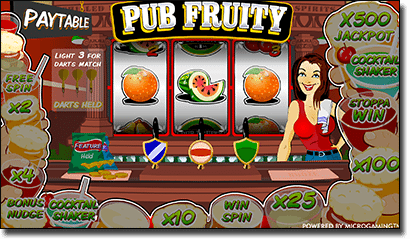 Pub Fruity – Pub Fruity is powered by Microgaming and offers the traditional format including 3-reels and a single payline format. It also has the hold and nudge feature which attracts us to fruit machines in the first place. Players can bet a minimum of 10 cents and a maximum of $10, and if the three Pub Fruit logos appear on the payline your bet is multiplied by 250. There's also a feature which all classic fruit machines have called the Drinks Trail, which offers free spins and multipliers, as well as a bonus nudge. A bonus feature known as Darts Match wins you up to 1000 times your stake if you pick out of the correct dart player of three which will get the highest score. This Microgaming title offers an average 96.50% payout percentage.
Fruit Bingo – This is one of Microgaming's highest payout fruit slots, but it isn't by much more than other slots. At 96.69%, this slot has the traditional 3-reels and single payline. This traditional inspired fruit machine also has an interesting bingo theme to it. With all the fruit symbols, as well as nudges and holds, the best part about this online slot is it has a multiplier of 500x and a bonus feature that is activated by three of the Fruit Bingo logos. Players can bet a minimum of 10 cents and there is the opportunity to use 2-reels instead of 3-reels. So for the highest payout rate as well as the classic traditional fruit machine experience with a twist, this is a good option for players.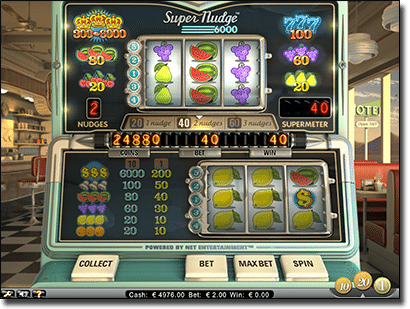 Super Nudge 6000 – As stated above, Net Entertainment's slots payout higher than Microgaming and this is one of their best in terms of the fruit machine variants, with a payout rate of 97.2%. This classic with an innovative spin on it has been created by NetEnt, offering a format of 3-reels and it is different to the traditional single payline as it features five. Featuring the favoured nudge feature, but with extras as nudges are activated by winning on the first reel, second reel, and so on.
Fruit Shop – The classic fruit machine with a different theme and added features, this Net Entertainment slot offers a payout which is higher than all the aforementioned fruit machines at a 98.8% rate. Featuring a 3-reels, five payline format with jokers, bells, and stars taking over the traditional fruit symbols. What sets this slot apart from the other fruit machines is it has an array of bonus features including the Double Up Game where players guess the symbols and double their winnings; the gamble feature where players pick the colour and suit of the card; and the Supermetre mode where players can win jackpots.
How to determine the payout percentage of an Internet fruit machine
If you have found a specific fruit slot you enjoy playing, but want to know if it is one of the highest paying slots, players can easily find out what the payout percentage is. By doing a simply Google search with the slot title along with the terms 'payout percentage' you will quickly churn out what the rate is.
However, it's important to note while these titles state that they have this payout percentage, if you aren't playing at a reputable online casino you can be subjected to the online operator altering the game in their favour. For punters playing the fruit classics online, ensure you are gaming at a secure and regulated online casino such as the ones we recommend above to ensure you aren't subjected to lower than stated payout percentages.
We recommend checking out Raging Bull Casino, our top-rated casino site for players from United States, which has some excellent welcome bonuses available for new players along with hundreds of real money casino games to choose from, with no downloads required.