Royal Vegas Casino offers one of the largest range of online pokies available on the Internet, boasting over 450 titles that include some of the biggest names around. Chances are if you're looking for a specific virtual pokies game, you will find it at Royal Vegas Casino. Some of the most popular Microgaming pokies that can be found at this awesome site are listed below.
Mega Moolah – responsible for making quite a few instant millionaires and remains one of the biggest progressive jackpot pokies available online. Mega Moolah is part of Microgaming's Progressive Jackpot Network (the largest group of its kind on the Internet) and offers allows massive payouts. Set against the African desert, this game uses animal symbols and pulls you in with its attractive graphics and chances for big bucks, rather than anything particularly ground-breaking about the game itself. With 25 paylines and four ongoing progressive jackpots, bonuses include free spins and of course, the Wheel of Fortune Jackpot Wheel which is activated randomly within the game. Bets can be placed for as little as $$0.01, with a maximum bet per spin of $6.25.
The biggest win taken by a Mega Moolah player was in 2009 when Georgios M won a sensational $6,374,434 jackpot. Royal Vegas Casino has also introduced the little sister to this game, Mega Moolah Isis, which follows the same format but with an Ancient Egyptian theme.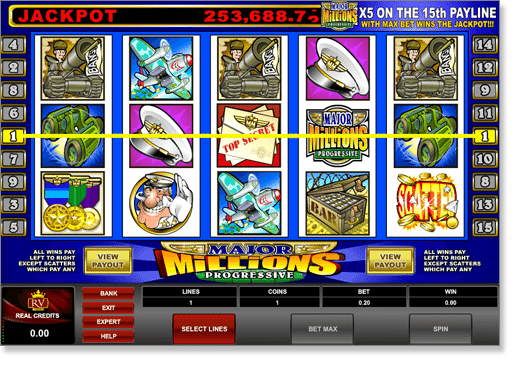 Major Millions – similar to Mega Moolah in that it's powered by the epic MPJN, Major Millions may not offer jackpots of the Mega Moolah proportions, but it does have some tempting wins up for grabs. Played over a 15 payline reel, the maximum bet is $3, which you need to play to be eligible to win the progressive jackpot.
This game uses a simple interface, and focuses mainly on the progressive jackpot element, without too many additional features. If you're looking for something more interactive and graphically advanced, the below titles are better suited for your taste. The record jackpot won at Major Millions is $1,594,649.21.
Play Major Millions at www.RoyalVegasCasino.com.
The Girls With Guns Series – Girls With Guns currently offer two titles within the series; Girls With Guns: Jungle Heat and Girls With Guns: Frozen Dawn. These games follow a military theme with some bad ass babes at the forefront, as a team of female commando's rampage through the jungle in an attempt to defeat an evil drug lord in Jungle Heat, and save the world from global war in an icy backdrop in Frozen Dawn. This series offers some of the best real money pokies payouts on the market, combined with some kick-ass women showcasing some kick-ass skills, and really what more could one ask for?
Play Jungle Heat or Frozen Dawn at www.RoyalVegasCasino.com.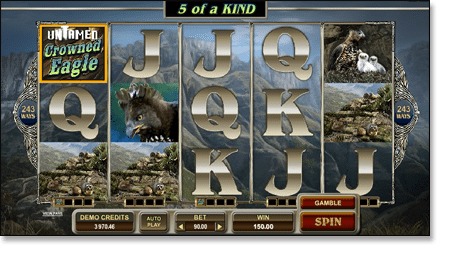 The Untamed Series – there are currently four titles in this series: Untamed Wolf Pack, Untamed Bengal Tiger, Untamed Giant Panda and Untamed Crown Eagle. These popular video slots offer some absolutely beautiful graphics, using the highest technology available to create crisp, clear images and mystical audio that will take your breath away. All four of these games utilises the 243 ways pokies format and are played across five reels, with each offering a different minimum and maximum bet allowance, so it's worth trying out each one to decide which is right for you. The Untamed Series is not just popular for its stunning graphics, but also for the wide range of bonuses on offer, possibly some of the biggest on the Web.
Play the Untamed Series of Pokies at www.RoyalVegasCasino.com.
Avalon Series – also offering two titles in the series, Avalon I and Avalon II fast became player favourites due to their fantasy themes and big bonuses. The Avalon pokies games are based on the Legend of the island of Avalon, where King Arthur is said to have been taken after fighting Mordred during the Battle of Camlann. These games follow grand, medieval themes with crisp graphics and a classic 243 way pokies interface. One of the stand-out features of the Avalon games it the gamble option, which gives players the chance to gamble winnings from the base game to potentially quadruple their winnings. That added risk will certainly get the old heart pumping.
Play Avalon I and II at www.RoyalVegasCasino.com.
The Dark Knight Series – the Dark Knight and the Dark Knight Rises video slots games were destined to be a hit right from the start, based on the blockbuster movies starring Heath Ledger, Christian Bale, Tom Hardy and Anne Hathaway. The games use graphics and clips taken directly from the films and the results are visually fantastic. The Dark Knight is played with a progressive jackpot, whereas the Dark Knight Rises is played to a fixed jackpot, with both games using the standard Microgaming 243 ways format and offering a great range of features. With unique bonuses up for grabs in each, it's hard to pick a favourite of the two.
Play the Dark Knight Pokies at www.RoyalVegasCasino.com.
Immortal Romance – our favourite Royal Vegas mobile pokie, this is one of the hottest games available both online and on smartphones and tablets, and it's not hard to understand why. This pokies game is inspired by the Twilight book series written by Stephanie Meyer, and pretty much anything associated with Twilight is destined for huge success. Fans of the Twilight franchise will thoroughly enjoy this 243 way pokies game which utilises very dark, medieval type themes and offers tempting bonuses. The biggest stand-outs of Immortal Romance: the Wild Desire feature, which adds between one and five reels to the screen, with the addition of five reels opening up the chance for the ultimate jackpot, and the four different types of free spins available.
Play Immortal Romance at www.RoyalVegasCasino.com.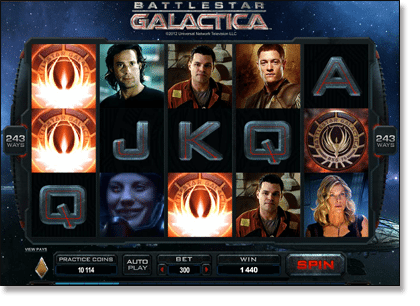 Battlestar Galactica – based on the hugely popular series by Glen A. Larson, this sci-fi-themed pokies game uses outstanding graphics sure to keep the die-hard Battlestar Galactica fanatics happy. In the pokies version, it is your mission to fight aliens in an attempt to save humankind, while picking up some tasty bonuses along the way. Using a five-reel 243 way pokies format, this game is played over four different modes, each which offers different challenges, special options and bonus features. Come for the flawless graphics, stay for the exciting gameplay and enjoy the chance of winning real money in this Microgaming favourite.
Play Battlestar Galactica at www.RoyalVegasCasino.com.
Terminator 2 – throw Arnold Schwarzenegger and this blockbuster movie classic into a virtual pokies game and you have a guaranteed winner on your hands. The pokies version of Terminator 2 use graphics pulled direct from the film, making it true to life and sensational to play, with real scenes from the movie flashing by every now and then to keep the action alive and pumping. The 243 way format is boosted to a gigantic 1024 ways to win when the free games feature is activated, giving players the chance to wins via even more combinations, while triggering T-800 Vision bonus offers something different in that it can only be activated after a losing spin. How's that for one for the underdog!?
Play Terminator II at www.RoyalVegasCasino.com.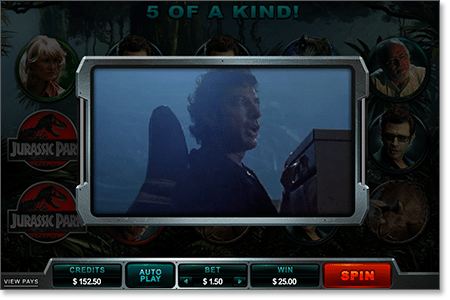 Jurassic Park – the Steven Spielberg blockbuster, based on the novel by Michael Crichton changed cinematic history forever, and has gone down as one of the most famous movies of all time. Its popularity hasn't really suppressed since it blew up in the early 90s, so it's no surprise the pokies venture of Jurassic Park quickly became an online slots favourite for players everywhere. Like Terminator, Jurassic Park uses graphics direct from the film starring Sam Neill, Jeff Goldblum and Laura Dern, with incredible use of dinosaur graphics, making it one of the most visually and graphically advanced film adaptation pokies we've seen yet. Five different free spins round are based on five types of dinosaurs, with a T-Rex Alert Mode that can be triggered at random to increase your chances of some dinosaur-sized wins.
Play Jurassic Park at www.RoyalVegasCasino.com.
Playboy – the Playboy video slot and Playboy multiplayer slot are based on the world famous adult magazine brand and live up to the sexy allure of beautiful women the Playboy name is famous for. Unfortunately for some, the women aren't actually naked, nor are they real women, but the animation is fabulous, with flawless graphics creating an opulent game full of lavish lifestyle objects and sexy Playboy Bunnies. These games look great whether you are a fan of half-naked women or not, with the chance to meet with some attractive bonuses. By throwing the name Playboy on anything, we think it's safe to say that most males will try out these pokies at least once or twice.
Play the Playboy Slots at www.RoyalVegasCasino.com.
Mayan Princess – this pokies game takes you deep into the South American jungle into a world of Mayan princesses and warriors using solid graphics and a pleasant soundtrack. Mayan Princess originated in brick and mortar casinos, but its popularity with players brought it to the world of online pokies. This game remains true to its original land-based game, with a couple additional features made available by the advances in online gaming.
Play Mayan Princess at www.RoyalVegasCasino.com.
These games offer a tiny preview into the enormous catalogue of pokies available for real money and free play at Royal Vegas Casino. Head there and take advantage of the new player welcome bonus of up to $1200 in free bets.