With such a robust marketplace chock full of online slots there are guaranteed to be some absolute stinkers out there. So let's take a moment to celebrate some truly atrocious triumphs. So what makes a dud pokie? Dodgy graphics? Poor features? Baffling themes? All of the above? Here we will have a look at the top 10 worst online pokies that ever existed, counting down from 10 to one.

Best real money online pokies casinos
Want to play the best pokies on the Web? Sign up for an account at any of the casinos in the table recommended above and you'll get access to some incredible new casino player welcome bonuses, plus the best games from the best software developers.
10. Silent Run
Net Entertainment is usually pretty spot on with its productions but this obscure submarine based pokie misses the mark like Stevie Wonder throwing darts.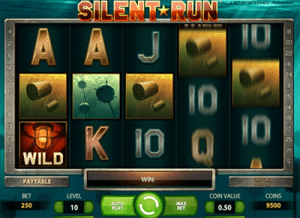 Let's get the honest facts out of the way. Silent Run is a five reel, 25 payline pokie with a minimum bet of $0.25 and a maximum bet of $250. Now let's get down to brass tacks. First of all, the game itself is all blue, grey, maroon and beige – there is just no life to it. Visually it's about as inviting as a puddle of mud.
There are no free spins, instead NetEnt has opted for two lame little bonus rounds, each triggered by a single sonar symbol on reel three. A green sonar symbol triggers the Echo Bonus while the red sonar triggers the Echo Wild. The Echo Bonus sends out a sonar symbol to randomly identify between two and five torpedo's from the playing screen. You are then taken to a screen with five battleships. You can choose any battleship to launch your torpedo's at. Each hit reveals a coin bonus. The Echo Wild just generates several extra wild symbols on the playing screen. Despite us loathing this slots game, there are many online casinos that have Net Entertainment titles.
Nothing overly exciting to be found here.
9. Cricket Star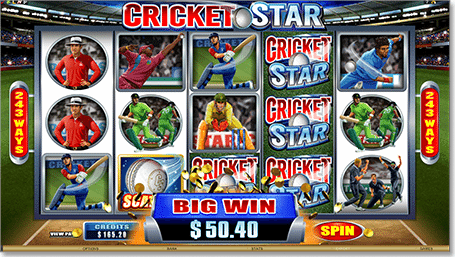 In theory this Microgaming pokie should be an all round winner. It has all the elements of a great game. But as they say: in theory, communism works too.
This is a five reel, 243 ways pokie with a minimum bet of $0.50 and a max bet of $250. Cricket Star has all the makings of a cracking pokie with stacked wilds, rolling reels during paid plays, a free games feature and a randomly triggered wild wickets feature, but perhaps it's this dizzying array of in-game features and bonuses that seems almost stifling. It is like Microgaming was trying too hard to impress with this one, so they loaded in every trick in the book. Not only that but the symbol graphics look hokey and poorly drawn. There are too many bright colours and the screen is too busy. Not to mention the background music, which gets very old very quickly.
As a quick gimmick to take advantage of the ICC Cricket World Cup, maybe this game is a success, but in every other regard Cricket Star is a diamond duck.
8. Andre The Giant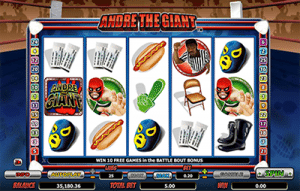 The optimists of the world might go out on a limb and call this game retro. We, however, are realists and prefer to call this game dated.NYX Entertainment have produced a fine repertoire of games in the past but for some reason Andre the Giant just doesn't cut it.
The first thing that rubbed us the wrong way was the aggressive, in-your-face heavy metal music. It was distracting from the rest of the game. However the music during the free games sounds like something you would hear over the end credits of a 1980s action movie.
Sure there are expanding wilds on reels two and four, but spinning them up is about as rare as chicken teeth. Then if you finally manage to trigger the free games, just wait to be underwhelmed. You will be greeted by an eventually disappointing free games feature and then possibly treated to some of the cheesiest wrestling animations you have ever seen in your short life.
Andre the Giant is no giant of the online pokie world.
7. Starlight Kiss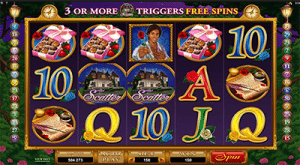 Maybe this is a good game, it's hard to tell. We just can't move past the Mills and Boon type theme of this game — it just shouts corny romance. With background music that you wouldn't be surprised to hear on the Bold and the Beautiful or Days of our Lives, it's easy to be put off by Starlight Kiss.
Microgaming are big players in the online pokie world and with the sheer volume of games they pump out it was inevitable that a couple of stinkers slipped through the cracks. Maybe this game is a stinker, maybe it isn't, this really depends on your personal taste. If you're a heterosexual woman with a penchant for Fabio style men offering you roses and chocolates, this may be the ideal game for you. It's just so sickly sloppy to a point of repulsion, however the romantics out there might find this completely charming.
Starlight Kiss is a 5-reel, 30-payline game that boasts two features: the Romance Bonus and a free games bonus. Of course, during the Romance Bonus you have to fill a Romance Meter with love hearts.
Starlight Kiss is just so bizarrely romantic it cannot be taken seriously. Give it a wide berth.
6. Agent Jane Blonde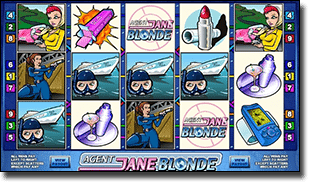 The first thing to infuriate any red-blooded pokie lover is the fact Agent Jane Blonde is a 5-reel, nine line pokie. Nine paylines? What happened to the other 234 paylines? Or at least the other 14?
With a minimum bet of $0.45 and a max bet of $45 Agent Jane Blonde has a generally limited betting range and doesn't really cater to the high rollers and fat cats of the world.
The complete and utter lack of theme music is also vexing. Instead Microgaming has decided to go with a pub feel, so you have a background noise of other pokie machines winning. However the general silence is rarely punctuated by generic winning pokie sounds or a rip-off of the James Bond theme music when a win is substituted by the Agent Jane Blonde wild symbol. On top of all this, the symbols look as though they've been doodled in someone's spare time and submitted as a pokie because someone got pissed the night before a dead-line and didn't do their work.
5. The Super 80s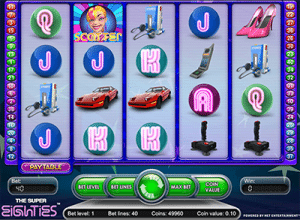 I've always said the best thing to come out of the 80s was me. This game only bolstered my opinion.
NetEntertainment has produced a five reel, 40 payline pokie with a minimum bet of AUD$0.40 and a maximum bet of $200. This game is chock full of 80s cliches and it verges on being so bad it's almost cool. The background music, again, is typical 80s style and I'm still not sure if it's completely lame or so bad that it is cool — it's a fine line between the two. Wild symbols are stacked which is great to see, but does that fact alone compensate for the 80s overkill? I'm not sure.
My real beef with this pokie is the fact once you trigger the free games feature with three scatter symbols on reels two, three and four, you are only awarded five free games. Sure the wild symbol seems to be extra stacked during the feature, but still, only five free games? A bit stingy in my book.
4. Gladiator
This BetSoft produced game is one of the more frustrating games on the market. Gladiator starts off as a seemingly normal game, like any other, with a minimum bet of $0.60 and a maximum bet of $150.
When reading through the pay table rules you are buoyed with hope with the promise of four bonus or feature games. FOUR? That's amazing, surely!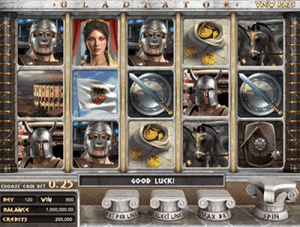 But no, the stark reality is sobering when you actually start to play the game and trigger these bonuses. They are disappointing beyond words. First, the x2 Princess wild bonus isn't really all it's cracked up to be. If a Princess symbol appears as the top symbol on any reel then the Princess showers the reel with rose petals, turning the entire reel into a x2 wild reel. Sounds promising but strangely it is not.
Then there is Gladiator Smash feature which is triggered by the "hero" symbol appearing anywhere on reel three. Again this just turns all of reel three wild.
Any three or more scattered door symbols triggers the Click Me feature. Where you click on the door to reveal a bonus credit prize. Not the most interactive or entertaining bonus going around. The Prepare for Battle feature is a lame 3D battle between a good gladiator and a bad gladiator. You back a winner and if you win receive a credit bonus.
Betsoft? Whatever happened to free games with a good old fashioned multiplier? Sure all of these other bonuses looked impressive on the PowerPoint presentation when this game was being pitched, but the fact of the matter is they are boring and lame.
3. 33 Lives, A Lesson to the World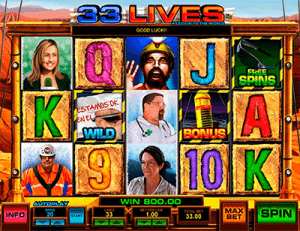 This ghastly creation from Leander Games is a 33-payline pokie with a minimum bet of $0.33 and a maximum bet of $66. This game is based around the Chilean mining accident of 2010. Nothing screams fun and exciting online pokie experience like recreating a generally obscure mining hiccup. This is a bizarre theme for a pokie, it really is.
Everything about this game is generic. Generic pokie sounds, plain background music, unimpressive pay outs and lame features. There is the Note Puzzle free spins when any three, four or five sunglasses symbols are scattered. This awards 15, 20 or, you guessed it, 33 free games. Or you could win yourself the Monument Bonus which is won by rolling up three scattered Bonus Miner symbols on reels two, three and four. During the Monument Bonus you click on tiles to reveal prizes.
All in all this is a let down of a game with an odd theme which has been poorly executed. Nothing really to praise with this slot.
2. Kings of Chicago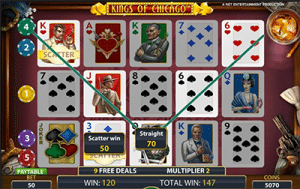 Going by the title of this one, it's easy to get excited. Kings of Chicago sounds like it has the potential to be an awesome, gangster themed online slot. But nothing could be further from the truth.
Kings of Chicago is a 5-reel, five payline online game with a minimum bet of $0.05 and a maximum bet of $50.
Instead of the traditional reels and symbols set-up, Kings of Chicago has a playing screen complete with 15 cards and wins are determined by poker hands, much like video poker. Winning "hands" begin with three of a kind and increase in value according to traditional poker hands. You click on a pokie to play a bonafide pokie, not poker. If you want to play poker then you click on the poker section of your favourite online casino.
A feature, of sorts, can be triggered when any three or more scattered symbols appear, and I mean that literally, these cards just say "scatter" at the top of them. This can trigger 10, 15 or 30 free "spins". There is no multiplier during the free games. The free games are a monumental non-event.
1. Hidden Loot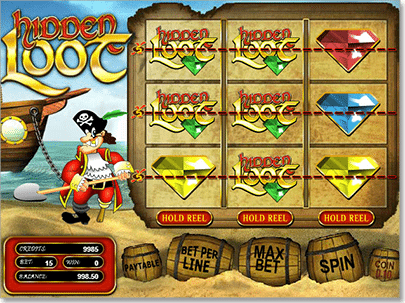 This is, without a doubt, the most peculiar game to have ever been created.
The graphics look as though they have been created by a toddler let loose on an ipad and the gameplay is genuinely odd. This is a three reel, three payline pokie which is about as old school as it gets. However the truly head-scratching aspect comes when you actually give it a spin. Only the bottom row spins! Every now and then all three rows will eventually spin. We do not know or understand why only the bottom row spins and what triggers the other two rows when they actually do spin.
Apparently three Hidden Loot insignia symbols on a pay line triggers some sort of bonus but we nearly sent ourselves bankrupt trying to trigger this bonus, all to no avail.
Hidden Loot is quite deservedly the number one worst online pokie available to play these days.
Don't waste your time on sub-par pokies, play all the best online slots at our no.1 destination for players from United States, Raging Bull Casino, where new players can claim a matched deposit bonus upon sign-up.