Estimated Reading Time: 2 minutes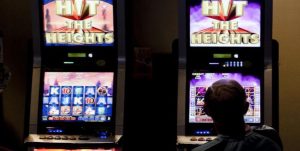 AFL clubs have come under fire as new figures reveal just how much punters are losing on the pokies at AFL affiliated clubs around Victoria, with the figure being described as "disturbingly large" by the Alliance for Gambling Reform.
The figures, which were released last week by the Victorian Commission for Gambling and Liquor Regulation, showed punters lost $94 million to the pokies at AFL clubs in the 2016-2017 financial year. Overall, pokies losses in the state amounted to $2.61 billion, which is a 0.27 per cent decrease on the previous year.
Hawthorn was the worst hit, with pokies losses increasing from $22.58 million to $23.29 million. Carlton was next, with punters losing $17.6 million on its 290 pokie machines.
Essendon fans reported the third largest loss at $11.85 million, which was an improvement on the previous year. Despite the significant losses recorded, Essendon was one of the only AFL clubs to see a decrease in its poker machine revenue.
Other AFL clubs where millions of dollars were lost on the pokies included Melbourne, Collingwood, Geelong, Richmond and Western Bulldogs.
Reverend Tim Costello, spokesman for the Alliance for Gambling Reform said, "Hawthorn and all other AFL clubs should get out of the pokies misery business — football is a wealthy industry which does not need to prey on vulnerable people in parts of Melbourne suffering above average stress and hardship."
Earlier this year, a report conducted by IBISWorld revealed just how much AFL clubs nationwide depended on pokie machine revenue, with some clubs earning a third of all revenue through pokies losses.
Rev Costello urged Victorian football fans who are concerned about gambling numbers to take out a membership with the North Melbourne Football Club, which is the only Victorian AFL club to be pokies-free. He believes that if more members of the public supported the Roo's, it could lead other AFL clubs to consider "following their honourable lead."
It wasn't just the AFL clubs that were profiting from the pokies – the Commission's data revealed a significant rise in suburban pokies losses, with the Dandenong, Geelong and Whittlesea regions amongst the top Local Government Areas for pokies expenditure. Losses on the City of Casey rose to a record high of $127 million.
Earlier this month, the Victorian government announced it would be putting a cap on the number of poker machines allowed to operate in the state until 2042 as part of state wide gambling reforms.
Minister for Consumer Affairs, Gaming and Liquor Regulation Marlene Kairouz said, "Not a single extra gaming machine will be allowed in Victoria for the next 25 years, helping limit gambling-related harm in our community."
Anti-pokies campaigner Nick Xenophon called the reforms a "slap in the face," saying the freeze on the number of machines will do nothing to help individuals who are struggling with the social and economic impacts of gambling.