Las Vegas is the gambling capital of the world, attracting millions of visitors from across the globe each year in search of glitz, gambling and good old fashioned American excess. Amongst the chaos and nightlife, you'll find more pokie machines in the city of Las Vegas than anywhere else in the world, making this a hot spot for those who love a punt on the one-armed bandits – find out more about playing the pokies in Sin City.
What to expect when playing slots in Vegas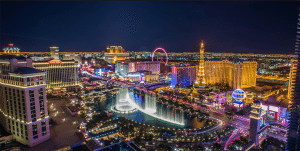 If you've never been to Vegas before, nothing can quite prepare you for the experience. Located in the middle of the Nevada desert, Vegas has a dry heat that will come as a shock even to Australians. The major tourist region is the Las Vegas Strip, which is even bigger and more over-the-top than any movie can prepare you for, while Fremont Street in Downtown Vegas provides a less glamorous, less outrageous and more affordable option. Both areas are packed with casinos, hotels and restaurants, with nightlife options to suit all tastes and budgets. It's estimated there are over 100 casinos operating in the Las Vegas area, from the lavish and world famous to the seedy and miserable.
Whether you're a seasoned gambler or a complete newbie, you can't come to Vegas and not get caught up in the casino spirit. While you'll find an abundance of table games like blackjack, roulette and poker, the pokies reign supreme, with a 2016 report estimating there are currently over 197,144 pokie machines operating in the city. And they're not just limited to the casino floors – in Vegas you can find video pokie machines in convenience stores, sports bars, grocery stores and even the airport.
Given the sheer diversity of casinos catering to such different types of clientele, you can play pokies at the most casual or most opulent casinos. Dress codes will vary depending on your chosen venue, but generally most public casino floors in Vegas are pretty lax with their rules and as long as you're putting money into the pokie machine and not causing any trouble, you can gamble anywhere without scrutiny. Las Vegas also has very relaxed drinking laws, where you're allowed to carry and consume alcohol on the Strip and between casinos as long as the drink in an open container. In general, playing the pokies in Vegas offers a much more hedonistic and casual experience than the strict formalities of playing pokies in an Australian casino.
If you're unfamiliar with the pokies, give games a go for free in practice mode at any our of recommended online casinos so you have an idea what you're doing before heading out in Vegas.
Vegas casinos with the most slots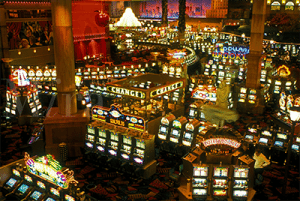 To give you an idea of just how popular the pokies are in Las Vegas, there is more revenue earned on the pokies than all other casino games combined. In fact, about two thirds of all Vegas casino floors are dedicated purely to electronic gaming machines, offering row upon row of pokies and video poker games. Pokies are appealing because they require no skill or strategy to play, catering to the hordes of tourists who want to enjoy a gambling experience but don't have the confidence, concentration or bankroll to hit the table games.
In Vegas, you'll never have to walk far to find the next row of pokies, but if you're looking for the biggest casinos offering the most pokie machines, try out these world-renowned venues which not only offer expansive casino gaming but also hotels, night clubs, restaurants, swimming pools and all kinds of novelty attractions:
The Venetian Las Vegas
Mandalay Bay
The Luxor
Wynn Las Vegas
Bellagio
El Cortez
Golden Nugget
Caesar's Palace
New York New York
MGM Grand Las Vegas
Aria Hotel & Casino
Excalibur Hotel & Casino
Treasure Island Hotel & Casino
Four Queens
Tropicana Las Vegas
What pokies can I play in Vegas?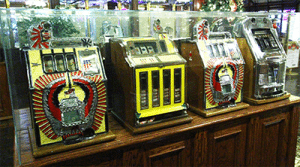 As the gambling capital of the world, Las Vegas offers basically every type of pokie machine imaginable. You'll find all the standard pokie machines you're used to seeing in Aussie casinos and pubs, with many of the most popular machines linked to progressive jackpot networks, with three-reel and five-reel games available. Where Vegas differs is that you can access all kinds of unique pokies, like vintage and retro slot machines, or the oversized 70" machine available at The Golden Nugget. Downtown Las Vegas even offers a pokies themed zip-line called Slotzilla.
If you want to familiarise yourself with the different types of pokies available, head to Slots Million, our top-rated online pokies site offering every type of slot game imaginable, including virtual reality pokies.
Is alcohol free while playing the slots?
It's true that gamblers drink for free in Vegas, which is a major novelty for international players who don't receive the same privilege at the land based casinos in their home countries. You don't need to be a VIP or high roller to get complimentary alcohol – just sit at a slot machine and start throwing down some coins it won't be long before a waitress comes past to take your order. Like everything else in America, you will be expected to tip the waitress for every free drink you're brought, although this is a fraction of what it would cost to buy the drinks outright.
While the prospect of free booze is incredibly tempting, be aware that the whole reason casino vendors offer this complimentary service is to ensure you keep playing at their casino. Alcohol works to lower your inhibitions and impair your decision-making skills, with the casino hoping you'll drink more so you play poorly and take higher risks. Keep this in mind before guzzling down those free drinks and waking up with a hangover that hurts your wallet as much as your head.
Gearing up for a trip to Vegas or just dreaming of the lights of the big city? Head to Raging Bull Casino, our top-rated casino site for players from United States where you can play thousands of online slots for real money from the comfort of home.