Here we will show you the facts and figures behind win-lines in Web pokies, including how bet amounts can affect the number of possible paying combos, what multi-ways slot games are all about, and why fewer lines per spin is not necessarily a bad thing.
The term 'paylines' refers to the maximum number of winning combinations available on any given spin of a poker machine. Some real money slots offer just a handful, like the vintage pub fruities of the UK, while the latest pokie releases can give us as many as 3125 ways to win.
Each one of our recommended sites carries a cornucopia of slot styles – from the simplest three-reel machines full of old-school charm, to brand new interactive pokie titles with thousands of wins per spin and features coming out the wazoo. Most importantly, each of our trusted casinos bears the eCOGRA Seal of Approval for safe, secure, and honest online gaming.

Pokies casinos for online Australian players
What is a payline in pokies?
A payline is any combination of symbols that results in a win. In its simplest form, each reel shows the same picture in the centre position, thus creating a horizontal line of matching symbols. Take a look at this picture of a typical old-school slot machine: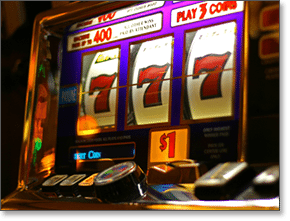 See how the '7' symbol is lined up in the middle of each reel? That's a winning combination. Also note the red mark across the centre of the screen; this represents the single payline on this particular pokie, and is a common feature on older land-based slot games with three win-lines or less. In modern video pokies and Internet slots, however, the payout combinations can be rather more complex. Get familiar with the different kinds of pokie paylines at one of our recommended casinos:
Royal Vegas – Sign up and get up to AUD $1,200 in bonus credits.
All Slots – Pocket up to AUD $500 free across your first four deposits.
Platinum Play – Join today and claim up to 1,500 free bets.
Win-lines for three-reel, five-reel & All-Ways slots
Pokie games can use various payline patterns depending on the number of reels, the number of active symbols per spin, betting variables, and other such factors. Let's take a look at some of the more common combinations available on the various types of slot games out there.
Three-reel pokies
As shown in the previous section, these pokies typically have between one and three horizontal pay-lines. Some three-reel games add a further two diagonal combinations, for a total of five pay-lines. Popular three-reel games at Royal Vegas include Grand 777's, Fruit Smoothie, and the Major Millions progressive jackpot.
Five-reel pokies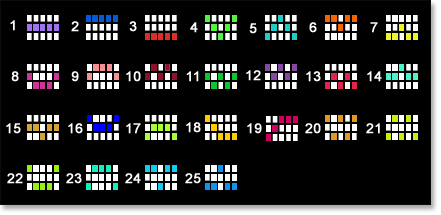 The five-reel format has evolved enormously with the advent of video pokies and online gambling, and as such allows for anywhere from five to 30 or more potential payouts per turn. Despite these variables, most video slots follow a specific pattern with regards to the layout of the paylines – these include horizontals, diagonals, and a bunch of different zig-zag patterns. The chart on the right demonstrates a common payline arrangement on a modern five-reel pokie.
All-Ways pokies machines
This is a relatively new concept which scraps the conventional pay-line altogether. Rather than requiring symbols to connect in specific patterns, a multi-ways game simply asks that matching panels fall on adjacent reels – thus unlocking an enormous amount of previously unattainable wins. The 243-ways pokie format is now ubiquitous in online gambling, and new Web slots offering 1024-ways and a whopping 3125 ways to win are gaining popularity all over the world.
How betting options affect paylines
Most video-style slot machines will offer us great flexibility with regards to how much we can bet on each spin. This means casual punters and high rollers alike can enjoy the same great pokie games, whether playing at an online casino or a land-based gambling venue. However, it is important to note that in many five-reel video slots, the number of paylines available depends on how much we wager. For example: let's say we are playing a 30-line pokie machine, with a minimum bet of one coin and maximum of 10. If we play one coin per spin, we might only have nine paylines to work with; while if we wager 10 coins each turn, we would open up the full amount of possible winning combinations.
Hence, recreational players and punters with smaller bankrolls may get more value out of other pokie styles. Traditional three-reel slots and fruit machines often have a fixed betting amount – e.g. you can only bet one coin per turn – which makes them a fun, relatively risk-free option. At the other end of the scale, the 243, 1024 and 3125 ways-to-win games allow us to collect on every possible payout regardless of which betting increment we use – so if you're on a 1024-ways machine and bet the minimum, you get the same number of potential wins as someone playing the maximum wager.
More lines or less – which is better?
Honestly, the ideal number of winning combos per spin is up to each individual pokie player to decide for themselves. Many Australian slot players believe that fewer paylines and minimal features can actually improve one's chances of success, while others opt for the jackpots, free spins and other rewards available in modern multi-line pokies. We recommend every Aussie try out all-ways slots such as The Dark Knight, a 243-ways Microgaming progressive jackpot with AUD millions up for grabs; Arctic Fortune, a 1024-ways pokie with wilds, scatters, bonus games and more; and Reel Rush, a 3125-ways slot with re-spins, multipliers, and a 480,000-coin jackpot on offer. Check out our top Australian online casinos to find out more about playing real money pokies on the Web.
Play three-reel slots, video pokies, progressive jackpots and more at www.RoyalVegasCasino.com.