Estimated Reading Time: 3 minutes
Looking for an online pokies game with different levels, multiple bonus features and a great design to boot? Look no further than Alchymedes, a fascinating new slot game from leading software developer, Yggdrasil. We explain more about this game and how to play Alchymedes for real money bets at the best online casinos.

Best online slot sites
Alchymedes overview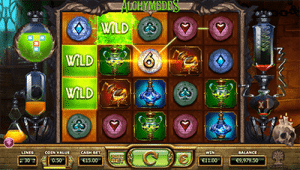 Yggdrasil has chucked a couple of spanners in the works with Alchymedes, with the addition of some unique design aspects and bonus features to offer a fresh spin on things. Firstly, it's a five-reel game featuring the unusual amount of four rows. Plus, the game has the rare number of 60 fixed paylines, 30 of which pay left to right and 30 of which pay right to left.
Alchymedes takes us to the mystical lab of an enigmatic alchemist, with reels filled with all kinds of potions, gems and spells. It's these concoctions that have the ability to brew up all kinds of wins, taking players through different levels with multiple fbonuses to collect along the way. The aim of the game is to complete different levels by getting line wins on all symbol positions in each level, which adds a challenging aspect to keep players engaged.
How to play Alchymedes for real money online
Yggdrasil's gaming software has become very popular, so you'll find Alchymedes at several of our top-rated online pokies sites, including our number one rated casino site, Slots Million.
It's an easy game to play, and no prior knowledge of online slots or special skills are required. Just head to one of our recommended Yggdrasil casinos, sign up for an account, make a real money deposit using a trusted casino payment method and you're ready to roll. Alchymedes is available for instant-play, which means you can load it directly over your Web browser without having to download anything. It's also been flawlessly optimised for mobile play, so you can play Alchymedes on the go from any data-enabled smartphone or tablet.
To play, simply select the size of your bet using the buttons at the bottom of the reels. Paylines are fixed, with one coin per payline, so you just need to select your coin value. Alchymedes can be played from as little as $0.30, with maximum bets capped at $60 per spin.
Symbols and bonus features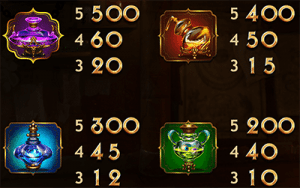 There are eight standard symbols in Alchymedes, with a win made when three or more line up over a winning sequence. The four higher paying symbols are the different coloured potions and the four lower paying symbols are card suits that have undergone a mystical makeover. There are multiple bonus features, which we've detailed below:
Levelling Up – This is one of the most distinct features of the game, as the aim is to complete levels by getting line wins on all symbol positions. When you get a line win, you'll notice the background becomes marked in gold. When you manage to mark all 20 slot positions with gold, you'll complete that level.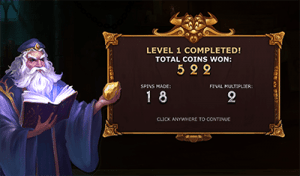 Level Multiplier – Each level starts with a 1X multiplier, which can randomly increase during each spin. The multiplier is only applied to the win that completes the level. You can see what multiplier you're currently sitting on by looking at the red potion to the right hand side of the reels.
Wild Patterns – When you start a new level, a random wild pattern will be assigned, with over 15,000 spreading random wild patterns available. The wild pattern is shown in the green liquid to the left hand side of the reels. Every wild symbol that lands on the reels spreads according to the wild pattern, with wilds substituting all other symbols to form a winning combination.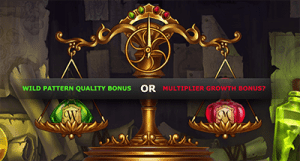 The Alchemists Scale – Every time you complete a level, the Alchemists Scale will appear, giving you the choice of either adding more multiplier potion or more wild potion to the next level. Adding wild potion increases the wild pattern potential, while choosing the multiplier potion boosts the multiplier potential.
Bonus Feature – After the Alchemists Scale bonus, a random bonus feature may be triggered at the beginning of each new level. This can award you up to 2000 coins, 2X multiplier, 3X multiplier, extra pattern positions or rapid multiplier growth to increase your level completion multiplier on each spin.
Final thoughts on Alchymedes
Given the technology available to software developers today, it's always great to see game studios take full advantage of the possibilities at their disposal. This is exactly what Yggdrasil has done here, with creative additions like a fourth row, 60 paylines, wild patterns and different levels offering a lot more for players in terms of both entertainment and winning potential. Alchymedes is a solid addition to the Yggdrasil game portfolio and is well worth a try at your favourite online casinos.
For more great online slot games, check out our online slots review page.