Online pokies offer more than just the chance to win big bucks, they also offer the chance for players to have some fun, with some even bringing the laughs. We want to ensure any tears that roll down your face when playing the pokies online are only from laughing, and to do this we recommend playing at online casinos that are trustworthy, reliable, secure and of course, host the funniest online slot games. While humour relies on personal taste, we've provided an overview of some of the pokies games we found to be amusing.

Online casinos with funniest pokies games
All time funniest online slots
Finding funny slots may seem a difficult task, however many offer funny graphics which have come a long way since the first land-based pokies. There are themed slots like South Park and some that are just plain bizarre like Hell's Grannies. Without further ado, here are our funniest slots, as voted by the staff of Pokies Game:
South Park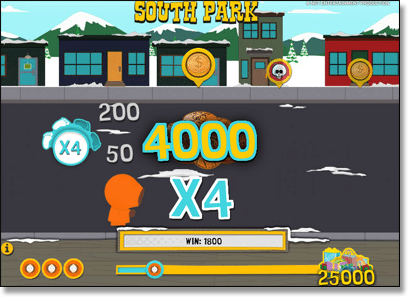 If you love to follow the hilarious adventures of Cartman, Stan, Kyle and Kenny, then this pokie offers an adventure you won't see on your television screen. Created by innovative software developer Net Entertainment, this game features all the funny punch lines from our favourite South Park characters which is enough to make this game funny in itself.
If that's not enough the bonus feature includes an appearance from the hilarious Christmas Poo, alongside Mr Hanky and Ike. The 5-reel video slot featuring a 25 payline offers bonuses with each of the four main characters, all you have to do is get the bonus symbol of that character on the fifth reel. These include:
Cartman's Pick'em Prizes, which we believe is the most hilarious bonus as you are given a fire extinguisher and required to spray hippies which are wandering and hidden around South Park. You can't get caught by the policeman or your bonus round will be over, but if you do find a hippy and spray them then you will be offered a prize along with a multiplier.
Stan's Sticky Wilds bonus will put you in a spin as it offers you two re-spins every time you get a sticky wild in the middle reel (aka third reel). You can get even more spins if more sticky wild symbols show up during your re-spins.
Kyle's 10 Free Spins, is a bonus feature which sees 10 free spins triggered when Kyle's brother Ike is kicked by Kyle after he has landed on the hopscotch grid on the reels. Whatever square Ike lands on will determine what the prize is. You can either win the free spins, or you could score extra coins or even up to 10x multiplier.
Kill Kenny For Cool Cash bonus is expected with the recurring theme of Kenny dying through the television series. All you have to do is prevent Kenny from being killed and you will win a prize.
Hells Grannies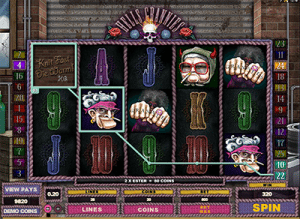 The idea behind this slot machine is absolutely stitch-inducing in itself. From the top-leading software developer Microgaming, this 5-reels slot is a hilarious adaption of Hells Angels, a group of bikies. Replacing the rebellious motorcycle group are old aged grannies who prefer to spend their time at the garage instead of a home.
The usual Hells Angels' slogan with crossbones has been replaced with crossed knitting needles and the skull has hot pink sunglasses which we think is a crack up. This, amongst three biker Grannies, fists, as well at the letters G, R, A, N, N, I, E, and S are all found on the the reels.
The Hells Grannies logos will prompt a free spins bonus round if you hit from three to five of the symbols. We can't stop laughing at the 'Knit Fast, Die Warm' logo they have which acts as a wild, as well as the the fact that there is a granny which has a Mohawk and eats cigarettes. You can find this pokies game at any online Microgaming Casino.
Bridezilla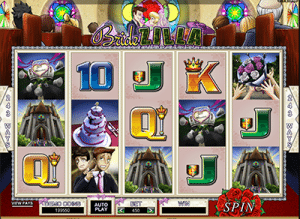 If you want a laugh along with 243 ways to win then this Microgaming online slot machine is worth a spin. While weddings may not be your thing this 5-reel slots the scattered wilds will give you a giggle when the animated, pretty bride turns into a hideous, green monster, which is something we are all deep down afraid of either becoming or enduring.
However the monster does offer extra spins and prizes. All you have to do is get three to five scatter symbols which are the wedding bells, and if you get the scary Bridezilla symbol then you have the opportunity of winning more as it also acts as the wild symbol.
5 x Magic
Since classic slots aren't predominately about themes it can be hard to find one that's funny, but this Play'n Go pokies game has a magic theme and after a few spins it can be quite entertaining. This 3-reel classic slot has entertaining symbols, including a rabbit coming out of the hat when a scatter symbols is triggered as well as the white doves which fly outwards on a win.
The best thing about this slots is it is made specifically to play on your smartphone so you will be able to have a giggle no matter where you are. Play 5x Magic at Slots Million online casino on your smartphone, tablet, or even desktop.
Fruit machines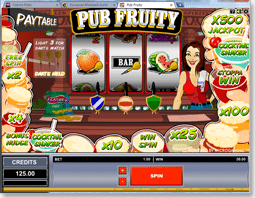 We included the old fruit machines because in comparison to the available online slots these days, these are just plain funny. It's like playing on a Nokia 3315 when you have been using an Apple iPhone for many years. Don't get us wrong we still love playing the Fruit Machines, just as we love playing snake on the Nokia, but we must admit the fruit symbols are quite funny in comparison to what is available these days.
Sometimes simple is best, so for an amusing game have a spin of the classic fruit machine slots which can sometimes be called Amusement With Prizes (AWP). You will be able to find online Fruit Machines at most of the above online casinos.
Is playing online slots more fun than playing at land-based casinos?
Land-based casinos have been around a lot longer than online gaming establishments have been, but both offer different experiences which may make you laugh in different ways.
Playing at a land-based casino does have a social atmosphere where you can share a laugh with your friends, but you may find you are less inclined to focus on the slots you are playing and miss out on some funny features which add to playing the pokies.
Online casinos offer a lower house edge due to lack of overhead costs in comparison to brick and mortar casinos and also the ability to play in a quiet, comfortable location such as your home, so you can laugh and giggle at all the entreating graphics created by our favourite online software developers.
How to choose an Internet casino
Picking a reputable online casino to play the above hilarious slots, and any other pokies games you may wish to experience, is easy if you know what to look for. Ensure the Internet casino is regulated by scrolling to the bottom of the online casino's homepage.
Here, you will find fine print and logos of licenses from reputable casino jurisdictions which have given their approval after vigorous testing, such as the Malta Gaming Authority, as well as testing agencies, such as eCOGRA, which regularly review the games and the Internet gaming establishments payment methods.
For peace of mind, read player reviews of the online casino in question as many real humans from around the world share their experiences to make it easier for players to have an entertaining time online.
Are online casino slots legal for Aussies?
Despite Australian law detailing it is illegal for Australians to operate an interactive online casino, it is not illegal for Australians to play online slots which are available on Internet casinos located overseas. Individuals have never been prosecuted in Australia for gambling at offshore casinos. This means Aussie players can enjoy the funniest online slots at casinos set up in foreign waters. You can see the various casino sign-up bonuses on offer in the table above.