What are fair spins and are they the same thing as free spins or extra spins? Online casinos are going through some changes in terminology, terms and conditions, making things a little confusing for online players. We clear things up by explaining what a fair spin is and where you can find them at the best online casino sites.

Best casino sites with fair spins and extra spins
What is a fair spin bonus?
Fair spins are bonus spins issued by an online casino site to allow players to experience real money play without having to risk any of their own cash. They provide the opportunity for players to win money playing online pokies with no financial commitments of their own and with no wagering requirements.
Are fair spins the same as free spins?
On the surface, free spins and fair spins are the same thing, but if you dig a little deeper you'll find out there's actually a significant difference between the two.
While both give players the chance to play a certain number of spins on a selected online slot game without having to deposit any money of their own, free spins require players to then deposit and play-through a certain amount of money before they can withdraw any of the money they win from the free spins.
Fair spins come with no wagering requirements attached, so any money you make is yours to keep and withdraw at any time without having to dish out a certain amount of money to the casino first.
You can learn more about wagering requirements and how they apply to online casino bonuses and free spins in our detailed wagering requirements guide.
What about extra spins?
"Extra spins" is another term for "free spins" that you may see popping up at certain online casinos. Both mean the same thing, but "extra spins" is the correct terminology following new guidelines enforced by the United Kingdom Gambling Commission, which we explain in more detail later in this article.
Where to get fair spins online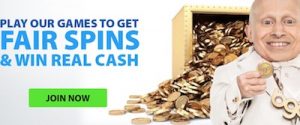 So far, there is only one online casino to offer fair spins and that's BGO Casino. BGO launched a new ad campaign fronted by casino mascot Verne Troyer (better known as Mini Me from the Austin Powers movies) to announce that all bonuses offered by the casino will now have zero wagering requirements.
As part of the campaign, BGO introduced a new bonus offer that includes 50 fair spins for new players. To claim the fair spins, sign up for an account at BGO.com, make a real money deposit of at least £15 and you'll receive 50 fair spins to use on selected NetEnt pokies, completely wager-free.
Where can I claim free spins?
For free spins or extra spins (which will require a certain amount of money to be deposited and played through at the casino before you can withdraw any of your winnings), eligible players can sign up at these top-rated casino sites to take advantage of the following bonus offers:
All bonus offers and promotions at online casinos come with fine print attached, outlining the terms and conditions of the bonus along with any restrictions or play-through requirements. We strongly suggest players always read the fine print carefully to ensure they fully understand the terms of a bonus offer, which will help avoid disappointment further down the track.
Why the changes in terminology?
The United Kingdom Gambling Commission (UKGB) has joined forces with the UK Advertising Standards Authority (ASA) in a bid to stop online casino operators from using promotions and terminology that purposely misleads players. Fed up with complaints from online players who weren't aware of the play-through requirements attached to bonus offers, the UKGB has created a new set of guidelines regarding the way online casinos can advertise to players.
To comply with these guidelines, online casino vendors licensed by the United Kingdom Gambling Commission are making changes to the wording used in their advertisements, and in some cases, are updating their bonus offers to remove wagering requirements entirely.
Despite the initial confusion as casino vendors implement these changes, this is great news for online players, who will ultimately benefit from the greater transparency afforded by these new regulations.
You can read more about the UK changes from free spins to extra spins/fair spins here.