Estimated Reading Time: 4 minutes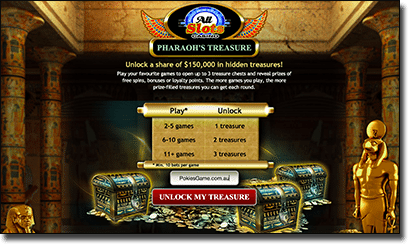 Try the Rabcat and Microgaming Legend of Olympus pokie at All Slots Casino this month to win a share of $150,000 in hidden treasures.
Microgaming have had a smorgasbord of releases lately but interestingly the latest slot to hit their gaming catalogue, Legend of Olympus, which was developed by Rabcat, has been around for quite some time. However, it has only recently become available at Microgaming online casinos, including All Slots, due to the partnership between the pair, which was established at the end of last year.
We will go into detail below about the poker machine below, but first we take a look at All Slots' latest promotion where you can win a share of $150,000.
Pharaoh's Treasures at All Slots
Until June 30, players at All Slots can unlock an array of prizes concealed in three treasure chests, all without having to make a deposit, though if you haven't made a deposit yet you will have to.
All you have to do is follow our links to All Slots, click on promotions and then Pharaoh's Treasures. Here you will be able to enter your username to unlock up to three treasures, which are holding a share of $150,000 in prizes. But first you will have to complete these tasks to qualify.
Unlock one treasure: play two to five games a minimum of 10 times
Unlock two treasures: play six to 10 games a minimum of 10 times
Unlock three treasures: play 11 or more games a minimum or 10 times
There are eight rounds and you can play more than 11 games of your choice to participate but it needs to be within the promotional periods. While the first round is over and at the time of writing there are just under 25 minutes left of round two, we will kick off from round three.
Round three: June 10 at 7:01 GMT to June 13 at 23:59 GMT
Round four: June 14 at 7:01 GMT to June 16 at 23:59 GMT
Round five: June 17 at 7:01 GMT to June 20 at 23:59 GMT
Round six: June 21 at 7:01 GMT to June 23 at 23:59 GMT
Round seven: June 24 at 7:01 GMT to June 27 at 23:59 GMT
Round eight: June 28 at 7:01 GMT to June 30 at 23:59 GMT
Remember to look up time differences depending on where you are located in the world as this will affect the time and what round your wager qualifies for. For example, round three for Aussies operating on AEST will kick off June 10 at 17:01 to June 14 at 9:59. Do a simple Google search of the time stated and the timezone you operate in to find out what time you need to be playing. This is incredibly important as you may wager outside these time periods, missing out on meeting the requirements to unlock treasure as they don't count.
Once you have qualified to unlock your treasure, simply head back the the promotional page and enter your username, then click on 'Unlock my Treasure' and your prize/s will be revealed.
All Slots treasure
Players can win free spins, which can be used on Avalon, Golden Princess, and Terminator II, when playing All Slots on your PC or laptop, or just on Avalon when playing via your smartphone or tablet. Players can also win cash of up to 100 credits, as well as loyalty points.
Now all you have to decide is what games you will play to qualify for your treasure, but with so many new releases from Microgaming's it shouldn't be too hard. We have a suggestion that has just been released on the Quickfire platform.
Legend of Olympus
This slot has been around since 2012, when it was first released by Rabcat, however back then Microgaming wasn't in a partnership with them and thus the two have combined to re-release the slot on the Quickfire platform. It is now being rolled out at Microgaming casinos everywhere, including All Slots, and you will find it in the 'New Pokies' section.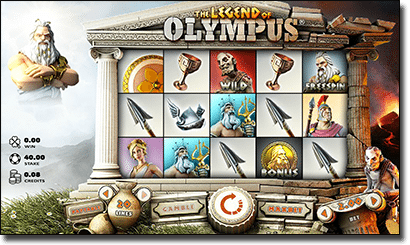 This means we can try the slot out on the Quickfire platform and have it contribute to the minimum of two games played 10 times required to unlock a treasure, all the while winning treasure of our own.
This slot follows the Greek God, Olympus, who sits on the left side of the screen, while also appearing on the reels, which are within an Ancient Roman building. There are also shields, spears, a challis, a roman guard, and more, that line the reels as Scatters, Wilds, Bonus symbols, and as your standard supporting icons.
The Wild, which is the Hades symbol, does not multiply winnings but it will replace any symbol, except the Scatter and Bonus symbols to create winning combinations. The Scatter, which is the Olympus symbol, will trigger free spins if players land three.
The gold emblem represents the Bonus symbol and you need at least three to trigger the Bonus round where you are taken to a new setting, but it will cost you two gold coins to get there (simply click on three gold coins which are offered to you in this round to find out if you have two. If you do get the two gold coins then you can cross the river. Here you are given three treasure chests (sounds familiar) and you have the opportunity to open one. If you got to the bonus round via five Bonus symbols then you can unlock up to $20,000 in the chests.
Overall, the 3D graphics by Rabcat, which has now been made available by Microgaming at their web casinos, and the fitting audio, along with the potential big wins on offer, makes this pokie a good candidate for the above promotion.
Sign up and win your share of the $150,000 in hidden treasures at All Slots Casino, a top-rated AUD online venue..