Estimated Reading Time: 4 minutes
Twitter has become one of the leading communication tools on the Internet, allowing businesses, celebrities and individuals to share their latest thoughts and news in 140 characters or less. Many of our favourite pokies developers can be found lurking in the Twittersphere, and we've found the best ones you should be following for information about upcoming game releases, new developments and more.
Microgaming – @Microgaming
Microgaming is one of the most established and recognised names in online pokies software, so it's no surprise that this brand has also built up a pretty decent Twitter following for itself, with over 3,600 followers keeping a close eye on any Microgaming happenings. Microgaming's Twitter account has news about the brand's latest games, complete with screenshots, but one of the things we like most about this Twitter feed is the personalised touch. The feed features news and pictures of Microgaming's staff members and the events and conferences they've attended, showing the personalised side of this huge gaming brand. Follow Microgaming on Twitter simply @Microgaming.
NetEnt – @NetEntOfficial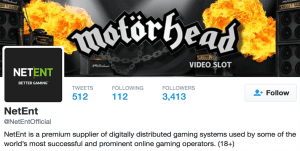 NetEnt used to come in second place to Microgaming, but over the past year or two this pokies developer has excelled in everything it's done, becoming the favoured contender for best online pokies software. NetEnt's Twitter account is updated regularly, providing information on everything from revenue reports, new game releases, upcoming events and award nominations (of which there are plenty!). There's lots of info to be found here about NetEnt's mobile technology, with links to content that will appeal to the real tech-heads out there. Like Microgaming's account, there's also the odd bit of personalised flavour, with pictures of the NetEnt team out at industry events and conferences, so it's always nice to see the faces behind the games. Follow NetEnt on Twitter @NetEntOfficial.
BetSoft – @BetsoftGaming
BetSoft's Twitter account has only just become active, so we can only assume the company has taken an active approach to become more involved in the Twittersphere. The page still has some kinks to iron out, but we can see this becoming a valuable resource for players who favour this premium 3D pokies software. The official BetSoft Twitter page has information about new partnerships and new game releases, with links to further information as well as to the BetSoft Instagram page for screengrabs of all the latest game releases. Follow BetSoft on Twitter @BetsoftGaming.
iSoftBet – @iSoftBet
Based in the UK, iSoftBet is a leading provider of premium casino software, with a large collection of real money pokies under its belt. The iSoftBet Twitter feed provides up to date information about the brand's new partnerships with other software providers and online casinos, plus information and links about its latest game releases and any current promotions being hosted by casino affiliates. We also like that this Twitter feed provides links to other casino industry news, providing an informative platform for anyone who's interested in what happens behind the scenes of the online gambling industry. The iSoftBet Twitter account seems to have become more active in the past couple of months, so now is a great time to follow this account if you aren't already @iSoftBet.
NYX Gaming Group – @NYXGG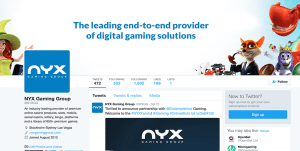 As vibrant and engaging as NYX's games themselves, the NYX Gaming Group's Twitter account clearly has a dedicated marketing team working behind it. This is one of the most well laid out Twitter account's we've seen from a pokies software developer, with lots of relevant up-to-date information about the latest conferences, events, award ceremonies and upcoming game releases. You'll also meet the faces behind some of your favourite NYX pokies games, and it's cool to see the young talented teams working behind these games. The Twitter account really is testament to NYX Gaming's high level of professionalism and class, with the feed proving just how busy and dedicated this software provider really is. Follow NYX Gaming Group on Twitter @NYXGG.
Play'n Go – @ThePlayngo
Play'n Go has been busy this year, with new releases like Hugo, Super Flip and Grim Muerto amongst some of the hottest titles to try in 2016. The Play'n Go Twitter page has proven a reliable source for information about the brand's latest happenings, with a particular focus on their new games, where you can play them and what bonuses and promotions are on offer. If you're a job hunter, Play'n Go's Twitter account also has information about vacant positions within the company and links on how to apply. Follow Play'n Go on Twitter @ThePlayngo.
Thunderkick – @ThunderkickAB
Thunderkick's small but impressive collection of engaging, unique and gorgeous pokies are amongst some of our favourite games, and the company's Twitter feed provides valuable information about upcoming releases. This Twitter account is purely for the gaming enthusiasts, as there's nothing in particular about the software studio, but if you want to stay in the loop of what new game is about to be launched by these gaming gurus then definitely give this one a follow @ThunderkickAB.
Other pokies Twitter accounts worth following

As more gaming companies are recognising the importance of Twitter to spread the word of their new games and promotions, more software developers are turning to Twitter. Here are some more pokies software developers and online casinos you should follow on Twitter:
If you're looking for a safe and reputable online casino that offers a large range of online slot games, we recommend checking out Raging Bull Casino, our top-rated casino site for players from United States, which has some excellent welcome bonuses available for new players.