Estimated Reading Time: 5 minutes
This article is specifically written for those new to the world of slot games, or what are fondly known in Australia as the pokies. While we focus largely on online pokies (a vastly superior playing experience than land-based slot machines), we will also briefly touch on offline slot games.

Best online slot sites for beginners
Australia owns well over 210,000 pokie machines (also known as poker machines), and it is the most popular form of offline gaming in the country. And although the games are enticing and offer sizeable jackpot prizes and well-crafted bonus features, in comparison to online pokies, offline slot games hold poor player value, limited innovation, modernisation, interactivity and variety.
How to play online pokies – Step by step
You can play the pokies at almost any gaming site on the Internet, but online casinos are the best platform to enjoy the highest quality and most interactive pokie games. With hundreds of unique and themed-based slot titles powered by the best online and mobile developer brands in the gaming industry, the Internet gambling sites you play at should be tested by all pokie enthusiasts. Our top-rated pokies sites are listed in the casino table above – use our links to read detailed reviews of each casino or sign up directly via our page to claim some exclusive welcome bonuses.
Once you've registered an account with any of the above casinos, head to their pokies section and browse through the hundreds of popular and highly-entertaining titles. You can deposit real money and play to win genuine cash, or you can test drive the games for free first, before you decide to fund your casino account.
One of the most popular online slot games available at some of the above casinos is the Game of Thrones interactive pokie game. As an example of how to play, we'll take a closer look at this title, based of course on the hit fantasy-drama TV series and George Martin's best-selling book series, A Song of Ice and Fire.
Choosing your betting limit – coin size and amount, paylines and ways
Within almost every online pokie game, you are able to choose how many coins you wish to play and what each coin is worth, per spin. Depending whether the game being played is payline-based or ways-based, you will also get to choose how many lines you wish to play per spin (only in payline pokies).
Payline pokies – You can select how many winning lines in the game you wish to activate during play, often ranging from one payline (typically the middle, completely horizontal row) to up to 40 winning paylines. Some games always have all paylines activated, and this can't be changed.
Paylines simply refer to the rows regarded as winning lines within a game; if a winning combination is spun on one of the pre-determined winning lines (can be straight or diagonal), the player wins (winning combos must run left to right).
Ways pokies – Ways slot games have a pre-determined number of winning patterns already established (243, 1024 and even 3125 ways of winning). These are always activated and can't be altered. Way wins are awarded for left to right adjacent symbol combinations, so for a game with three rows and five visible icons on each row, this equates to a possible 243 different ways to win (3 x 3 x 3 x 3 x 3 = 243).
Coin size and amounts – Coin size and coin amount are the two factors which will ultimately determine how much you are betting per spin. If playing a payline slot game, then the paylines also play a role in determining how many credits per spin you are wagering. For example: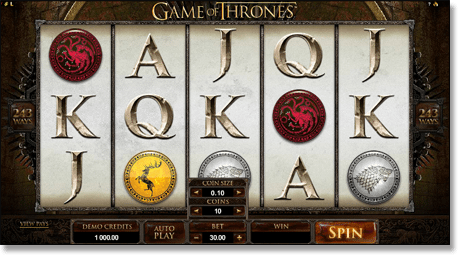 The Game of Thrones online pokie has 15 paylines always activated. Coin size ranges from $0.01 to $1.00, and you can bet up to 10 coins per line. So, if you played the maximum wager (coin size of $1 and 10 coins per line), you'd be betting $1.00 x 10 x 15 per spin = $150 (the minimum bet would thus be $0.15).
The Game of Thrones online pokie is also available in a 243-ways format. In this version, all 243 winning ways are activated and the value of one coin is 30 cents. The coin size range is slightly altered (from $0.01 to $0.10), and you still can wager up to 10 coins per spin. The max wager is now decreased to $30.00 per spin, while the minimum wager per spin is $0.30.
Within pokie games, all symbols hold unique payouts. Almost all slots will have the traditional 10, J, Q, K and A icons present, along with other symbols unique to the game theme, such as House Baratheon, House Lannister, House Stark and House Targaryen coin icons in the Game of Thrones slot. Other bonus features such as wild, scatter and gamble symbols also play a prominent role in boosting wins and activating free spins. For example, spin two scatter symbols in any position the Game of Thrones pokie (the Iron Throne), and you are awarded a random cash prize.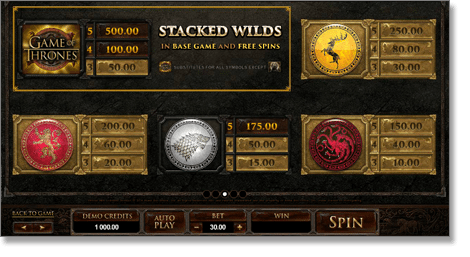 Punters can also set up an auto-play function within any pokie game, so rather than hit spin each time, you choose a pre-set wager per spin and the game runs automatically until the spins reach your specified stop limit, like 10, 25 or 100 spins (the feature can also be stopped by customising it to end when you win a certain amount of money).
Live and interactive animation sequences – Many interactive, video pokies will boast live animation, where the player watches or even participates in a live video sequence which will hopefully lead them to more and larger payouts. In Aliens, a slot game developed by Net Entertainment and based on James Cameron's universally acclaimed sequel to Ridley Scott's Alien, the player attempts to battle his or her way through three levels – The Search, The Encounter and The Hive, each with its own unique interface. Levels two and three replicate first-player shooter games, where you must destroy the Aliens before they kill you.
Land-based pokie games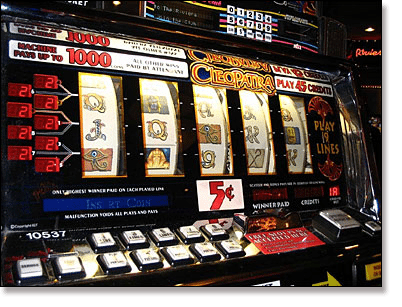 Offline pokies are typically set up in a very similar fashion to online slot games – the player deposits a certain amount of cash, selects how many paylines he or she wishes to activate in the game, chooses the coin value and how many coins per line he or she wants to play. Sometimes, games will have set coin sizes so you only need to select how many coins per line, while ways pokie games won't have a payline choice feature available, as all winning ways are constantly activated.
However, the problem with offline slot machines is the low payout rate (payback percentage) they are allowed to offer. While it differs from state to state, the approximate minimum of payback percentages is around 87%. The payout rate refers to the estimated percentage value of what you can expect to be returned as winnings from the slot, over its entire lifespan (with a lifespan of 25 years, for example, 87% of all the money ever put in will be returned as winnings).
Online games at our endorsed Internet casinos must publicly display their payout percentages and all offer rates of 95% or more for their slot titles. So aside from the better variety and visual and graphic technology, payout rates are far superior within mobile and Internet pokies, as well.
We recommend checking out Raging Bull Casino, which is one of our top-rated casino site for players from United States, which is well suited for beginners. You can try games at Raging Bull Casino for free in practice mode or sign up to play for real money and claim some exclusive new player welcome bonuses along the way.