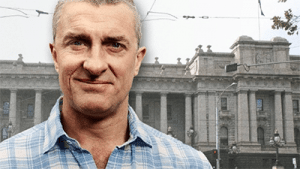 Radio and television personality, Tom Elliot, has publicly spoken out against anti-pokies campaigners, saying that it's time adults take responsibility for their own actions.
Elliott wrote a passionate article for the Herald Sun in response to the new 'Pokie Leaks' campaign launched by anti-gambling crusaders Nick Xenophon, Andrew Wilke and Larissa Waters. The Pokies Leaks campaign aims to expose dirty secrets used by pokie machine manufacturers, with the hopes of reaching an eventual ban on the one-armed-bandits.
Xenophon, Wilke and Waters argue that machine manufacturers use techniques like flashing lights, sounds and animated symbols to convince punters they're winning when they're actually losing money. They argue that these features are harmful and purposefully designed to be addictive.
Elliott's response is an unsympathetic one. He sees the Pokie Leaks campaign as the politicians peddling a "load of nonsense" and believes it's up to individual adults to take responsibility for their own actions instead of blaming the poker machine manufacturers. His reasoning? That every form of gambling is designed so the punter always loses, and if an adult chooses to lose money this way, it's a decision of their own free will as "no one rounds up people at gunpoint and forces them to play the pokies."
His argument is that if politicians are campaigning against the pokies, they should then also be campaigning against all other forms of gambling, including horse racing, TAB, scratchies and casino games, as all forms of gambling are designed to benefit the house by taking money from the punter. He believes Xenophon, Wilke and Waters are attempting to remove the responsibility from the adults who chose to risk their money on a known game of chance, choosing to treat these adults like children who had no power over their actions.
Elliott's rant in the Herald Sun stated, "All adults should take full responsibility for their own behaviour. Like many people, I have occasionally overindulged with alcohol. Is this the fault of the brewing or winemaking industries? Could my local bottle shop be blamed for allowing me to purchase strong drink? Should I sue the Australian cricket team for sporting VB logos on their outfits? Of course not. What gets poured down my throat is my responsibility alone."
He continues, "Lose too much money to the pokies at your local pub or club? That's what gambling is designed to do — separate you from your cash. Forget blaming the intoxicating lights, loud noises and spinning symbols for your misfortune. Instead, acknowledge you hoped to win something for doing nothing — and next time just give the poker machines a miss."
Elliott took his argument to the airwaves during his 3AW radio show, resulting in a heated argument against an addiction support worker, who strongly disagreed with his comments. Elliot's article is receiving a mixed combination of support and backlash.
As the Pokie Leaks campaign continues to get media attention, it will be interesting to see what other arguments get put forward. Bookmark our webpage to stay up to date with all the latest news regarding Pokie Leaks, and please feel free to share your comments below.