Estimated Reading Time: 2 minutes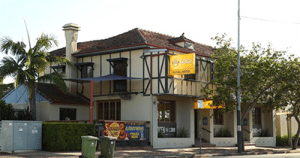 A 21-year-old man has been charged after he allegedly swarmed into a Brisbane hotel on the weekend and set 40 pokie machines on fire, in what one gambling expert has called the most extreme example of rage against the machines to date.
Blake Jones of Beenleigh had been at the Royal Hotel on George Street earlier on Saturday night before returning to the establishment around 8:40PM. He proceeded to douse the poker machines in petrol and set them alight, destroying three machines completely and rendering 37 damaged beyond repair due to chemical exposure.
All patrons and staff at the hotel were evacuated and there were no injuries sustained during the incident.
The gaming room at the Royal Hotel has since reopened, with a spokesman for the ALH Group refusing to speculate on the financial damage caused. The spokesman said, "It's a matter for police now, none of our staff or patrons were hurt or injured."
Whether or not the arson attack is directly related to Mr Jones's issues with the pokies is yet to be determined. It has been established that in the weeks prior to the attack the accused had made multiple threats to "kill himself and others" and was refused bail on account of his own safety.
Magistrate Gary Finger said, "He should be in custody for his own protection, given your history of threats."
Jones is scheduled to appear in Beenleigh Court on January 12th.
Dr Charles Livingstone, a gambling expert at Monash University said an attack of this nature on the pokies was rare. He said, "This is the most extreme example I've heard of pretty much anywhere, but in Australia and overseas it is not uncommon for people to attack machines once they realise they've taken all their money. They feel like they've been conned and they're under enormous stress and pressure."
Dr Livingstone said incidents like the Beenleigh attack are likely to continue as more people fall victim to the high levels of stress, frustration and anxiety caused by the pokies.

Until more information emerges about this case, it's not helpful to speculate over what motivated the accused to carry out this attack. Whether it was a case of mental health issues or genuine rage caused by a pokies addiction, we hope Mr Jones gets the help he needs. While the Beenleigh community certainly won't miss the temporary loss of these machines, it is a relief to hear that nobody was injured during this incident.
If a gambling problem was the cause of the incident, it further proves the detrimental impact these machines are having on the public and will help anti-pokies politicians in their fight for a national pokies reform.