Royal Vegas Casino is getting in the spirit of the 2016 Rio Olympics with the launch of the exciting new Dash for Cash promotion, giving players the chance to win a share of $160,000 cash and daily prizes throughout August. The promo will run for the entire month, starting the 1st of August and ending on the 31st, with a race happening every week until one lucky winner crosses the finishing line to claim the major prize.
Here's what you'll need to do to be in the running:
Sign into your Royal Vegas Casino account. If you're new, register here and you can claim up to $1200 in matched deposit bonuses spread over your first three real money deposits.
Once you're signed in, look out for the Instant Prize banner in the game lobby.
Click on the "ready, set, go!" button to opt in.
There are four sporting events, one to compete in each week, including the 100m sprint, 100m swim, 100m hurdles and the cycling challenge. Within each of these sporting events, there are all kinds of challenges you need to complete in order to earn tokens and advance your way to the front of the race. Earn as many rewards as you can to progress faster through the race phases and move to the next event.
To boost your chances of winning, you can take part in the mini-game feature where you can earn extra tokens to claim free spins, casino credits and extra reward points.
You can check how many tokens you've accumulated at any time by clicking on the 'tokens' button within the promotional page.
The mini games feature is only open for two days each week, with new games available every hour. Play through to earn tokens and after the two days have elapsed, you can use your tokens to claim free spins on Microgaming's Rabbit in the Hat pokies game, or choose to redeem for casino credits instead. Here's how many free spins you stand to earn when playing the mini-games bonus: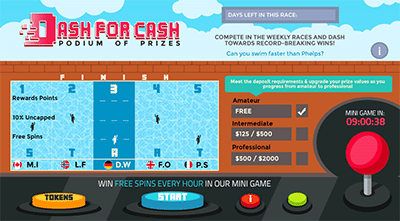 2 to 9 tokens = 5 free spins
10 to 15 tokens = 10 free spins
16 to 21 tokens = 25 free spins
22 to 27 tokens = 40 free spins
28 to 33 tokens = 55 free spins
34 to 42 tokens = 70 free spins
43 to 48 tokens = 100 free spins
49+ tokens = 150 free spins

August just got exciting at Royal Vegas, so sign up now to get in early and make the most of the daily prizes up for grabs. If you're a fan of the Olympics, this is an exciting opportunity to keep you entertained while you wait for the broadcast of your favourite sporting events live from Rio.
Royal Vegas Casino is available in two software formats; instant-play directly over your Web browser, or by downloading the free, premium casino client to your PC. Either way you choose to play will give you access to the Dash for Cash promo and hundreds of real money casino games from Microgaming, including pokies, blackjack, roulette, scratchies, video poker and live dealer games.
Join the Dash for Cash at Royal Vegas Casino today and take advantage of the new player welcome package of up to $1200 in matched deposit bonuses.