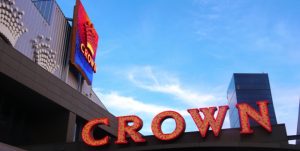 On Tuesday, protesters gathered in front of the Crown Casino complex in Melbourne's Southbank to fight against the "corporate greed" being displayed by Crown after the gambling giant sacked a crew of 16 casino employees and outsourced their jobs to a company where wagers are lower and employment conditions are not as high.
The employees, who worked as technicians servicing the casino's 2,600 electronic gaming machines, were fired and replaced with staff from technical services conglomerate, Amtek, which is run by former state premier, Jeff Kennett.
Mr Kennett was acting as premier in 1999 when he granted the Southbank casino license to Crown Consortium, leading several employment unions to believe the new employment agreements are based on nepotism.
Crown previously said the new machine technician contracts were only issued to Amtek after extensive operational reviews, and that several providers were considered for the tender.
Secretary of the Electrical Trades Union Victoria, Troy Gray, told the protesters, "These 16 loyal workers, who have helped make massive, massive profits for this company, all get sacked on Monday. This does not have to happen. This is a moral disgrace. We will take as long as it takes to get these workers back into their jobs on decent rates and fair union wages."
Neither Mr Kennett nor Crown have revealed the wages of the Amtek workers, but union officials believe they will be significantly less than the $76,000 a year salaries paid to Crown's existing poker machine technicians.
Mr Kennett said, "I can assure the public our people will be well paid and well looked after."
But the unions aren't buying it, and are now targeting Crown Casino high rollers and other major companies that use Crown for their corporate functions and entertainment events in a bid to disgrace the casino and force Crown to reinstate the sacked employees.
At Tuesday's rally, which attracted hundreds of protestors, Mr Gray said, "We know the high-rollers. We will contact the high-rollers and put them on notice. If they hear this story, they will shake their heads in disgrace.
"And we know the big corporations that are booking the function rooms. We've got their names. Some of them are very reasonable companies. We will be contacting those companies as well. We will be telling them about the disgusting immoral behaviour. And we are going to challenge these people: 'If you endorse the actions of Crown Casino, then we're going to out [you], too'."
Protestors held up signs at the rally displaying James Packers face which read 'Packer: The Greedy Billionaire Who Demands More.' Another sign used Crown's logo atop of the slogan 'Frown: A World of Unemployment.'
Speakers at the rally said they will be writing placards in Mandarin to show to the Chinese high rollers who enter Crown via the helipad near the casino. They also called on union members to take to social media and write negative reviews about Crown across Facebook and popular travel website, TripAdvisor.
It's the second time this week Crown has come under fire in the media, after rival casino operator Wynn Macau told The Australian Financial Review Crown was clearly breaking the law when several of its employees were arrested in China last year on suspected gambling crimes.
"I think what Crown was doing was, whether you like it or not, against the law," Wynn chairman Allan Zeman said.
He added, "Maybe for some, you work through junket operators, who collect their own debts. China is not a place that you go to collect debts. There was a big group in there – something like 12 or 14 people – so it wasn't just sending one guy in to collect money or do a sales job. You're in a country that doesn't allow gaming and you're promoting it."