Estimated Reading Time: 3 minutes
Progressive jackpot pokies are amongst the most popular games you'll find at an online casino, with players from all over the world drawn to these high paying games with the hopes of spinning the reels and walking away an instant millionaire. Find out more about these lucrative slot games and how you can increase your chances of winning a progressive jackpot.

Best progressive jackpot pokies sites
What is a progressive jackpot pokie?
A progressive jackpot pokie is a game with a set base jackpot, which increases every time anyone places a real money bet on that same game over the linked progressive jackpot network. For every real money bet placed on these games, a portion of the wager is contributed to the jackpot.
While the base jackpots themselves can often be very profitable, the progressive nature means the jackpot has the potential to soar into dizzying new heights, continuously increasing until a lucky player claims the top prize. Once the jackpot is won, the game resets back to the base jackpot and it continues to grow again from scratch.
Progressive jackpots are claimed on average every few weeks, but when games go for months without being won is when the true magic happens, with more players flocking to the games resulting in record breaking jackpots.
Highest paying progressive jackpot pokies online
Internet pokies have set world records for the biggest wins ever made online, with jackpots which can increase rapidly as the network extends all over the world. Some of the highest paying progressive pokies you'll find at our recommended casinos are listed below with their current jackpots at the time of writing: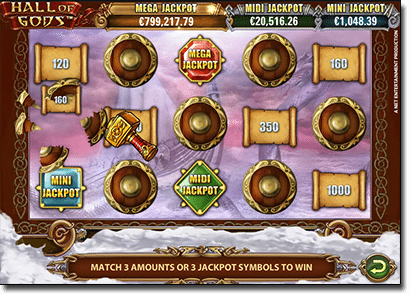 Mega Moolah – $7,453,295
Mega Moolah Isis – $7,453,295
Major Millions – $462,939
Mega Glam Life – $400,001
Of course, these jackpots literally increase by the minute so it's impossible to provide an accurate idea of what a games jackpot is, but this gives you an idea just how life changing these wins can be. You can check the current progressive jackpot amounts by heading to the 'jackpot' game category within our recommended casinos, where the prize amounts are updated in real time.
Tips for winning a progressive jackpot
Your chances of winning on the pokies are entirely luck-based; there is genuinely nothing a player can do to influence the outcome of a spin, despite many myths and superstitions suggesting otherwise. While keeping this in mind to ensure you maintain responsible gambling practices, there are a couple of tips to consider if you're playing for the chance to win a progressive jackpot:
Play the maximum bet – most jackpots can only be triggered if the maximum bet is in place, which means unless you're playing the highest wager possible it doesn't matter how many times you spin, it will be impossible to strike the jackpot. Playing the maximum bet can burn your bankroll pretty quickly, so ensure you're playing a game with a maximum wager within your financial limits.
Play a local progressive – there are two types of progressive jackpot pokies available online: local (or standalone) progressives which only increase when the game is played at one particular casino, and network progressives with jackpots which increase anytime the game is played over a wider expansive network. While network progressives are the games with substantial jackpots reaching well into the millions, your chances of winning these games are similar to your chances of winning the lottery. Local progressives aren't as lucrative, but still carry some pretty incredible jackpots and are typically triggered more frequently than network progressives.
Don't chase losses – the golden rule of gambling strongly applies to progressive jackpot games, with some players easily getting carried away by the fantasy of becoming an instant millionaire. Understand your chances of winning a large network progressive are similar to your chances of getting struck by lightning, so play within your means and remember the main thing is to have fun while playing these exciting games.
Play for free first – get the feel for what a progressive jackpot game is like before committing to those maximum bets. You can play pokies for free in practice mode at our recommended casinos, giving you the chance to learn more about each game and familiarise yourself with its paylines before deciding if its worthy of your hard earned cash.
If you're looking for progressive pokies with the biggest jackpots, we recommend heading to any of the casino sites listed in our table at the top of this page, where you'll find a range of wide area and local area progressive jackpot pokies to play for the chance to win real money.