Estimated Reading Time: 2 minutes
Pokies players who wish to make a quick and easy deposit without having to enter their personal details have always had the prepaid option of Ukash. However, Ukash is no longer available after being purchased by the Skrill Group. In its place is Paysafecard, which has been around since 2000 (Ukash wasn't founded until 2005) which allows players to follow the same payment process by depositing with a 16 digit voucher.

Paysafecard pokies casinos
Paysafecard and Ukash payments
When Ukash was founded in 2005 it saw players eligible to purchase items online via a voucher they previously purchased with cash.
Paysafecard offers a similar service and as such their parent company, the Skrill group (also owns the Skrill e-Wallet), offered to purchase Ukash. This was then formerly accepted in 2015 and Ukash customers had up until October 31 to use any funds on the voucher until paysafecard replaced the service.
While Paysafecard also offers a prepaid MasterCard, the Ukash prepaid MasterCard, launched in 2014, is still eligible to be used anywhere MasterCard is accepted.
How to get a paysafecard voucher
Paysafecard works similarly to Ukash as players purchase a voucher and use a 16 digit code to purchase items online, or in our case make a deposit at the online casino.
Players can purchase a voucher worth $10, $20, $50 or $100, with a maximum of 10 available to purchase in one go, either at their nearest paysafecard stockists (available to find via your postcode or suburb using the stockists locator on the paysafecard website), or online.
Players then use the 16 digit code to make a deposit at participating paysafecard online casinos. Players don't have to deposit the full amount on the voucher in one go, and they can use more than one voucher at once to fund their account.
There are no fees incurred with paysafecard except for a small fee that is charged to your account after a year if the funds haven't all been used by then.
Deposit with Paysafecard
Players fund their online casino account just as they would with Ukash – locate the paysafecard deposit option on the banking page, enter the 16 digit code, select whether or not players want to add more than one voucher in the one deposit and enter these codes, and confirm the transaction.
While the payment method is anonymous and not linked to a personal account, irrespective of whether you purchased online or offline, we still recommend playing at a reputable site as at the end of the day you play to win, and this won't happen if you're playing at an unregulated pokies site.
Fortunately, we have scoured the web and found a list of participating, and secure, paysafecard online casinos.
Participating Paysafecard pokies sites
The following reputable online casinos offer an excellent catalogue of pokies and each accept paysafecard as a deposit option.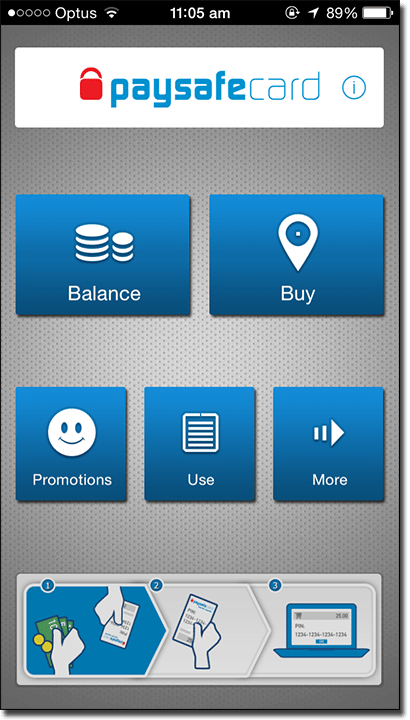 Paysafecard mobile app
Simply click on the links to make your deposit and get playing.
There is a mobile application available to download from either Google Play, for Android smartphones and tablets, or the App Store, for Apple devices.
You can locate a paysafecard stockist via the app, as well as check your balance and transaction history too.
Paysafecard Mastercard
While you may not need to opt in for this service if you already did with Ukash, you can sign up for both.
Players can opt in for a paysafecard prepaid MasterCard that is a physical card, known as YUNA. This can be used anywhere MasterCard is accepted, inclduding online casinos.
So if you have purchased paysafecard and play at one of our recommend sites that don't offer paysafecard (not listed above) you will be able to load your YUNA card via your paysafecard voucher and deposit using this method.
You can fund your Ukash MasterCard via a paysafecard voucher too and enter the card details at a participating MasterCard online casino (all our recommend online casinos) via the debit or credit MasterCard option.
Paysafecard security
Ukash users are well versed in how prepaid options are incredibly secure and therefore know that the paysafecard payment method is too.
Unless we purchase paysafecard online, there is no link to our personal bank account as we purchase paysafecard with cash – the ultimate level of security and anonymity.
If you do purchase online do so via the paysafecard website to ensure you are protected by the latest data encryption technology, which ensures you aren't leaving yourself open to anyone stealing your personal and financial information.