Estimated Reading Time: 5 minutes
With so many choices on the Internet when it comes to casino banking, it's always preferable to go with a recognised and well trusted service. One of the best, safest online deposit and withdrawal options available for online pokies players is Neteller.

Best pokies sites accepting Neteller
Unlike other popular online payment methods such as PayPal, Neteller is an e-Wallet service specifically designed with online gambling in mind.
Given its solid reputation within the online gambling industry, Neteller is accepted and recognised as a deposit method by a huge amount of online casinos and is a highly recommended way to manage your casino banking and real money transactions.
How do e-Wallets like Neteller work?

e-Wallets (also known as web wallets) work exactly as they sound, which is to provide personal wallets in the digital arena. Web wallets allow us to deposit money into a safe and secure online account and subsequently deposit and withdraw money to and from our preferred Internet casinos.
Neteller is one of the leading web wallets on the Internet, with a proud history that dates back to 1999, and is now recognised as one of the safest online payment methods available worldwide. While Neteller is specifically great for casino banking, it is also a handy option for businesses and other online merchants.
To use Neteller, you first need to sign-up for a free account at the official Neteller website, which will only take a few minutes. After providing the necessary basic information, you simply need to proceed to finance the Neteller account through a variety of deposit methods, with linking a bank account or using your credit and debit cards being the most common option. From here, you can move onto funding your casino accounts with the real money you transferred into your Neteller e-Wallet.
How do I deposit and withdraw with Neteller?
Once you have money in your Neteller account, head over to sign in to your chosen online casino and go to the banking or cashier section. Select Neteller from the list of payment options listed. Fill in your Neteller account information when prompted, and enter the amount of money you wish to deposit. Once completed, it will take a few seconds for the cash transfer to be approved by Neteller and available in your casino account, and then you can proceed to instantly play real money pokies with ease.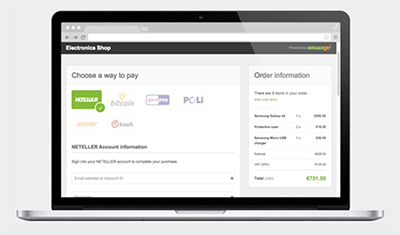 Withdrawals with Neteller are also straightforward. Go to the cashier section of your chosen casino once more to withdraw your winnings back to your Neteller account, selecting Neteller from the list of withdrawal options. Again, input your account information and enter the amount of your prize winnings you wish to withdraw back to your Neteller e-Wallet.
Withdrawals aren't as speedy as deposits as the casino has to process and approve the withdrawal before your money reaches your Neteller account, but our recommended casinos are pretty quick and you'll usually have your winnings within 1-3 business days.
As of late 2016, Neteller has ceased to process withdrawals via prepaid MasterCard's, which means many players will have to accept withdrawals via bank transfer or Entropay, which can take longer to hit your account. Withdrawals to your bank account using Neteller will take an additional 10 business days to process within Neteller's system, and will be subject to a high transaction fee of $15 per withdrawal. For this reason, we suggest using another payment method for your online casino withdrawals, like Skrill, Visa or MasterCard.
What benefits does Neteller offer?
Neteller is a fast and simple way to transfer money between your online e-Wallet account and your chosen casino accounts, and it makes the casino banking process stress-free with high security and an easy-to-navigate interface. The majority of transactions made with Neteller carry no fees with them, and you can opt to receive a free pre-paid card to withdraw money from any ATM when you're out and about.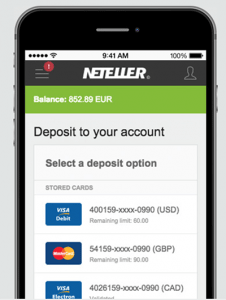 While it's not a direct deposit method straight to your casino account like other alternatives (you need to fund your e-Wallet account with a credit or debit card, or a bank account, and then from there deposit money into your casino account), Neteller is a popular choice for many because it acts as a layer or middle-man for our personal financial information. It's just as quick and painless as other direct deposit options, plus it provides the benefit of allowing you to make real money deposits to multiple pokies sites without having to continuously hand over your personal financial details to various vendors.
Neteller is also available for use on mobile, so you can deposit funds to your account on the go using your smartphone or tablet anywhere you can secure a WiFi, 3G or 4G connection.
If you're still not sure which deposit method is right for you, read our guide on making safe deposits at online casinos to find out more about depositing using alternative payment methods like Visa, MasterCard, Skrill, Paysafecard, Flexepin, Entropay, ecoPayz and direct bank transfers.
Why to avoid Neteller for online casino deposits
Despite the benefits of Neteller discussed above, the team at OnlinePokieGame.com has our own negative experience with using Neteller. When testing this payment service, one of our editors found the act of opening a Neteller account and making a deposit to the Neteller Web wallet fast, easy and straight-forward, but it was all downhill from there. We tried to then deposit $40 via Neteller to one of our recommended casino sites, but the payment kept getting rejected. After speaking with the casino's live chat operators, they were able to tell us the error was on Neteller's end. We decided to simply remove our money from Neteller and deposit via an alternative payment method, which is when we discovered the $15 withdrawal fee – something Neteller fails to advertise clearly until it's too late. After finding out the withdrawal would take up to 10 business days and cost $15, we were surprised to find only $10 refused to our bank account, when it should have been $40 less the $15 withdrawal fee. When querying the $10 amount with Neteller's customer service team, they blamed the deducted amount of undisclosed bank fees.
The whole experience earned Neteller two big thumbs down in our books. We recommend avoiding this service when it comes to online casino deposits and choose one of the additional payment options.
Is Neteller safe to use?
Not only is Neteller safe, it's one of the safest online payment options available, with billions of dollars worth of transactions processed every year. All payments are processed using the highest level of digital encryption, with the same SSL (Secure Socket Layer) security used by major financial institutions.
Most major casino operators on the Web support Neteller because it's a recognised and verified online casino banking service. Only the most secure and trustworthy deposit and withdrawal methods are supported by the best and most reputable online casinos, and we here at OnlinePokieGame.com also only recommend the safest options for our readers.
Because you're only providing Neteller with your banking information, that data isn't shared with your chosen casino websites and is kept private. If you like to have peace of mind and only share your financial details with one party once, it's a great choice.
Bonus deposits with Neteller
Neteller deposits are happily accepted at all of our top recommended online casinos, with each offering fantastic welcome bonuses for new players. Some casinos, like Royal Vegas Casino, even offer an additional 10% bonus for players depositing with Neteller. For a full list of the best online casinos accepting Neteller deposits, refer to our list of recommended casinos in the table at the top of this page.
Sign up to make a real money deposit using Neteller at Raging Bull Casino, our top-rated casino site for players from United States, or chose from any of the other safe payment methods available.