Estimated Reading Time: 2 minutes
When it comes to the hopes of striking it rich on the pokies, punters are told not to take gameplay too seriously as it all comes down to luck of the draw and there's no way to beat the system. A casino cheat syndicate has just proven that theory wrong, albeit completely illegally, using smartphone technology to predict the outcome of pokies spins and gain some seriously big payouts.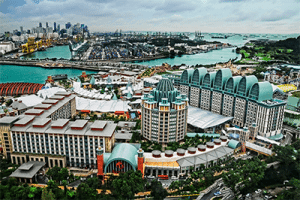 On Tuesday, Rodoslav Skubnikm, a member of the syndicate was sentenced to 22 months in prison after pleading guilty to three counts of attempting to obtain an advantage for himself by cheating at play. Singapore police busted the syndicate in May, arresting three men and three women on suspicion they'd been using mobile devices to predict big payouts on the pokies at Resorts World Sentosa and Marina Bay Sands casinos.
The charge against Skubnikm marks Singapore's first case in which smartphone technology has been used to create an edge over a casino. According to Skubnikm, he and his accomplices would use the video function on their mobile phones to record the pokies results on machines made by an undisclosed manufacturer. They would then upload the recordings to a server that used state of the art technology to decode and analyse the data before sending the results back to their phones to use in the casinos to predict the outcome of spins. Skubnikm won close to $20,000 cheating the pokies using this system, while the whole syndicate is said to have racked in around $120,000 in illegal winnings.
The Russian syndicate used a master and player arrangement, where the syndicate master analysed the data and the players set out to the casinos to record the videos and play the pokies. Each player kept 10% of their winnings, while 5% went to the master and the remaining funds were split between the group. The scam has reportedly been used in casinos around Singapore, Macau and the USA.
The other two Russian men involved, Vladislav Logachev and Andrei Egorov, are still awaiting trial. If they don't strike a deal with prosecutors, the men could face up to seven years imprisonment on each charge, plus fines of up to US $110,000.
News of the scam has left pokies players wary about the genuineness of random number generated technology if the results have been proven to be decodable. If you'd like to know more about how online casinos are committed to genuine RNGs, read our article about eCOGRA, the online gambling industry watchdog auditing venues to ensure true RNG technology is in place.