If you've ever been to Japan, you may be familiar with the seemingly bizarre craze that is pachinko. This arcade style game can be found in pachinko parlours throughout the country, working as a form of gambling in a country where casino gambling is otherwise illegal and playing a huge part in the Japanese economy. But what exactly is pachinko, and what makes it so popular? We explain more about the game so widely loved by the Japanese and so mysterious to Westerners.
What is pachinko?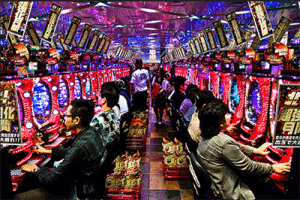 Pachinko is a mechanical game comparable to a vertical standing pinball machine. It is a game of luck where little steel balls are inserted into the machine to bounce around the playing field in the hopes it will land in one of the many catchers to trigger a payout. The ultimate aim of the game is to capture as many balls as possible before they fall and reach the bottom of the machine screen. If the ball successfully lands in a catcher, the player receives additional steel balls as a reward. You can also receive a steel ball payout on the newer machines by winning what's known as a "reach" which is when two numbers or letters on the digital slot machine screen match up and you get the chance to match a third. These steel balls can then be exchanged for various prizes or tokens.
Pachinko is often referred to as the Japanese version of the pokies but instead of being found in pubs and casinos, pachinko machines have their own parlours which are brightly lit, loud, smoky and always busy. Pachinko is not government operated, so the standards and service levels vary greatly between each pachinko operator. It is a highly addictive game and has become a beloved pastime for many Japanese players.
Is it gambling?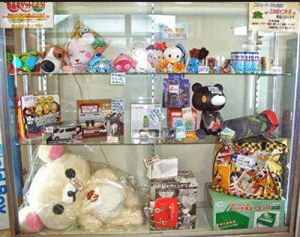 In Japan, it is illegal to gamble for cash on anything other than certain government run gambling events like horse racing (although this may soon be set to change as Japanese parliament consider legalising casino gambling in 2017).
Pachinko is Japan's gambling loophole. While pachinko is played using real money, winnings are technically only exchangeable for non-cash prizes, from small items like pens and cigarettes to larger electrical items like digital cameras. The loophole is your winnings can be exchanged for tokens, which can then be exchanged for cash at external "TUC shops" commonly located nearby pachinko parlours. Police have turned a blind eye to this practice and it has become a standard part of the pachinko industry, creating many pachinko addicts and gambling problems for Japan.
How to play pachinko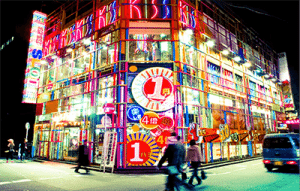 If you find yourself in Japan and are lured in by the intrigue of the pachinko parlours, here's what you'll need to do to play:
Select a pachinko machine that takes your fancy – they are very garish and can be themed around anything from sexy ladies to cute animated critters.
Insert your cash or card into the money slot of the pachinko machine and a designated number of balls will shoot out into the metal tray at the bottom of the machine.
Twist the wheel at the bottom right hand side of the machine to launch the balls one at a time into the game. The amount you twist the control will have an impact on the speed at which the ball is launched.
If the ball lands in a hole you'll receive a payout of additional balls.
If the ball enters the 'start' hole in the centre of the machine you'll get the chance to win a "reach" by matching three symbols, which will award thousands of balls.
When you've finished playing, call a staff member over by making an X with your arms out in front of you. The staff member will feed your balls through a counting machine and award you with a receipt recording the number of balls you've won.
Take the receipt to the prize counter where it can be exchanged for prizes or tokens which can later be exchanged for cash at external outlets.
How is pachinko similar to the pokies?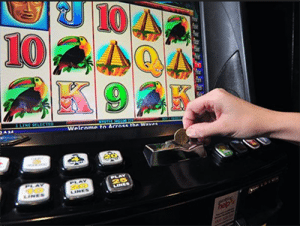 Physically and logistically, pachinko machines have much more in common with pinball machines than they do with electronic poker machines. However, it is the random and luck-based nature of the wins that makes pachinko and the pokies so similar. Both of these games also share appealing and addictive characteristics like flashing lights, celebratory sound effects and engaging animation to keep the players hooked, and both offer the chance to win real money from relatively low bets. One of the major differences is pachinko games are slower than the pokies, and players can establish winning patterns from certain pachinko machines if you have the time to do so.
If you're an Aussie who loves the pokies, chances are you will fall in love with pachinko if you ever get the chance to visit a Japanese parlour, or if these crazy machines ever make their way to our shores.
Can I play pachinko online?
While you will find some computerised pachinko games on the Internet, these are offered purely for fun and don't present the chance to win real money. However, if you're looking for an online alternative to pachinko, you can play the pokies online at many of the world's best online casinos. Online pokies are just as engaging and entertaining as pachinko (arguably even more so thanks to their cinematic grade animation, exciting game themes and lucrative bonuses) and there's no need to worry about spilling your bucket of pachinko balls. Simply sign up for an account at a reputable online casino, make an instant deposit using a trusted payment method and choose from thousands of online slot games to play directly over your web browser with no downloads required.
These trusted online casinos are highly recommended for safety and game variety:
With new game added to these casinos regularly, who knows, it may be a matter of time before pachinko finds its way to the realms of the Internet.
Not gonna make it to Japan anytime soon to experience the pachinko parlours for yourself? The pokies are a fun, luck-based alternative, which you can enjoy from the comfort of your own home. Head to Raging Bull Casino, our top-rated casino site for players from United States, and start playing online slots for free in practice mode or for real money bets, with some great welcome bonuses available for new players.