There are literally hundreds of pokies available online, with some games using state of the art 3D animation and all kinds of impressive technologies to create the most entertaining player experience possible. With such innovative games at our disposal, we're often left scratching our heads as to why some of the most popular online pokies are also amongst the most overrated. Games that are now years old continue to top the list of popular pokies, despite being well superseded by their modern rivals – we take a look at some of the most popular overrated titles.

Best online pokies sites
Thunderstuck II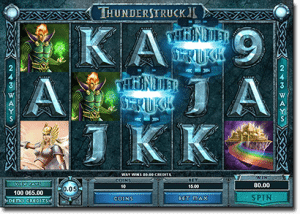 Thunderstruck II was created after the soaring popularity of Microgaming's original Thunderstruck pokies game left such high demand, and although it's now years old, Thunderstruck II continues to appear on Top 10 pokies lists across leading online casinos. Perhaps older players are simply loyal to their favourites, or Thunderstruck II has some kind of super winning power that we don't know about, but this fantasy themed game leaves little appeal to the modern punter.
There are some decent bonus features (like the Wild Storm bonus and the Great Wall of Spins), and the graphics aren't entirely terrible, it's just that so many other games are so much nicer to look at that the popularity of Thunderstruck II alludes us.
Are you in the love or hate wagon? Try Thunderstruck II at Royal Vegas Casino to see what you think.
Avalon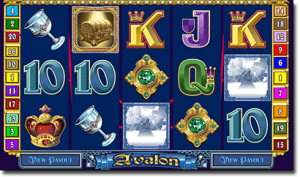 Although it's since been superseded by an updated version, Avalon II, the original Avalon pokies game remains in high demand with players at Microgaming casinos, but god knows why.
Avalon was one of the first big games to hit the market, and while would have been a time where its graphics and gameplay were ground-breaking, the graphics in Avalon are now so outdated that a year 12 tech class could probably come up with something better. There's a gamble feature, and the possibility of winning 12 free spins with a 7X multiplier, but other than that Avalon couldn't be more overrated if it tried.
Agree with out confusion? Give the original Avalon a go at Jackpot City Casino, or try the updated Avalon II to see how far things have come.
Playboy
Okay, we admit this game is actually pretty good, but it makes it to our overrated list due to the fact that with an official licensing from the Playboy brand, this game doesn't quite live up to the hype. Sure, we're down with the nicely sketched beautiful women lounging around on expensive yachts and enjoying the breeze in their hair as they cruise along in sports cars, but we'd put money on the fact that this isn't what most of the players opening this game are hoping to find.
Obviously nudity was always out of the question, but with the big Playboy name luring players like bees to honey, this pokies game could stand to at least use real images of real Playboy models, or an appearance from the big Hef himself.
If you want the real deal, you can try Playboy live dealer tables games at All Slots Casino, or if scantily clad women are your thing, try Microgaming's Bikini Party.
Break Da Bank Again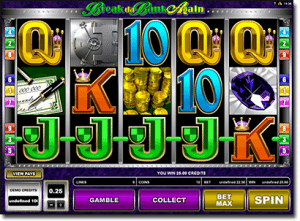 While we'd easily assume that no one ever actually plays this mouldy old game, the fact that Break Da Bank Again has made its way to a majority of Microgaming powered mobile casinos leads us to believe that it's actually quite popular. We're not entirely sure when Break Da Bank Again was released, but anything with "da" in the title has got to have reached its hay day around the early 2000's.
This game is as simple as it comes, with a confusing combination of half badly computer generated and half semi-photographic images. It's only drawcard is the nice jackpot of 375,000 coins, but even then it's hard to imagine choosing this highly overrated game over any of the slick new pokies available online.
See what we're talking about by playing Break Da Bank Again at Slots Million.
Tomb Raider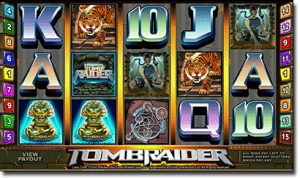 The fact that Tomb Raider is popular isn't surprising, after all, the movie starring Angelina Jolie was a huge hit and what's not to love about the bad ass babe Lara Croft? What is surprising is how old this game is and the fact that Microgaming hasn't rejuvenated it the way they have with Thunderstruck and Avalon.
We've seen Microgaming do such great things with movie/pokies collaborations, like Jurassic Park, The Dark Knight and Terminator II, but all of those game use direct screen grabs and real footage, while Tomb Raider uses outdated computerised graphics.
We'd love to see a revamped game that uses footage from the 2001 Paramount Pictures film and has a less clunky gameplay than the original and then we'd understand the hype. Until then you can try the painfully outdated Tomb Raider at several of our recommended casino sites.
Online pokies worth trying
Need a break from these overrated games? Read our comprehensive list of online pokies reviews for more inspiration. If you like to play games that follow a certain theme, check out these titles:
For an online casino with the best pokies, we recommend checking out Raging Bull Casino, our top-rated casino site for players from United States, which has some excellent welcome bonuses available for new casino players along with hundreds of pokies to choose from with no downloads required.