Estimated Reading Time: 2 minutes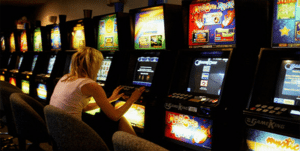 Figures released by the New Zealand Department of Internal Affairs have shown a significant increase in the amount of money being spent on the pokies, despite there being a drop in the number of electronic poker machines available.
In 2016, there were 16,148 gaming machines in operation around New Zealand, which was 245 less than the amount of machines operating in 2015. There was a 6.3% drop in the number of license holders, a 2.6% drop in the number of gaming venues and a 1.5% drop in the number of machines.
However, expenditure on the pokies in the fourth quarter of 2016 totalled $223.6 million – a 4.3% increase compared to the same time in 2015. The annual expenditure on the pokies in 2016 was a huge $858.2 million, up 3.6% from the previous year.
Problem gambling is on the rise in New Zealand, but while there has been plenty of research into how poker machines are designed to addict, little has been said about how gaming rooms themselves contribute towards gambling problems.
Professor Peter Adams from the Auckland University says pokies lounges are designed so that interaction is discouraged, ensuring punters remain engaged exclusively with the machines and can gamble in anonymity. Lighting is dimmed, gaming rooms are detached from the rest of the bar and the only furniture in the room is facing directly at the machines.
"For a problem gambler, they'll come here primarily to play and the last thing they probably want to do is interact. They're here to get into the zone, to be with the machine," Professor Adams said.
He likened the design of a pokies room to the male public bathroom, where urinals are separated to ensure individuals can take care of business without having to interact. He called the spaces "exploitative" and said gaming rooms take advantage of peoples weaknesses.
In order to curb problem gambling, Professor Adams suggests machines be brought out of the dark, isolated environment of the pokies lounge and perhaps put somewhere more visible with natural light in order to create a more social atmosphere. He believes a more positive, friendly environment could provide a different approach to gambling.
Unfortunately, lack of financial incentive means pub owners are unlikely to make changes to their pokie rooms. While some licensees have put small changes in place in an attempt to make gaming rooms feel less isolated, the high costs involved with a full refurbishment make significant changes improbable.

If machine numbers are down, but pokies expenditure is up, there's no question that problem gambling in New Zealand is on the rise. The question is, what exactly does the government intend to do about it?
The fascinating thing these statistics prove is that more needs to be done to curb problem gambling than simply limiting the number of machines available. Perhaps Professor Adams is onto something when he suggests a re-think of the way gaming rooms are designed, as this is a tactical approach rather than an abolishment of the machines altogether. This could allow government and community groups to retain the funding they so highly depend on while supporting more responsible gambling practices.