Estimated Reading Time: 2 minutes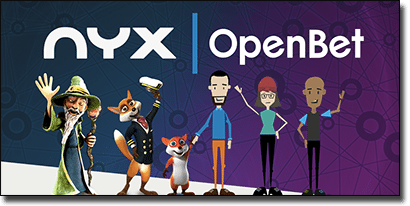 If you want to be able to have a punt while playing your favourite NYX pokies, it won't be long until you can thanks to the NYX Gaming £270 million acquisition of OpenBet.
This week, NYX Gaming Group acquired the market leading bookmaker OpenBet, which will see the crossover of two established betting and gaming platforms. The transaction was made possible thanks to a combined £100 million investment from William Hill and SkyBet.
CEO of NYX Gaming, Matt Davey, commented on the acquisition in an interview with Gambling Insider stating their focus has predominantly been in casino gaming but they've never tried "to get into the sports-betting business."
He also stated "OpenBet in the same fashion has built a really strong position in sports betting, and to be fair they've also got casino and a platform business, but you couldn't get a better fit than the complementary nature of their product set with our product set."
The transaction, as detailed in a statement on NYX Gaming's website, will combine two of the world's best gabling suppliers "to create an organisation that will deliver the leading end to end solution for regulated gaming markets."
Additionally, "the combined strength of the two businesses will provide customers around the globe with premium betting and gaming solutions across all channels."
The CEO of OpenBet, Jeremy Thompson-Hill, also commented on the transaction in the statement stating it "will enable us to leverage our knowledge, strengths and resources to deliver our customers with best-in-class products and technologies across all verticals and channels."
William Hill and SkyBet backed the move, investing £80 million and £20 million, respectively. In the same interview we mentioned above, Davey commented on their contribution stating it is an "endorsement of people who know that business best."
This is confirmed in the statement on NYX Gaming's website, stating William Hill plan to use this expertise with the implementation of a three-year development program "to further modernise OpenBet's technology". This has expectations of £10 million to be generated in EBITDA to NYX over the three years.
Key features to the transaction
Over 11 billion in sports bets made since OpenBet emerged on the bookie scene in 1996, plus over 56 million transactions within a 24-hour period
OpenBet operates in a strictly regulated market – involving advanced licensing jurisdictions
The final addition to NYX Gaming's catalogue is a sportsbook, allowing the software provider to expand globally and access new markets
If you want to full details on the transaction of OpenBet, simply visit the NYX website for a full run down.
Plans for OpenBet are set to kick off straight away, but while we wait you can spin the reels of some of the best NYX pokies at SlotsMillion.com, Guts.com and Rizk.com.