Last week we reported South Australians were spending less money on the pokies than ever, but the same can't be said for the East Coast, with New South Wales residents pumping a staggering $78.9 billion into the pokies in the 2015-16 financial year.
The figures released by Liquor and Gaming NSW reveal a 7.3 per cent increase in pokies expenditure around the state – a slap in the face to the government's plan to lower gambling expenditure by reducing the number of poker machines. In 2016, over 500 machines were switched off around NSW, leaving 92,861 active machines, accounting for close to half of the 200,000 electronic poker machines in Australia.
Not surprisingly, counselling services around the state have also reported an increase in the number of people seeking help for gambling addiction, with some experts saying the Sydney pokies crisis is getting worse. Anecdotal evidence is now suggesting there are strong links between pokie addiction and the drug ice.
Parramatta has been reported as one of the country's worst gambling hotspots, with over seven billion dollars spent on the 2,037 pokie machines in this region alone. It comes second only to Fairfield, which recorded over eight billion dollars spent on its 3,832 machines.
Areas with the lowest number of machines, typically around Sydney's North Shore region, reported alarming numbers of expenditure despite the limited number of machines.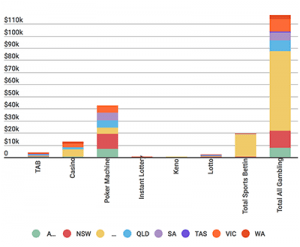 Lifeline counsellor Jeanette Svehla told the Daily Telegraph, "I'm seeing a lot more people, in what looks like a happy stable family, using pokies and sports gambling. Most problem gamblers don't seek help, they tend to think it's just a poker machine it's easy to quit, but people don't understand the addictive nature of them.
"The myth is that pokies return 90 per cent of the money put in, that is not true, they return credits and typically around 30 per cent of money put in is then taken out of the machine," she said.
Men aged between 18 and 24 were the highest risk group for problem gambling, accounting for a majority of New South Wales pokies addicts.
Chris Davidson, a gambling counsellor in the Central Coast, said pokie addiction is a major health issue, with evidence showing a correlation between pokies and ice.
"Ice and poker machines go together like a pie and sauce," Mr Davidson said. "Research shows there is a 25 per cent overlap between drugs and alcohol and gambling addiction."
Of the billions of dollars pumped into NSW pokies each year, the state government pockets around one billion in taxes, while the clubs that own the machines reap the rest of the billion dollar profits.
The social cost of problems inflicted by the pokies is estimated at being close to $4.7 billion.

The figures released by Liquor and Gaming NSW are alarming, however it's also proof that the Australian pokies industry isn't losing to offshore online gambling as many of the rule makers would like us to believe. Calls for a ban on online gambling have used concern about addiction as the main reason, however that's hard to believe when nothing is being done to eliminate the number of machines around the state's problem gambling hot spots. With the NSW government making a billion dollar profit from pokies revenue each year, it's difficult to see calls for a ban on online gambling as anything but fear of the loss of revenue.