Estimated Reading Time: 2 minutes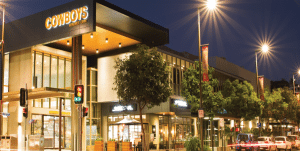 The Cowboys Leagues Club in North Queensland could soon get a giant pokies injection, increasing the number of gaming machines in the club to 300 as part of a major revamp.
If approved, an additional 86 pokies will be added the clubs existing collection of 212 machines. The club upgrade will also include new children's facilities, lounge areas, a conference room and a 130-seat dining area.
Cowboys League club general manager Clint Williams said the gaming expansion would allow the club to remain competitive with the larger clubs in Townsville. According to Williams, The Cowboys Leagues Club currently has the smallest number of machines compared to its competitors and has not increased its number of pokies since 2011.
If the plan goes ahead, The Cowboys League Club will offer the most pokies of any Townsville venue outside of The Ville Resort & Casino.
Williams said, "With increased density in city living and possible future growth, it is about ensuring we have facilities to satisfy our members, their guests and visitors alike.
"The club's proactive approach to responsible gambling recently saw us finish second in the award for Responsible Gambling Practices at the 2017 Clubs Queensland Awards. "Next year we aim to be first."
Plans of the Cowboys pokies expansion comes just weeks after a report was published revealing how heavily the AFL relies on revenue generated from pokie machines in team affiliated pubs and clubs. The report prompted Tony Robinson, former Minister of Gaming in the Brumby Government, to argue that while the AFL does indeed need to do more to curb problem gambling, it is the NRL that has the real problem.
Robinson told the Herald Sun, "In the NRL, dependency is virtually complete. The Canterbury Bulldogs are the standout, having raised $77 million from pokies in 2014 out of $87 million in revenue…. If commentators reckon the AFL clubs' collective pokies dividend is a problem demanding an answer, surely it ranks as a secondary problem behind what's going on in NSW where NRL teams are making hundreds of millions from pokies."
The Cowboys proposed gaming expansion will be open for public comment until May 10th.
Salvation Army Townsville manager David Twivey said, ""I would not support that at all. I can only think it would have a really harmful effect on the community."
Construction of the club's upgrade is scheduled for June.