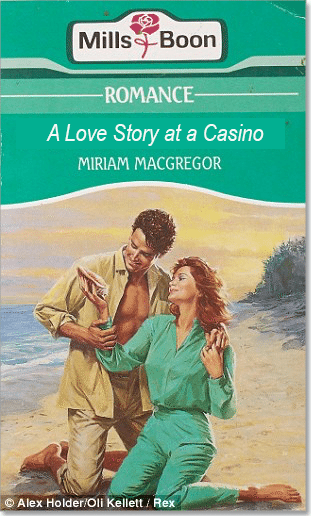 I am officially employed by the Ruby Crystal Casino. I should clarify though that my work isn't the high roller, lucrative work you might expect a casino employee carries out. I'm not a burly bouncer keeping everything in check, a suave dealer or a pretty bartender expertly pouring scotches and mixing up fancy cocktails. I cover the nightshift at the boutique ice cream parlour that sits on the edge of the casino floor.
On the left of my ice cream place is a Michelin hat restaurant called La Rouge Ruby. They sell exquisite, and expensive, French food. It's the kind of place where pretty food that looks so fine is served in tiny portions on pristine white plates. I had my birthday dinner there and went all out ordering the set menu with matching wines, mainly because you get a staff discount of 30% and I was eager to see what the fuss was about. It certainly was a fun night out but I left feeling considerably poorer, slightly hungry and fairly tipsy. To the right of me is the ever noisy and bustling Ruby Crystal Dragon. It's a noodle house that is always filled with hungry casino patrons. No matter what the hour there is always someone looking for a beef, egg noodle stir-fry, or ramen noodle soup or Szechuan noodles, or any of their other noodle specialties. I must admit this is where I usually get my late night feed when my shift ends at 3am. Unlike Dreamy Gelato, the Ruby Crystal Dragon is open 24/7.
My little ice cream stand is the smallest of the lot. Dreamy Gelato is THE gelato place at the moment, girls love to Instagram our fun flavour of the week. There are a heap of Dreamy Gelato stands scattered all over the city, and our little stand in the Ruby Crystal Casino does quite well. Our Dreamy Flave of The Week right now is peanut butter and choc chip cookie dough, last week it was passionfruit and white chocolate and before that it was dark chocolate peppermint with candy cane chunks.
It's not that I dislike my job but it's not glamorous, and it's hard to remain perky and upbeat when you're working at 2 in the morning. It's especially difficult when you have to look at people having fun playing for money on the casino floor and selling people delicious ice creams that you can't eat yourself. The ice cream stand is closest to the roulette tables, which are pretty rowdy most of the time. Some nights I love watching excitable groupings of people yell and cheer as they place their bets and watch the ball stop spinning on the roulette wheel. Tonight I'm feeling sleepy but content watching the raucous roulette crowd in front of me having their roulette fun. It looks like the roulette table nearest me has been taken over by a hen's party, they're all in racy dresses in varying shades of purple and I can see the bride to be in a mock mini veil. I'm totally day dreaming, absentmindedly watching their fun, when all of a sudden there's Dean Taylor right in front of me, eyeing off the gelato selection.
I first saw Dean Taylor at my very first shift at Dreamy Gelato. Back then my manager Diana was at the stall with me to train me. She pointed him out to me with a gasp as soon as she saw him, "Oh! Dean Taylor's here, see him? Over there? He's a big deal round here. Big deal. Best poker player we've got and he's a regular at the Ruby Crystal Casino. It's his favourite casino." I've worked here for almost two years now and I'm not sure it his favourite casino, he's not here all that often but I follow him on Instagram and I know he's a very successful poker player who wins top tournaments in Las Vegas, so I guess he can't be here all of the time. And now he's standing in front of me, and he's just asked me what the Dreamy Flave of the Week is and I haven't even answered him. I'm too busy looking at his perfect cheekbones and defined jawline. Diana was spot on when she gushed about him, he really does have an exceptionally lovely face.
Without really thinking about what I'm doing I launch into a long spiel about our different flavours and which ones I recommend and which ones are most popular. Some people can't say anything when they're feeling shy, unfortunately for me I can't stop talking. I'm rambling and I can't seem to stop. But then I meet his eyes and I'm quiet. His eyes are lighter when you really look at them than they are at first glance. They're a light, bright turquoise near the iris and blend to a light blue as they reach the edges. And then his eyes crinkle as he smiles at me. I feel like he knows that he's managed to stop me in my tracks, he probably has this effect on people on a daily basis.
"I think I'll just have one scoop of the lemon sorbet thanks."
"Oh yeah, that's a good one. It's nice and tangy, really flavourful…" I trail off distractedly and the men behind him chuckle at me. For the first time since meeting Dean Taylor I notice that he's got a whole posse with him. They're all dressed in similarly chic attire, all in crisp black suits. Dean appears to ignore their jeering and smiles at me kindly. "Thank you," he says kindly, "you're very good at your job". He flashes me a cheeky smile and leaves with the others. Apparently they've got a big night of serious poker playing ahead of them. For the rest my shift my eyes follow Dean Taylor. For most of the night I can see him playing poker and I'm happy, but when I lose sight of him, which I do here and there throughout the night, I suddenly hate my job and resent having to work. What if I was the gorgeous dealer at their table? Or a successful poker player Dean Taylor saw as a worthy opponent?
As my shift is coming to an end I'm really eager to make eye contact with Dean Taylor one last time. I even consider delaying closing shop if it increases my chances of meeting him again. At 2:59 I decide I'm being ridiculous. This is the first time I've ever met him, so why would I be lucky enough to talk to him twice in the same night? Just as I'm gathering my things to go, he's there. "Hi, are you leaving already?"
TO BE CONTINUED…
Enough about love? You can play real money casino games at G'day Casino where you get a 100% matched deposit bonus up to an unlimited amount, plus 50 free spins upon sign up.