The Lab takes its inspiration from the field of science, with symbols made up of scientific elements from the periodic table and molecular crystal constructions. Set against the backdrop of a swirling vortex, there's nothing particularly innovative or impressive about this game, but it is a clean, simple classic online slots game that offers no-nonsense play.
The graphics are colourful and concise and the interface is visually pleasing, it just doesn't have all the bells and whistles that can be found in some of today's leading online pokies. This will either be the draw card or the downfall for players, depending on personal preferences.
With so many pioneering games on the market at the moment, The Lab reminds us that sometimes it's just as much fun to get back to basics.
Play The Lab pokies online for free or real money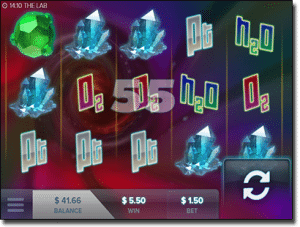 The Lab is available to play online at a range of leading virtual casinos. We recommend one our favourite trusted sites, Slots Million as it offers a range of secure payment methods allowing you to play The Lab for real money with payouts in multiple currencies. Not only that, but Slots Million also has some amazing bonus welcome packages to tantalize new players – registering for a new account will reward you up to $100 in matched deposit bonuses.
Head to Slots Million to take advantage of these amazing welcome bonuses and take The Lab for a spin today. If this is your first time, stick around and test your luck on the impressive range of over 1800 other pokies titles that are available. Play is available for free in practice mode or for real money wagers.
The Lab Pokies gameplay features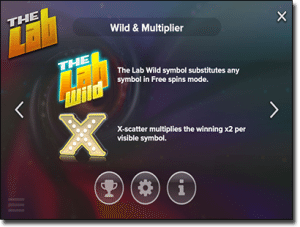 The Lab is an online video slots game played over 5 reels and 15 pay-lines, offering two bonus rounds and a free spin feature. All winnings are paid out according to the games unique pay table in your currency of choice, making it perfect for real money bets.
Scatter symbol = the Scatter is the 'X' symbol. Any time this shows up in a winning spin all wins are instantly multiplied by two. They seem to stand a pretty good chance of showing up after free spins.
Wild symbol = you can't miss this one as it's simply The Lab logo accompanied with the word Wild. An appearance of this symbol will substitute any symbol during free spins except for the Scatter.
The Lab Symbol = The game's special symbol, if you manage to hit the Lab Symbol on reel 2 over the vortex, you trigger sliding reels and some free spins for extra chances at winning up to 46,000 coins.
Bonuses and free spins
The bonuses and free spins offered in The Lab use pretty standard approaches, but definitely offer the chance for some satisfyingly big wins. There's nothing too flashy or showy about the bonus rounds and the main excitement will come from racking up the coins and watching your winnings grow. In saying that, the intriguing addition of different Betting Strategies certainly steps things up a notch and is perhaps our favourite feature of The Lab.
Free spins – an appearance of The Lab logo in the middle of the vortex on the second row will trigger this feature, earning you 10 free spins. This will cause two extra reels to appear to the left, pushing all other reels to the right. During the Free Spin bonus feature all of The Lab logos turn in to Wild's. The Free Spins are spun automatically as you sit back with your fingers crossed that you'll land on a +1 or +2 symbol, which will add even more free spins to your bonus.
Betting strategies
Elk Studios, the creator of The Lab, added something a little different which definitely adds some spice to this game. The introduction of different Betting Strategies gives players the option to not just change their minimum and maximum bets, but to also bet by sliding the bet button to the right and selection from these three options:
Jumper Bet: The bet level will increase x two after every win up to a maximum of 10 x your original bet. The bet level is reset upon a losing spin.
Leveller Bet: The bet level will increase x two after five losing rounds in a row up to a maximum of 10 x your original bet. The bet level is reset upon a winning spin.
Booster Bet: The bet will increase after every losing round by one 1 level up to a maximum of 10 x your original bet. The bet level is reset upon a winning spin.
Why we love The Lab pokies
The Lab is beautifully unpretentious and that's why we love it so much. It's bright, cheerful and doesn't weigh itself down with too many tricky details or special effects, making it a great game for newbies to online pokies and those just wanting to have a little bit of fun without having to place too serious wagers.
Although this is a relatively simple game, there is something special about it that's hard to put your finger on. The different betting strategies definitely adds a new element of excitement to The Lab – we recommend give it a go to experience this feature alone.