This is one of NetEntertainment's most highly anticipated games to date, with Steam Tower keeping gaming enthusiasts counting the days awaiting what was rumored to be NetEnt's most visually striking 3D game so far. Released at the end of February 2015, it's safe to say that Steam Tower did not disappoint.

Best online slot sites to play Steam Tower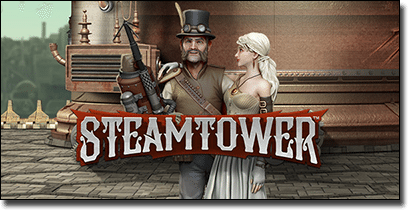 This impressive virtual pokies game follows a steampunk theme, an increasingly popular subgenre that grew out of science fiction. Steampunk is a combination of old Victorian era industrial design mixed with new-age technology which was first featured in fantasy literature but has expanded to inspire fashion trends, modern engineering and art.
The genre has also been the inspiration behind such films as The League of Extraordinary Gentlemen, Van Helsing, The Brothers Grimm and Will Smith's Wild Wild West. The blend of technology and hipster design makes a great platform for gaming enthusiasts and NetEnt were smart to jump on the steampunk bandwagon.
Steam Tower gameplay format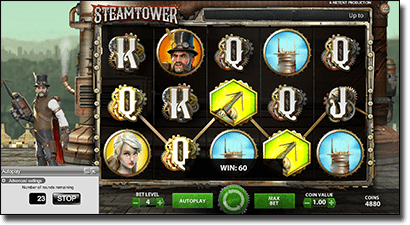 Steam Tower follows a strapping steampunk gentleman in his attempts to rescue the princess from a horrifying dragon. Beyond the regular pokies play format, the additional aim is to climb higher up the steam tower, enabling free spins to unlock higher rewards and bigger multipliers as you go. Using a five reel, three row and 15 bet line format, Steam Tower is one of the most innovative video pokies you'll find on the Internet today.
Steam Tower symbols
Symbols include the princess, the dragon, the steampunk hero, steam powered machinery and playing cards in intricate cog designs. The game features wilds (the arrow symbol) and stacked wilds (the steampunk hero symbol) which substitute for all others symbols.
Steam Tower betting options
Players can choose from betting one and 10 credits per line, with credit levels ranging from one cent to one dollar. Betting limitations for Steam Tower are set with a minimum bet of 15 cents and a maximum bet of $150. You also have the choice of enabling the 'auto play' function where you set your bet size and number of rounds and the reels automatically spin on your behalf.
Bonuses in Steam Tower pokies
The Tower Climb bonus round in Steam Tower would make even a less impressive game completely worthwhile. Triggered by the steampunk hero stacked wild symbol, you'll want to do backflips with excitement when this bonus round kicks off.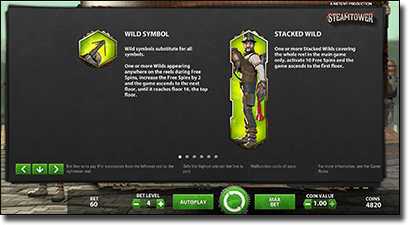 Firstly, you are awarded with 10 free spins and it's during these free spins that you have the opportunity to jump up levels by climbing the steam tower. For the first 10 free spins, you also activate a two x multiplier and during these spins, every time another wild symbol appears anywhere on the reels you climb one level higher and get two additional free spins. The higher you climb, the bigger the multiplier gets (you can see its progress on the right hand side of the reels).
There are 16 floors to climb and the highest multiplier is X7. If you manage to reach the 16th floor to save the princess you also receive a bonus of 1,000 gold coins multiplied by your bet level (with a max of 10,000 credits at 10 credits per line). The Tower Climb bonus is your chance to pick up some serious cash and is what gives this game its leading edge.
Why we love Steam Tower online pokies
There's many reasons why Steam Tower is everything we hoped it would be and more. Firstly, the steampunk genre is such a bizarrely enduring theme for reasons that are hard to pinpoint. The whimsical sadness of the princess character coupled with the gallant leading man in his kooky steampunk get-up is such a pleasure to play. And let's be honest, what's not to love about a classic tale of a handsome fellow out to save a beautiful creature from evil.
From a gameplay perspective, we are big fans of innovative features like level-up formats and this free spins bonus is hands down one of the best bonus rounds you'll find in an online pokies game today. It's always fun to feel like you have a mission beyond simply spinning and hoping for a win and Steam Tower keeps you hanging on the edge of your seat for this chance. The bonuses are massive, maintaining an element of excitement with every spin.
This is also one of those games where when you hit a big win, you really feel like a winner, with the screen bursting into life as your coins rack up or the multiplier grows. There's nothing much more satisfying than seeing your steampunk hero swing his way up a level closer to releasing the princess and that triumphant buzz as the dragon soars past the screen. While we weren't lucky enough to reach the highest level during our testing, the temptation is definitely enough to keep us playing until we do.