If you've got nothing to do on a Friday or Saturday night, why not have a Mexican Fiesta with a little help from the Spiñata Grande video slot. Released in March 2015, this video slot it one of a kind. Featuring an original mini-slot addition, as well as typical Mexican references such as piñatas and colossal symbols, this fiesta is sure to liven up any dull night. Created by Net Entertainment, the 3D graphics create an incredible slots experience for those who are after something different to the standard online video slots on offer.

Best online casinos to play Spiñata Grande
About Spiñata Grande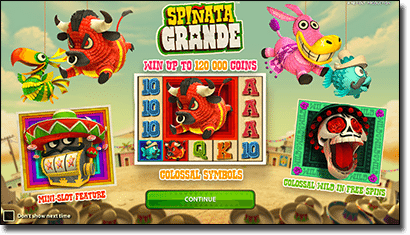 NetEnt have drawn their inspiration from the cultural traditions of Mexico, though they did forget to include any signs of food which is what we love the most out of Mexico – but we guess they've spared us from drooling all over the screen over a delicious burrito. There are a variety of interesting looking piñatas instead which feature in the short opening intro that all video slots have.
Although Piñatas are said to be from Italy, they are still a tradition of Mexicans and they come in the form of buffalos or cows with the traditional one featuring seven cone points to represent the seven deadly sins. these include envy, gluttony, greed, lust, pride, slot, and wrath.
Probably the most Mexican-inspired feature to this slot is the music, which is the genre called Mariachi. It originated in Jalisco in the 19th century and generally sees a band of musicians dressed in Mexican attire such as silver studded suits with sombreros or other hats on their heads, all the while playing violins, trumpets, guitars and more. If you've seen the Old El Paso advertisements on television then you will know what we are talking about.
In short, this Internet pokie machine is a Mexican-inspired slots machine featuring interesting Piñatas as well as a unique bonus feature which we will discuss below.
Spiñata Grande gameplay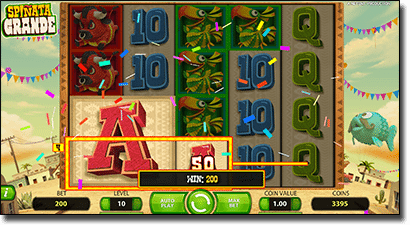 Spinata Grande is a unique and exciting video slot which features your usual game functions of a standard slot machine, but it also has additional and original new features which make this title different to the normal bonuses we see on standard, regular slot machines. The music doesn't start until players start spinning the reels so to get the party started hit the spin button.
Reel symbols – A fish and a donkey piñata along with the numbered card symbols are found along the reels and act as the standard symbols you generally see.
Scatter symbols – The scatter symbols are represented by the stars and appear on the mini-slot feature as discussed below.
Wild symbols – The wild symbol is the skull and can become a colossal symbol, one of the many unique features to this online slot.
Colossal symbols – The colossal symbol is quite different to regular NetEnt symbols in that they are larger than normal and can take up to more than one spot. The smallest colossal symbol takes over 2×2, while the largest takes over 3×3 on the reels. These types of symbols act as an overlay meaning they spin independently of the reels. This feature has actually never been seen in a video slot before making this one quite unique due to their size. Stacked wilds are quite big but these are even bigger.
Colossal symbols for free spins – In the free spin mode which we will detail below, the colossal symbols become the the colossal bonus symbols.
Spiñata Grande free spins and feature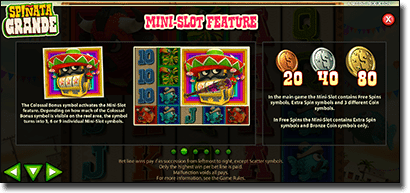 This feature is one of a kind and is known as the Mini-Slot feature. It is triggered with the colossal bonus symbol and will see the 3×3 turn into a mini-slot which will spin independently. There are scatters, free spins, and coin symbols in the mini-slot which is sure to give you a win.
The free spins on the other hand are triggered when playing the mini-slot. Players need to spin enough star scatter symbols in order to be awarded free spins. Players need to spin a matching row on the mini-slot reels or spin three or more of the colossal bonus symbols which will get you more free spins.
Betting types and jackpot
The minimum bet for this slot is 20 cent while the maximum bet is $200, so work around these amounts to set your bank roll in order to make your game last longer. There are seven coin values you can pick from with your bets, and while the amount per bet line is fixed it does have 40 paylines, which is a lot higher than your average slot machine. Every time you activate a new payline you can also adjust the coin values. Additionally, NetEnt slots have been reviewed and monitored regularly which has resulted in their slots being labelled with payout percentages which are higher than standard, and the same applies for this slot machine. The best thing about this title is that players can win 240,000 coins in any single spin during the feature round, which makes this pokies very attractive indeed.
Summary and where to play Spiñata Grande
Overall we love the unique attributes to this video slot by NetEnt, as slots with the same format but different theme can become tedious after a while. While the music may be off putting to some, we think it is the perfect addition to this Mexican themed-slot. So if you are after something new, and want to play a fun and exciting video slot, this one is for you. Additionally, if you are not interested in the theme rather the payouts, than pick this or another NetEnt slot since they have higher than average payout rates.
Spiñata Grande can be found at all leading NetEnt casinos, however we recommend Slots Million online casino for a safe, reliable, and trustworthy experience while enjoying your Mexican fiesta.