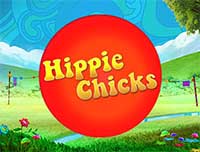 Hippie Chicks pokies is an online slots game that features animated human-like chickens that are (you guessed it) a little more on the hippie side.
Hippie Chicks is a popular online slot, which are known as pokies in Australia, with this game available on desktop and mobile in 2023.
In this Hippie Chicks review, you can expect to find information on all aspects of the Hippie Chicks pokies game. Topics include game mechanics, special symbols, betting limits, and winnings. You will also discover what makes the Hippie Chicks pokies game tick.

Top Casinos to Play Hippie Chicks
Hippie Chicks software
Software
The Games Company (TGC)
Slot Type
Video Slots
RTP
96%
Special Features
Power to the Reels
Scatter symbol
Free spins
Wild symbol
Hippie Chicks game mechanics
Let's start this Hippie Chicks review by looking at the game mechanics.
The Hippie Chicks pokies game is played on 5 reels and consists of 20 paylines. This is a standard reel size in pokies games. The amount of winning combinations that exists in the Hippie Chicks pokies game is in the thousands. This means you have access to even more prizes.
The standard symbols in this game include:
5 playing cards from 10 to Ace
A Volkswagen camper van
An egg
A hippie chick playing the guitar
Two hippie chicks making a peace sign
The Hippie Chicks pokies game logo
To win a prize in Hippie Chicks pokies, you must get between three and five matching symbols on one of the active paylines.
Additionally, the game logo symbol offers a reward for only two matching symbols. You can earn two coins for two symbols on a line, 40 coins for three symbols, as well as a top-tier prize of 400 coins if you can get five symbols.
The two hippie chicks making a peace sign pay 20 coins for three symbols, and 300 coins for five symbols.
The hippie chick playing guitar pays from 20 to 250 coins.
The egg symbol pays between 10 and 200 coins.
The van symbol is a high-paying symbol. It is worth between 10 and 200 coins.
The five playing cards are worth the least, with the Ace being the highest. The pay on these symbols varies from 4 to 150 coins.
Special Symbols in Hippie Chicks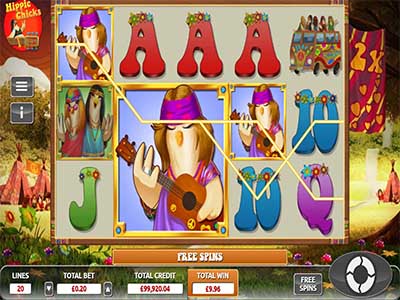 The happy hippie chick is the wild symbol. This wild symbol has the power to substitute all basic symbols to help you form winning combinations. This excludes pokies free spins scatter symbols.
The scatter symbol is a peace sign.
Hippie Chicks pokies awards large special symbols, and additional scatter symbols.
If you hit at least three peace scatter symbols anywhere on the reels, you will trigger the Hippie Chicks free spins round. Here, it is possible for you to get up to 200 Hippie Chicks free spins.
The Reel Chicks can appear on any spin in the Hippie Chicks pokies, and they offer you one of the following features:
Power To The Reels: A big symbol is added to the reels in a random position. It can include wilds and scatters. If you're rather fortunate, it can be big enough to fill all spots on the reel.
Give Scatters A Chance: Extra scatters are added to the reels for a better chance of triggering the free spins.
Hippie Chicks free spins are triggered by landing at least three of the peace sign scatter symbols anywhere on the reels. You then receive a random number of Hippie Chicks free spins. The highest amount of free spins available is 200. The more scatter symbols there are the better chance of more spins.
The Reel Chicks activate their "Power to the Reels" feature on every spin. This means that you have the opportunity to win big here.
The same rules apply whether you choose to play through a desktop version or a Hippie Chicks mobile version.
What Makes Hippie Chicks Special?
So, what makes Hippie Chicks pokies special, you ask? There are a few things. Let's discuss these points below in this Hippie Chicks review.
Firstly, Hippie Chicks pokies is developed by The Games Company (TGC). TGC is known for providing quality animation and graphics. You can see the detail and theme-relevant content that is put into the game.
Hippie Chicks pokies features a hippie theme, so you would expect to see hippie clothes, vans, peace signs, and flowers. These all make an appearance in the game.
Secondly, Hippie Chicks has a lot of in-game features that boost your chances of getting Hippie Chicks free spins. Scatter symbols are the main free spins trigger. If you can get three peace sign scatter symbols to show up anywhere on the reels, you will be rewarded with up to 200 Hippie Chicks free spins.
Lastly, the game is also available as a download for Android and iOS gambling devices. Just search for Hippie Chicks mobile, and you're set to play.
Hippie Chicks Betting Limits and Winnings
The last section to look at in this Hippie Chicks review is the betting limits and winnings.
The first thing you need to do when entering the game is to set a line bet amount and the number of active lines. The bet line amounts can range from 0,01 to 10 credits. Active lines can vary between 10 and 20.
The maximum bet on a 0.01 line is 5 AUD. The minimum bet is 1 AUD.
The more lines you choose to activate during the Hippie Chicks pokies game, the more chances you have of winning.
The winnings you receive can depend on how high you decide to bet. If you get three or more scatter symbols and trigger the free spins, you'll want to be betting higher to receive a higher payout. If you're not too bothered about payouts and just want to have some fun, that's alright too.
Betting during the Hippie Chicks Power to the Reels feature will multiply your winnings. There's even an option available that asks the game to bet for you automatically.
Hippie Chicks mobile features the same betting limits.
Hippie Chicks conclusion
MORE: ONLINE SLOTS REVIEWS
Pokies are already in high demand at land-based casinos. The online demand for them is just as significant. Hippie Chicks mobile is available for that exact reason. Plus, what's not to love about the laidback 60s hippie vibe? You can play on 5 reels with 20 paylines.
There are standard symbols, along with wild and scatter symbols that activate extra features. This dramatically increases your chances of receiving free spins. Hippie Chicks pokies is a fun, interactive pokies game that has an RTP of 96%. Let's end this Hippie Chicks review off with a question for you. Are you going to join the masses and give Hippie Chicks pokies a go?