Elements: The Awakening is an innovative new pokies game that brings great graphics and gameplay to our desktops. Set against an elusive backdrop of what appears to be a kind of futuristic desert wasteland, this game uses stunning designs and the latest in animation software, resulting in a high demand pokies that hasn't taken long to soar in popularity.

Best NetEnt casino sites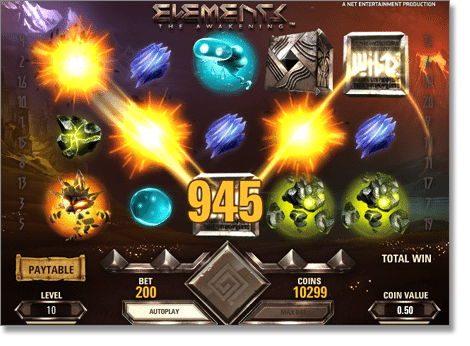 Net Entertainment built Elements in a fashion becoming more popular among pokie players – online slot machines which don't actually work in spins. Yes: a pokie game that doesn't have spins. Instead, NetEnt has employed an innovative new design technique that simply allows the symbols to fall away, as though disappearing forever. The new playing structure of Elements is embraced quickly to appreciate the format of this feat in gaming development.
Play Elements: The Awakening online slot (free or real money)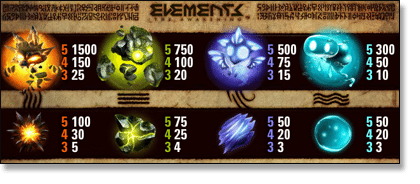 A pokies game without spins? Take a look for yourself; Elements is unique, compelling and features a mesmerising soundtrack.
Head to any of our top-rated online casinos recommended in the table above to take advantage of the welcome bonuses available to new users and play Elements: The Awakening for free in practice mode, or for real money wagers, using secure deposit methods, and withdrawals when necessary.
Elements: The Awakening pokies gameplay features
As already mentioned, one of the first things you'll notice in this game is the drop away/free-fall format of the symbols, which probably doesn't sound that crazy but play for yourself and you'll instantly notice how different this feels. A winning payline will start an Avalanche, where symbols in winning combinations explode and disappear, leaving space for a second Avalanche of symbols to take their place and increase your chances for an even bigger win. This is a five column, three row, 20 payline (fixed) video slot that contains several exciting bonus triggers.
Wild symbol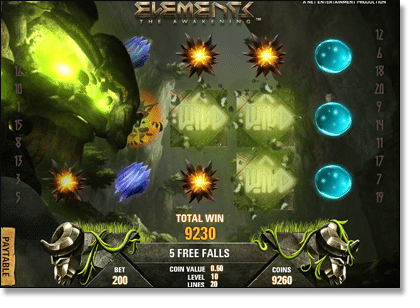 Elements contains four different wild symbols, each with has its own unique impact on the game. Wilds will appear on all reels except for the first reel and can substitute any symbol other than the scatters. The different wilds and their powers are:
The Fire Storm Wild – appears in columns two, three and four and activates a storm that can be spread in any direction, transforming any two symbols next to it into wilds.
The Air Storm Wild – appears randomly in any column when Free Fall mode is activated and changes position with every drop or Avalanche. They can blow anywhere across the reels and trigger any kind of combination.
The Earth Storm Wild – appears in columns two, three and four, where it remains until it becomes part of at least one winning pay-line, three Avalanches or until there are no more wins.
The Water Storm – appears on columns two, three and four and acts like a classic wild symbol, moving vertically to transform each symbol it hits into wilds.
Bonuses and free spins
NetEnt never shy away from intriguing bonus rounds and Elements is no exception. When those bonuses come in, you'll certainly feel the victory! Suddenly beams of light and flashes of colour take over the screen and you'll be fist pumping into the air like there's no tomorrow. Elements really makes you feel like a winner, which is exactly how a good pokies game should make you feel (except when you're actually losing, and then you're on your own!).
The Avalanche Metre and Energy Metre
Located on the bottom of the game, the 'Avalanche Metre' increases by one after every winning spin. The colours in the Avalanche Meter match up with the leading wild symbol in the current round of play.

Avalanches continue until there are no more wins and the Meter will re-start to zero upon a non-winning round.
If all four lights in the Avalanche Meter are lit up, the Free Falls Feature will be activated.
The diamond button to play also acts at the 'Energy Metre' which displays the leading element, divided in to four sections. The section with the most energy will determine which free fall mode is played (when the free fall feature is activated).
The Free Falls feature
Winning four consecutive rounds completes the Avalanche Meter triggers the incredible Free Falls Feature, in which you are awarded with ten free spins. The Free Falls Feature will enter one of four modes; Fire Storm Mode, Air Storm Mode, Earth Storm Mode, and Water Storm Mode, each of which has its own unique Wild symbol feature. Free Fall mode is played at the same bet level as the spin that triggered it and this is where you'll find the biggest wins within Elements: The Awakening.
True Net Entertainment graphics, quality and entertainment
Like a lot of the more innovative pokies that are starting to come out, there are certain aspects of Elements that will only appeal to a particular taste. The graphics are sci-fi and space creature orientated which isn't necessarily everyone's cup of tea, but either way Elements is a must try for all online pokies players.
Despite your personal preferences in graphic themes, no sane person will argue that the visual quality of this game isn't absolutely off-the-charts amazing. The colours are so vivid, the animation so striking and the sounds so sharp that you've got to at least stop by to appreciate Elements for the work of gaming art that it is.
If the visuals don't grab you (which they almost certainly will) then the kick ass bonus rounds like the the Free Falls Feature will leave you hooked regardless. The bottom line is that really, Elements: The Awakening is phenomenal, plain and simple. Just when we thought our love for NetEnt couldn't go any deeper, they release this bad boy and prove us wrong once again.
For more great online slot games, check out our list of online slot reviews.