The original cute alien slot game is making a comeback with this sequel to It Came From Venus. It's an exciting 3D video slot game that unfolds on farmer Skeeter's blooming farm. A huge Flytrap from Venus has invaded it. Have a look at our Back to Venus review, and then join Skeeter and his alien buddy, who try evade the army that's roaming the farm looking for the alien.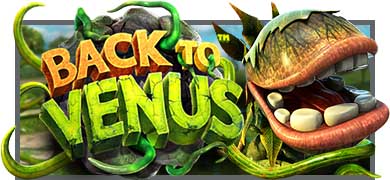 ---
How to Play Back to Venus Pokies
The slot game is a five-reel, three-line slot, with 20 fixed paylines that pay from left to right. The gameplay is straightforward, with players betting a sum and spinning the reels for matched symbols. You can manually stop a spin, and there is a double down feature that also appears during gameplay.
Back to Venus has a rolling stack feature and, when symbols are matched and disappear off the board, new symbols fall into place, allowing players to create multiple matches in one spin.
As you play the game, one of the symbols that appear is a sack. The game automatically collects these for you, and when you've collected five sacks, you will generate free spins. Then it's time to sit back and relax while the game spins and wins for you.
---
Back to Venus Pokies Special Symbols
Expect to meet some interesting characters in Back to Venus. There are 10 regular symbols, which can turn into a Sticky Wild. The Venus Flytrap is your best friend in this game, followed by the farmer, and a general who is not on the friendly side but still gives good payouts.
Other symbols include a scarecrow, army truck, dog kennel, farmhouse, asteroids, and helicopter. Three helicopter symbols will fly you into the bonus round, and during the game, you can expect some random wilds that will add to the excitement of the Back to Venus gameplay.
Also zooming around, is a rocketship that dishes out Back to Venus free spins if you get three or four on the reels.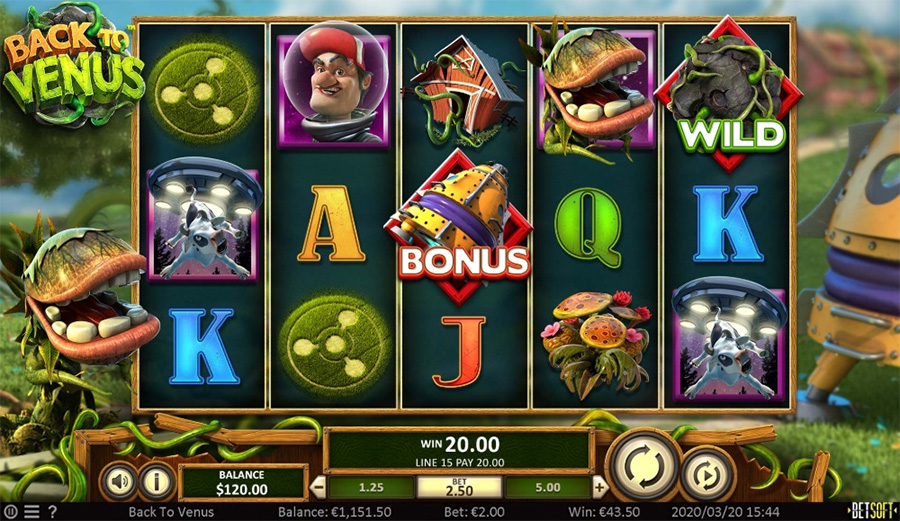 ---
Why Back to Venus Pokies is a Special Game Back to Venus betting limits and max wins
Back to Venus allows you to bet as little as 0.02 per coin up to a maximum of 0.50 at the top Aussie online casinos. If you are daring and bet on all the paylines simultaneously, the total bet will cost you $20. Players can hit a jackpot of 32,500 while enjoying wild, scatter, and free spins to boost winnings amounts.
The RTP for this slot game is 97.07%, which is a bit above average for slot games, and players can expect some good fun with bonuses and free spins popping up often. If you're looking to play this game in Australia, we suggest you search for the best Betsoft casinos with the Back to Venus slot game. With the small starting bets and great bonus features, you will enjoy this game for hours.
---
Back to Venus slot conclusion
The final Back to Venus slot verdict is that, in a nutshell, this quirky alien Flytrap game is a lot of fun. The Feed Me mini-game breaks the monotony of just spinning the reels. Free spins and bonus features are abundant, so players are engaged and kept on the edge of their seats throughout the game.
The cherry on the top, is the manual stop function that allows players to take a chance when they think reels match – a most enjoyable gameplay experience.