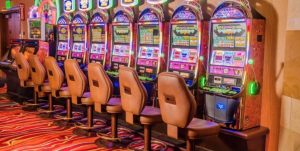 Ever moved away from a poker machine because the chair was too uncomfortable? Or dropped in more dollars than you had intended because the chair was like sitting on a perfect cloud? According to a report, the success of any casino game relies heavily on the chair provided.
KGM, one of the biggest manufacturers and suppliers of casino products in North America, believes that picking the right chair for the right game is a key factor in boosting a casino or gaming rooms revenue. The thought process is simple – players who are more comfortable will stick around for longer and spend more time playing.
According to KGM, "A poorly designed chair increases a player's likeliness to leave and curtail playing. In a conscious effort to avoid these problems, casino operators are deciding to go with ergonomic chairs, creating the best overall gaming experience."
The Las Vegas Sun recently reported that the bulk of Nevada's economy rests on one unglamorous, taken-for-granted object – the humble chair.
In Nevada, there are 166,855 electronic gaming machines, and for every one of those machines, the right chair is essential.
But what exactly constitutes a good chair? According to the experts, it's all about style and comfort. Punters want to feel like a VIP when they head out for a night at the casino, so a chic design is crucial. The chair must have adequate padding to withstand long sit times, and soft leather is usually the go-to when it comes to material.
Casino chairs also have different requirements depending on which game they are being used for. Chairs for the pokies should be tall, sturdy and supportive, while stools were best suited for table games like blackjack, roulette and poker to encourage room for movement and create more room around the table.
Skip Davis, President of Gary Platt Manufacturing, a company who designs chairs for pokie machines in Nevada said, "You want to design it right and make sure it fits the game properly, in terms of height and access to the button panel. And, more importantly, you make it so comfortable that the chair doesn't give you any reason to get up and leave the game." Davis believes the right chair is a key income earning asset.
Brian Benowitz, Senior VP for the famous Cosmopolitan Casino in Las Vegas said, "The chairs are vitally important, and we take a lot of care in choosing the right chair with the right look. It has to have both a good design element, and it has to function. And it has to last as well as be comfortable for the guest to sit there for hours."
KGM has noted a recent shift in trends from when the company first started manufacturing chairs for casinos. While casinos once leant towards sled chairs or fixed models, the move was now towards pedestal or four-legged models. The vinyl chairs that once reigned supreme are becoming a thing of the past, as designers are now choosing to use polyurethanes and fabrics as faux leather supplements. There is also a shift towards ergonomic chairs.
While punters may never have given much thought to the chairs they're sitting on, manufacturers certainly recognise the value. 20 of the 450 exhibitions at this years Global Gaming Expo in Las Vegas were dedicated to promoting chairs for electronic gaming machines.