Estimated Reading Time: 3 minutes
Downloading the full suite of an Internet casino so the software is placed on to your computer's hard-drive, or playing instantly via your Web-browser, both have distinct advantages and disadvantages. We prefer accessing real money pokies and other games via our Web-browser, but will give you the pros and cons of each option so you can decide for yourself.

Best instant-play online casino sites
Full casino suite download
With the complete downloadable casino, players will get to enjoy the entire range of games on offer, unique features such as video clips and a 'news' section, and an in-built lobby for easy access to all your favourite pokies titles.
With the software downloaded on to your computer, there is no need to retreat back on to the Internet; simply open the short-cut which would have been created on your desktop, or select it from your list of programs, and it opens just as any game installed on your computer would. With a warm and welcoming introduction exclusive to the downloaded version, the software remembers your account number, and you can ask it to remember your password too. If you don't share your computer with anyone else who might be inclined to access your programs, and want the complete casino experience, then the full casino software is a strong option.
Note: Most full suites do require you to download each game you wish to play individually – the first game you select may take some time, but thereafter the download times become much faster. Installation of the software itself is quick, and opens automatically once it has been installed on your computer.
Click the image above to download the Royal Vegas software package.
Instant play web-browser casino
Accessing casinos and their slot games instantly via your chosen Web-browser allows you to get in to the game fast, without having to download any software you mightn't want on your desktop.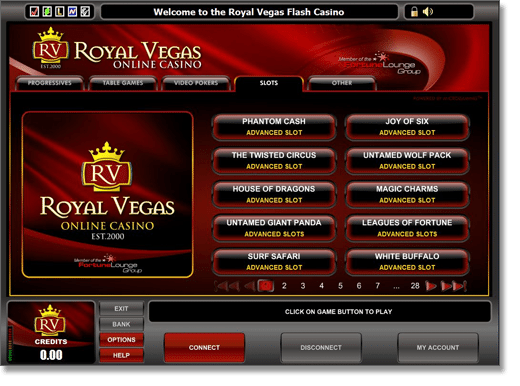 You won't have to wait for each individual game to download, either, as game loading time takes less than one minute, and you can switch from title to title with ease. The lobbies of each casino are easy to navigate through, and while the game selection is not as large as the full software package, all the most popular pokies titles are still available and the graphics don't suffer either.
Instant play casinos, usually powered by Adobe Flash, HMTL5 or Java, do not take up any space on our hard-drive, as opposed to downloaded packages which can lend themselves to heavy CPU usage. Additionally, instant game-play is accessible on any platform, any time and anywhere, as long as you have a reliable data connection. That means whether you are on a Windows PC, Linux-based platform or Mac OS X, you can play at the online casino without worrying about operating system compatibility issues.
Specific games are not watered down and you aren't stripped of any bonuses within the Web-browser mode, so you don't have to worry about getting ripped off. Web-browser game-play is also beneficial for those concerned with possible malware or viruses when downloading certain programs – we do stress that each of our recommended sites take strict measures to prevent such harmful software. If you don't want to lose space on your platform, browser play is the better option.
Click the image above to play the slots instantly via your browser at Royal Vegas.
Both versions
Both options of play are privy to the same bonuses and promotions as advertised, and you accumulate the same loyalty rewards points playing either mode. If you decide you want to change from one to the other, all your account information remains in tact, your real money funds and your points do not go anywhere, and you access your account with the same login details, so there is no need for concern if changing over. It is a simple process. Depositing and withdrawing money is 100% secure via both versions. Practice play (and of course real cash play) is available.