Estimated Reading Time: 3 minutes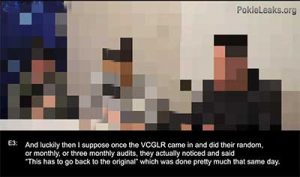 Three former Crown Resorts employees have made explosive claims that the Melbourne venue tampered with poker machines, among other serious allegations.
Independent MP Andrew Wilkie tabled documents in Federal Parliament on Wednesday, which include testimonies from the former employees.
The three staff members, who have chosen to remain anonymous, are alleging Crown Resorts tampered with its pokies so they would lose or spin continuously.
They're also claiming that the venue overlooked drug use and violence.
Wilkie, who launched the PokieLeaks campaign in 2016, is calling for a parliamentary inquiry after he tabled video evidence
In the video, the three former Crown staff who have been blurred out and had their voices muffled, explain that Crown Resorts knew that many of the machines were operating over the minimum Return to Player (RTP) percentage.
They then go on to say that there's a department dedicated to moving the real money poker machines to low-traffic locations.

One of the three former employees states that the department runs on the idea that "the science shows them that they [pokies players] will put money in the new machines on the way to find that machine."
They went on to detail incidents where they were advised to pull wires from machines.
"The worst case was where they asked us to remove three out of the play options," one of the whistleblowers said.
"So on a standard machine, you will have play lines, where you are playing one or two cents per line, usually one, five, 10, 20, 40.
"They got rid of the five, 10, 20, so your options were one, which is betting two cents on the middle line, or forty which is all the combinations.
"So you basically remove betting options from the machine."
This means players could only play the minimum or the maximum bet available on the machine.
The three whistle blowers also disclosed while continuous play is illegal in Victoria, they were asked to "shave down" buttons allowing players to spin the reels without stopping.
These allegations are likely to help Shonica Guy, who is suing Crown Resorts over its Dolphin Treasure slot, claiming the machine is designed to get players hooked.
According to the three whistleblowers, the Victorian Commission for Gambling and Liquor Regulation (VCGLR) found the machines without working buttons when they did their monthly audits. While the VCGLR told the pokies technicians to restore the machines, it did not report the casino.
These allegations have prompted Mr Wilkie to claim the evidence suggests a "broader pattern of misbehaviour in the poker machine industry".
He added it has huge implications for poker machine players all around Australia.
"The whistleblowers allege illegal machine tampering including the disabling of lower bet options and the modifying of buttons to allow prohibited autoplay, both of which increase gambler losses," Mr Wilkie told Parliament.
"Moreover, there's software manipulation to increase gambler losses even further on weekends when the number of naive, first-time and casual users is obviously greater."
The whistleblowers also claim that the casino has avoided appropriate AUSTRAC security checks of individuals making transactions of more than $10,000.
"If these allegations are true, then Crown would be facilitating money laundering practices for any number of nefarious reasons like tax fraud, drug running and even terrorism," Mr Wilkie said.
Looking for secure and tested pokies?
Reputable online casinos are regularly audited by independent testing agencies to ensure poker machines are fair and secure. The online casinos risk losing their operating license if they don't comply with the rules. What's more, the minimum RTP is a lot higher on online poker machines than land-based slots in Australia.
If you're looking for an online poker machine casino, there are plenty available to players from United States. We recommend Raging Bull Casino for the best range in games and highest level of auditing and testing to ensure fair and responsible gaming and fair payouts.