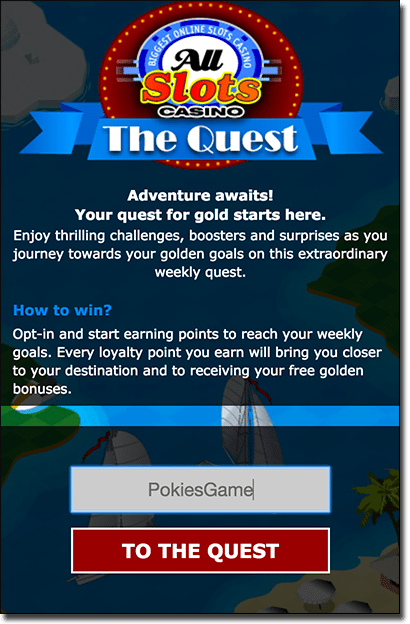 Start the new month off with a quest for gold at All Slots Casino and win yourself an array of bonuses for the entire month of November.
Every week for the next four weeks, players can take part in array of challenges in order to meet the requirements of the weekly quest and ultimately win a prize, in All Slots 'The Quest' promotion.
All you have to do is opt in by following our links to All Slots casino, then click to the promotions page, and on 'The Quest' promotion. Here, you need to enter your username to find out what challenge you need to do in order to earn a certain bonus for the promotional week.
The promotional weeks are as follows:
November 1 from 00:01 GMT to November 7 at 23:59 GMT
November 8 from 00:01 GMT to November 14 at 23:59 GMT
November 15 from 00:01 GMT to November 21 at 23:59 GMT
November 22 from 00:01 GMT to November 28 at 23:59 GMT
Be sure to come back and enter your username each promotional period.
You can bookmark our page for easy access to the links in order to participate each week.



How to win
Players are assigned two goals per promotional week and can be completed by earning promotional points. Promotional points are earned via players making a real money deposit and earning loyalty points.
One loyalty point counts as one promotional point and are only counted towards the promotional week you have opted in for – they can't be transferred to the next promotional week either.
Prizes
Players can win up to two free bonuses each promotional week.
We entered our username to see what our first bonus for this promotional week is and found that we can earn a $5 bonus. All we have to is reach 50 promotional points by November 7. Once we complete this, provided we do so in the time specified, we can come back and see what our second bonus for the week is.
All Slots Casino Loyalty Points
If you want to receive the two bonuses as fast as possible, you will need to play titles that see loyalty points accrued the quickest.
We have detailed all the titles available at All Slots and how much you need to wager to earn a loyalty point and in turn a promotional point.
To earn one loyalty point wager:
$10 on Slots, American Roulette, and/or Parlour Games
$20 on Table Poker games (excluding Gold Series Table Poker games), Casino War and/or Sicbo
$100 on Video Poker games, Gold Series Table Poker games, Craps, Baccarat, Blackjack (excluding Classic Blackjack), and/or Roulette (excluding American Roulette)
$500 on Classic Blackjack, and/or All Aces Video/Power Poker
Lucky for us pokies fans, we can earn loyalty points the quickest with the least amount of money.
If you aren't a member of www.AllSlotsCasino.com yet, sign up and you can then take advantage of their $1600 in matched deposits for new players.