Estimated Reading Time: 2 minutes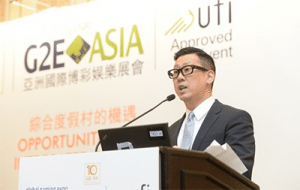 The gambling hub of Macau has long been known for its hospitality towards VIP players, particularly when it comes to VIP baccarat, but Macau's casino regulator is now calling for the addition of less VIP baccarat tables and more pokie machines. Given our love for the slots, we're certainly on board with the new move and any of our readers who frequent Macau's land based casinos are sure to warmly welcome the proposed plans.
On Wednesday, Macau's Gaming Inspection and Coordination Bureau (DICJ) announced a series of meetings had been conducted with multiple leading international pokie machine certification firms, including BMM Testlabs and Gaming Laboratories International (GLI).
Paulo Martins Chan, the director of DICJ, said the purpose of the meetings was to bring casino regulators up to date with the latest in pokies trends in a move to increase casino revenue generated by the slots. He said introducing a greater variety of electronic gaming machines would attract more gamblers to Macau, while helping to boost Macau's mass market appeal – a testament which was shared by GLI and BMM Testlabs.
During the first quarter of 2016, the pokies accounted for US $363 million of Macau's gaming revenue, compared to VIP baccarat which generated more than 10 times that amount. Both figures were down compared to the same time last year. The proposed plan is to shorten the gap between the two profit margins by putting a bigger focus on the more affordable electronic gaming machines and less on the VIP games which only attract high rollers and leave more recreational punters spending their gambling money elsewhere.
Chan mentioned the increase of pokie machines would create the need to train local staff about the ins and outs of testing gaming machine technology, which could generate more local jobs in the region. BMM Testlabs currently has a partnership with the Macao Polytechnic Institute where they train students and casino staff how to test slot machines.
With revenue in Macau down across the board, casino operators have been pushed to diversity their offerings in order to appeal to a wider market as opposed to the usual VIP high rollers. This has seen the addition of more retail, dining and entertainment options but Chan's plan is to roll out these changes across the casino floor to draw in more punters and hopefully create a boost on gaming revenue.
If a trip to Macau isn't on the cards for you, why not experience the exciting world of online pokies? Sign up for a real money account at Royal Vegas Casino and take advantage of the new player welcome bonus of up to $1200 in matched deposit bonuses.