Estimated Reading Time: 2 minutes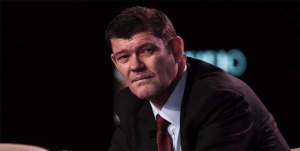 The Baird government has firmly ruled out the possibility of poker machines being offered at James Packer's new Sydney Crown Casino which is scheduled to be opened in Barangaroo South in late 2019.
When the casino license was granted in 2013, it allowed for an unlimited number of table games but strictly prohibited the pokies. Crown Sydney has been granted strict permission to operate a VIP-only casino, with the venue aiming to attract high rollers from across the globe. The $2 billion entertainment complex will include a six-star hotel, apartments and high-end gaming floors, and will become Sydney's tallest habitable building. Thanks to its VIP business model, Crown Sydney will rely heavily on attracting wealthy overseas visitors, with a majority of high roller business coming from China.
However, the restriction of poker machines presents a big problem for Packer given the current state of the Chinese gambling market, after 18 Crown employees were arrested in China last week as part of a government crackdown on corruption. Fairfax Media has reported that police are preparing to charge these 18 employees with "organising gambling activities for mainland national overseas," prompting analysts to predict the arrests could be a huge deterrent for Chinese high rollers from visiting the new Sydney casino.
On Tuesday, Mike Baird was asked whether he would re-consider allowing Crown Sydney to operate as a general casino given the Crown arrests in China. A spokesman for Baird told Fairfax Media that there will definitely be no poker machines allowed at Crown Sydney, stating firmly, "The approval is for a six-star hotel, with a VIP gaming facility for members and guests. There will be no general public access, no low-limit gaming and no poker machines."
The news of the arrests is more than just bad publicity for Packer, with Crown's share prices plunging 14 per cent on Monday – marking a loss of half a billion dollars for Packer.
In a statement released on Tuesday, Packer broke his silence about the arrests of Crown workers in China and said, "As the major shareholder of Crown Resorts, I am deeply concerned for the welfare of those Crown employees detained in China."
Packer said he was receiving regular updates on the issue and has asked Crown to do everything possible to support the detained employees and their families. His statement said, "I am respectful, that these detentions have occurred in another country and are therefore subject to their sovereign rules and investigative processes… Our number one priority is to be able to make contact and to ensure they [the employees] are all safe."
Industry insiders have been led to speculate that the Crown crisis in China was triggered after Crown tried to collect $15 million in gambling debts from one of its Chinese high-rollers in Melbourne. The crisis forms part of a much broader issue in China's anti-corruption campaign to stem illegal cash flows from going through underground banks and casinos.
Bookmark our site for all the latest news and events regarding the Crown arrests in China and the future outlook of Packer's Barangaroo casino.