Estimated Reading Time: 2 minutes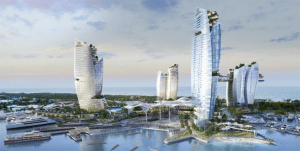 The final concept plans for ASF Consortium's casino on the Gold Coast have been unveiled, with the question remaining as to which entertainment group will be responsible for the casino operations – although all signs point to James Packer's Crown Resorts group.
The integrated resort will be built on The Spit, spanning across five hectares to include a world class casino, three branded luxury hotels, five high rise apartment towers, a retail precinct, amphitheatre, marina, an entertainment theatre and high end health spa. Signature restaurants and designer shopping outlets aim to attract locals and tourists alike, with the complex planned for the waterfront between Sea World and the Gold Coast Fisherman's Co-operative.
The project, which is estimated to cost around $3 billion dollars, will be the biggest tourism development the Gold Coast has seen in years. Construction of the complex and ongoing operations will create upwards of 10,000 jobs, with figures predicting tourism will increase by an additional 1.5 million visitors each year.
Queensland Premier Annastacia Palaszczuk said, "There's lots of development that's been happening on the Gold Coast but this would probably be one of the most significant job-generating projects that the Gold Coast has seen for a decade."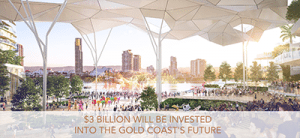 Other Gold Coast leaders are fully supporting the plan, including Major Tom Tate who said he was "delighted" by the plan which would see the city entering the world stage. Tate said, "A world-class lifestyle and tourism city like ours needs to constantly refresh its attractions, experiences and offerings."
Final concept plans have been submitted for community feedback, with detailed floor plans available for public access from the Department of State Development.
However, not everything has been smooth sailing for the project, with ASF director Louis Chien warning that politicians need to speed up their plans of risk losing the project entirely.
Chien claims the process has been slowed down due to a lack of "planning clarity" and it remains unclear how the integrated resort will fit in with the overall plans for the area. Issues with traffic and the height restrictions on the Spit have been the main culprits of slowing down the plan, with various concerns remaining to be addressed.
Mr Chien said, "It [planning clarity] gives us, our investors and commercial partners certainty to step into the project. We are in serious and active discussions with Crown. A number of investors are ready to back the project as soon as we get a bit of clarity."