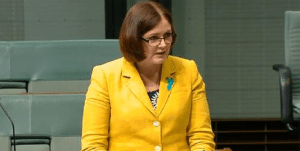 Liberal MP Sarah Henderson is the latest target to come under fire from the Alliance for Gambling Reform after investigations revealed she holds financial stakes in prominent poker machine manufacturing company, Aristocrat.
The investigations were carried out by the Geelong Advertiser just weeks after Ms Henderson passionately spoke out against the damage that gambling was doing to the Geelong community.
In early February, Ms Henderson addressed the House of Representatives with a detailed debate in support of the Interactive Gambling Amendment Bill 2016 which aims to ban online gambling in Australia.
She said, "We know that gambling is an addiction which affects so many families. Gambling is a social curse for many families where it runs rampant and causes enormous issues with family breakdown and with financial hardship. We have all heard so many stories about families losing their homes, losing their livelihoods, getting caught up in illegal activity trying to repay their gambling debts and, of course, causing enormous damage to the family unit."
It was later revealed that Ms Henderson's most recent share portfolio includes financial interests in Aristocrat Leisure Limited, one of the world's leading suppliers of electronic poker machines and gambling platforms.
Legal proceedings against Aristocrat are currently underway as the company faces allegations its machines are rigged and designed to addict. If prosecuted, it could open a floodgate for more lawsuits filed against Aristocrat and the gaming operators that house its pokies, including Crown Casino.
Pokies reform advocates are calling for Ms Henderson to sell her shares under what they're labelling a matter of "personal morality."
Tim Costello, spokesman for the Alliance for Gambling Reform said he was disappointed to hear of Ms Henderson's investment in the company, but that he wasn't surprised given "there just so much easy money in it." Mr Costello said he is confident Ms Henderson will "do the right thing" and divest herself from Aristocrat, and that he believes her concerns about the social damage caused by the pokies are genuine.
Paul Bendat, a prominent anti-pokies crusader said this was a chance for Ms Henderson to set an example.
"There's an obligation, as a member of Parliament, to be conflict-free," he said. "There are plenty of other companies you can invest in and get a very nice return. These are things that she can really take leadership on."
Ms Henderson appeared on ABC's 774 Drive radio program to defend herself, saying, "All members of Parliament are required to disclose all of their interests in the register of member's interests, and that's exactly what I've done — that includes my shareholdings, as modest as they are."
She said that by speaking out about the Interactive Gambling Amendment Bill 2016 she was acting "without fear or favour" as she believes all members of parliament should.
The size and value of Sarah Henderson's Aristocrat shares remain unknown, and she has not revealed whether she intends to divest from the company.

This is a classic case of the devil and the angel sitting on one's shoulders. While it is likely that Ms Henderson's concerns about the impacts of problem gambling are genuine, she has also identified Aristocrat Leisure as a lucrative company to invest in for personal financial gain. It is only fair that Ms Henderson divests from Aristocrat if she wants her anti-gambling advocacy to be taken seriously. After all, we could be excused for thinking her stance against online gambling and offshore wagering is purely because she doesn't want profits being taken away from Aristocrat's machines. Divesting truly is the only way to remove herself from the conflict of interest.