Virtual reality gaming is no longer a thing of sci-fi movies or teenage dreams. Several leading electronic manufacturers have created innovative virtual reality devices for use at home, allowing gamers to enjoy everything from shooter style video games to real money pokies like never before. Find out more about this exciting new technology and discover which are the best VR devices to play online pokies.
What are virtual reality pokies?
Virtual reality pokies are powered by the use of wearable VR devices, allowing you to fully immerse yourself into the game in ways which seemed impossible only a few years ago. As it stands, Slots Million is the only online casino to offer a virtual reality pokies lounge, with many vendors expected to follow suit as the accessibility of VR devices grows. This virtual reality gaming experience allows players to walk the aisles of a virtual pokies lounge, engaging with other players before taking a seat at a pokie machine that projects the game in full three dimension. Essentially, virtual reality pokies are just like standard online pokies, only they're offered in a much more engaging format, providing the closest thing to playing pokies in real life without having to leave the comfort of home.
We've provided an overview of some of the most popular virtual reality devices you'll find on the market today, and explained which are the best when it comes to playing real money pokies.
Oculus Rift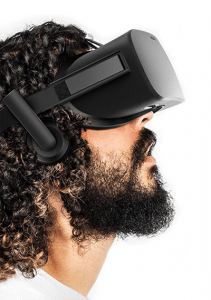 The Oculus Rift wearable VR headset is the leading VR device on the market. It's the only device compatible with the Slots Million virtual reality pokies lounge, and therefore the only wearable device on the market which will allow Aussie punters to play VR pokies for real money. This high-tech device was created by the Oculus VR company, and was originally funded by a Kickstarter campaign which successfully raised over US $2.5 million. The Oculus Rift has since been purchased by Facebook to the tune of $2 billion. The device comes with an OLED display panel, 1080 X 1200 resolution per eye, 110-degree field of view, integrated headphones for a 3D effect, and many more unique features. The combination of advanced display technology and the low-latency constellation tracking system provides users with the feeling they're really inside the game, resulting in one of the most immersive VR pokies experiences imaginable.
Samsung Gear VR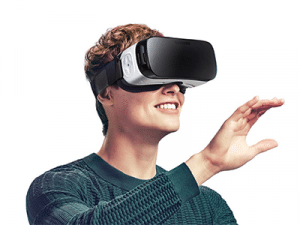 Samsung's Gear VR headset allows users to experience virtual reality technology with the use of their Samsung Galaxy mobile phones and tablets. It's a strap on device that provides a bigger field of view and smoother images to deliver a fully immersive experience. The Gear RV headset uses a Micro USB connection to seamlessly work with Galaxy devices, including Galaxy S7, S7 Edge, Note5, S6 Edge+, S6 and S6 Edge (although it is not compatible with Galaxy Note7). The lightweight headset offers a customizable strap holder and foam cushioning for extra comfort, with a flat touchpad located on the side for easy access to the home screen, back key and volume control. Online pokies are not yet compatible with Gear RV, but the device is powered with products via the Oculus Store so there is a possibility we might be playing Samsung VR pokies in the very near future.
Sony PlayStation VR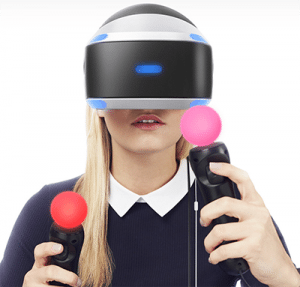 The PlayStation VR is arguably the most hyped about and advanced virtual reality device for gaming, offering some incredible features for players including a 5.7" OLED screen, 360-degree vision, and 120 frames per second providing smooth visuals for a truly immersive gaming experience. The device also comes with cutting edge 3D audio and a built in microphone so you can chat with friends as you play. Unfortunately, the PlayStation VR is not compatible with virtual reality pokies, but if it was we imagine this would be one of the best platforms to use, so we have our fingers crossed for the future.
HTC Vive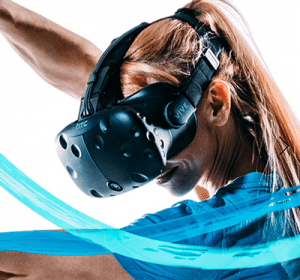 HTC's VIVE headset puts you right in the center of the game, allowing you to walk freely and explore everything, with an in-built chaperone system keeping you safely in bounds of the play area. It offers form fitting comfort with an adjustable head strap, a front facing camera blending real world elements with the virtual reality world, and comes with precision tracking with 32 sensors for 360-degree tracking with 110-degree views. The VIVE is often compared with the Oculus Rift as the best virtual reality headset, albeit a little more expensive, but the downside is it's not yet compatible with online pokies. However, the HTC VIVE is set to become the first VR headset to offer real money shooter style video games.
Want to play virtual reality pokies for real money? Head to Slots Million to join the VR casino, where new players can receive up to $100 in bonus money when depositing for the first time.